Part 4 of a guide for new, beginning, or returning players in World of Warcraft Shadowlands.
In the first three parts of this series for new players, we looked at how to setup your account, create a character, and explored the World of Warcraft user interface. Now it's time for the fun part… playing the game! In this guide, we will cover the basics of character movement, questing, and combat in World of Warcraft.
When the next expansion (Shadowlands) launches, many in-game guides will be added for new players to help in this process. For now, we will quickly discuss the details of getting started when playing the game.
Character Movement
Moving with the keyboard
Moving your character is simple and straight forward in World of Warcraft. The default setup is to move with the 'WASD' keys on your keyboard. The 'W' key moves you forward. The 'S' key walks back slowly and the 'A' and 'D' keys turn your character left and right respectively. The spacebar can also be used to make your character jump.
Additionally, you can use the 'Q' and 'E' keys to perform a strafe — a run which allows your character to continue facing forward while moving sideways. Your other hand can now use the mouse to interact with objects in the world or icons on your screen.
Mouse movement
While this type of movement works, it is helpful to learn about alternate methods of movement as well. If you hold down the left and right-click buttons on your mouse simultaneously, without moving your hand, your character will move forward in a straight line.
If you hold both buttons and move your mouse, you will run forward and can turn much faster than the keyboard. It is extremely important to learn this type of movement if you plan on playing fast paced content later on — especially player-vs-player (PvP) content.
If you hold down the left mouse button and move the mouse, it will rotate the camera around your character. Conversely, if you hold down the right button and move the mouse, your character will change the direction they are facing.
As another important tip, you can change how zoomed in your camera is by scrolling the mouse wheel forward or back.
Autorun
Another important movement tool is the Autorun feature. By default, it is set to your 'num lock' key on Windows or 'Clear' on Mac. As the name implies, it is a button which you can push to lock your character into a forward run. It is like a cruise control for you character. With it enabled you will continue to move forward until you press 'W', 'S' or hold down your mouse buttons. This means you can continue to turn your character with the traditional methods while autorunning.
If you take nothing else from this guide, make sure you give Autorun a try because it makes task like running across a long field or flying over a large zone much nicer.
Leveling and Gaining Experience
Now that you know how to move your character, it is time to begin leveling. In the current version of the game, you can increase your character level from 1 to 120. Once the Shadowlands expansion releases at the character levels will be rescaled so that the maximum level is 60.
In order to level up your character you need to gain experience (XP). As mentioned in part 3 of this guide, a bar to track your experience is shown in the bottom-center of the screen in purple or blue.
A purple bar indicates that you will receive XP at the normal rate.
A blue bar means that you will gain XP a little faster because your character is rested. You can "rest" your character by logging out at an inn or in a large city. You will know that it is a rested area if 'ZZZ' appears in your characters health frame in the top left.
There are a few major activities that reward experience:
Quests (including dungeon quests and queuing bonuses)
Killing monsters
Collecting herbs or metallic ores (need herbalism/mining professions)
Exploring a new area
Player-vs-player battlegrounds
Of all of these activities, the majority of your experience will likely come from quests and slaying monsters so we will focus on those for the remainder of this guide.
Questing and Combat in WoW
Types of quests
Quests are objectives that can be obtained from a non-player character (NPC) in game. In general, quests take on a few different forms, the most common of which include:
Killing enemies
Collecting items
Collect items from slain enemies
Finding another NPC / Deliver item(s) to NPC
Escort a NPC
There are a few other types of quests but these are the ones you will see the most. This guide will focus on how to read quests so you will be prepared for any type of quest thrown your way.
Accepting and tracking a quest
Returning to the character we used in the last guide, we log in and see a NPC with an exclamation mark above his head in the distance. The location of this quest giver is also shown on the minimap. This gold exclamation mark means that he has a new quest for us.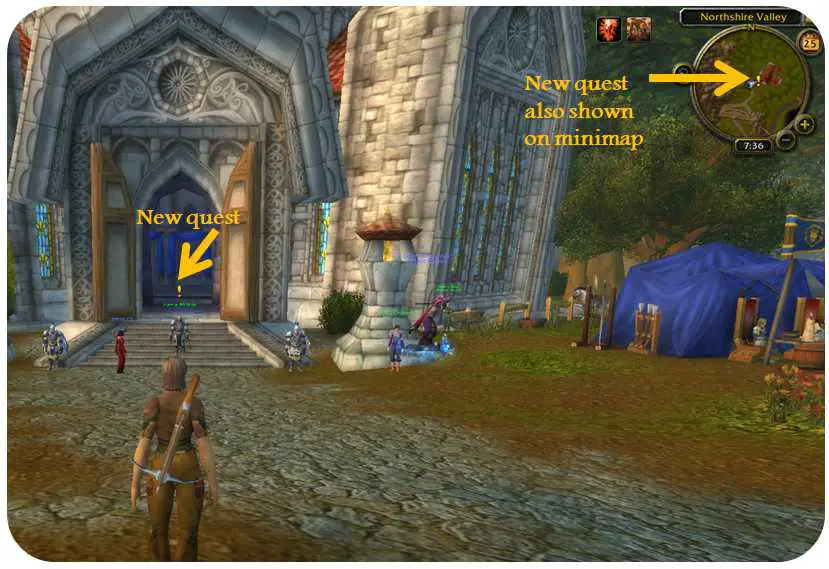 To accept the quest, we need to approach the NPC and left-click on him. If you are too far away, you will hear your character tell you that you are too far away and a red warning that says "You need to be closer to interact with that target" will pop up on the screen.
Upon clicking on the NPC, Marshal McBride in this case, a window will pop up on your screen. This window will provide you with the quest title, backstory, objectives and reward.
The quest log and minimap
After accepting, the quest will also appear in your tracked quests list below your minimap on the right side. You can hold shift and click on a quest to remove it from the list. To add quests to the list, you can open the quest log ('L') and Shift + Click the one you want to track.
A shaded area is also added to your minimap after accepting a quest. This light blue shaded area gives you a rough guide as to where you might find the enemies you need to slay, items to collect, or a person to talk to.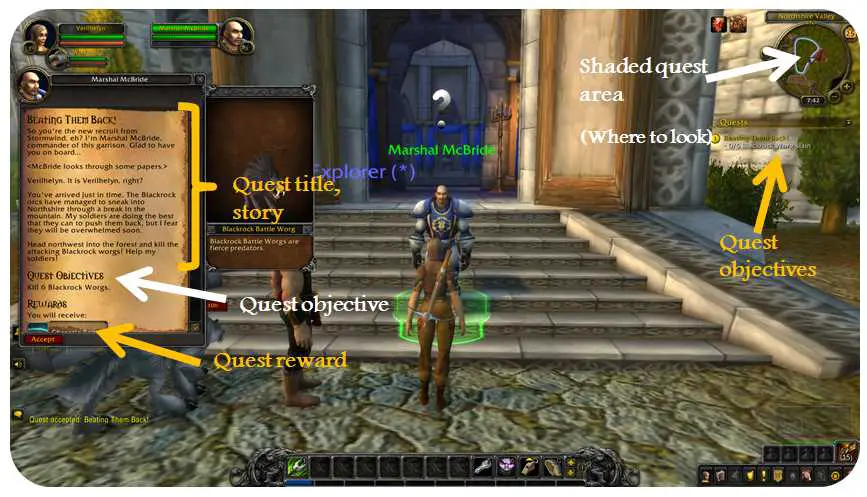 After speaking to Marshal McBride, he gives us a quest called "Beating Them Back" and asks us to kill 6 Blackrock Worgs. To the right of the quest accepting box, we are also shown an image of what the Blackrock Worgs look like. We now know we need to kill 6 of these wolves and know where to find them with help from the minimap shaded area. As a side note, the shaded area will also be displayed if you press 'M' on your keyboard for the full map popup.
Our first quest: Introduction to combat
Alright, it is time to dive in to our first quest. Unfortunately it is going to be pretty hard to kill 6 wolves if we don't understand the basics of combat.
To start out we head to the west because our map indicates that is where we will find the wolves we are looking for. Sure enough, as we head to the shaded area there are wolves as far as the eyes can see.
Each wolf has a yellow health bar over its head. The bar is yellow in this case because the wolf is neutral to your character. Yellow bar enemies can be walked by without worrying about being attacked.
As you progress further you will see enemies with red health bars who will attack you if you get close. When a red health bar enemy chooses to attack you it is called "aggro".
Basics of combat and abilities
Enough about health bars, it is time to take down some wolves. As a hunter, we can attack from a distance by right-clicking on the wolf once. Once you have started combat (picked up aggro) your character will repeatedly attack without having to click again (called auto-attacking).
This isn't very fast though. If we want to take down the monster before does too much damage to us we need to use abilities. In this case, our hunter has one spell called Cobra Shot which is bound to the '1' key on the top of the keyboard.
If you don't know what a spell does, you can hover over it to pop up a box with a description. This box will tell you the name of the spell, how much resource it costs (45 focus for Cobra Shot), the range (40 yds), how long it takes to cast, what it does and interactions it has with other abilities. After you use an ability a gray overlay may appear over your spell and rotate clockwise. If it does, the spell is on cooldown and cannot be used for a set period of time.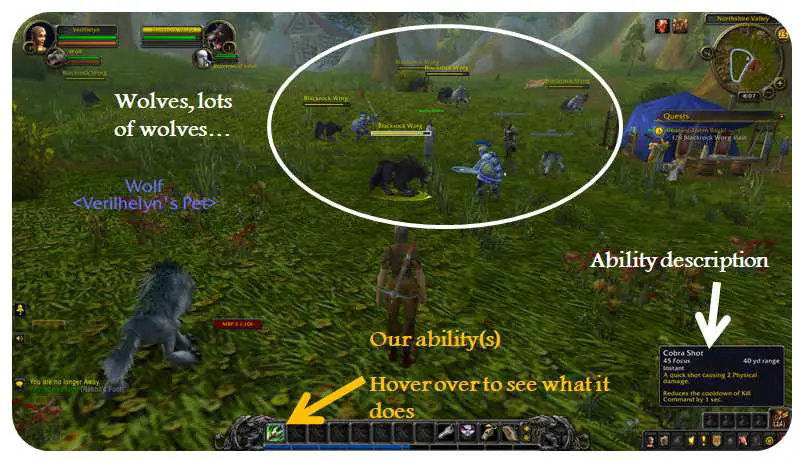 As you raise your level, the way you use these abilities matters a lot. In fact, there is an optimum order in which you should cast your spells — called a rotation. If you want to read more about rotations, check out our Rotation Guide for Beginners. However, at lower levels, it is only important to understand what spells do and use them as much as possible.
Looting and Turning In a Quest
Alright, we have right-clicked and button mashed the '1' key to defeat a wolf. Defeated enemies can be clicked on to "loot" them and receive items. You will know you can loot a defeated enemy if there is a faint sparkle around their body. As a tip to speed things up, you can also Shift + Right-click to automatically take everything from a defeated enemy. Enemies can drop everything from garbage items to gear for your character.
With the 6 wolves defeated it is time to turn your quest in. Now, the quest log shows a gold question mark, and the shaded area on the map is gone. Additionally, there is a gold question mark on the minimap. Just as simple as it was to pick up a quest, we are going to make our way back to the gold question mark, Marshal McBride, and click him again to turn in the quest.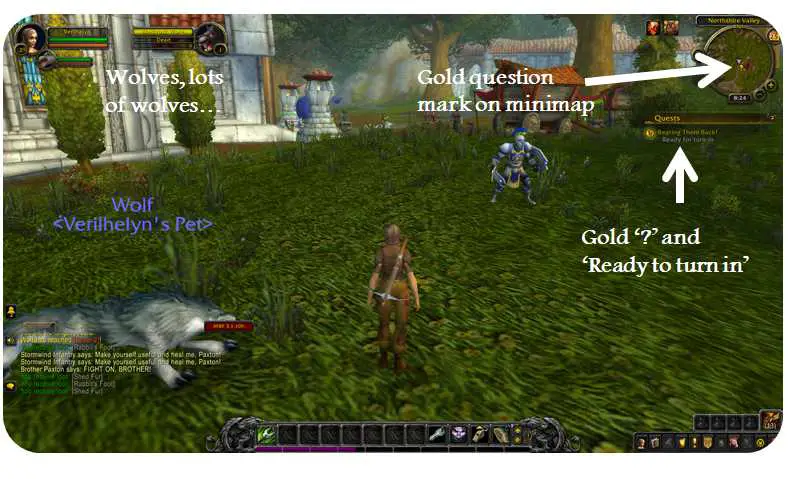 Back at Marshal McBride, we click on him and another window pops up. In the window is the title of the quest, some dialogue and the reward you earned. Some quests allow you to select your reward when completing the quest. For this quest, however, we only have the option of receiving the Chaser's Belt. We'll take it and accept another quest to kill 8 Blackrock Spies.
Great, we have now finished a quest and obtained a new piece of gear called the Chaser's Belt. With a better understanding of questing, combat, and movement in WoW, you are ready to learn more about gear. You can check it out here: Part 5: Introduction to Gear.
If you are looking for another one of the guides in the series, you can navigate to it below:
You are here
Thanks for reading!