A walkthrough of gear stats, attributes, and quality for new World of Warcraft players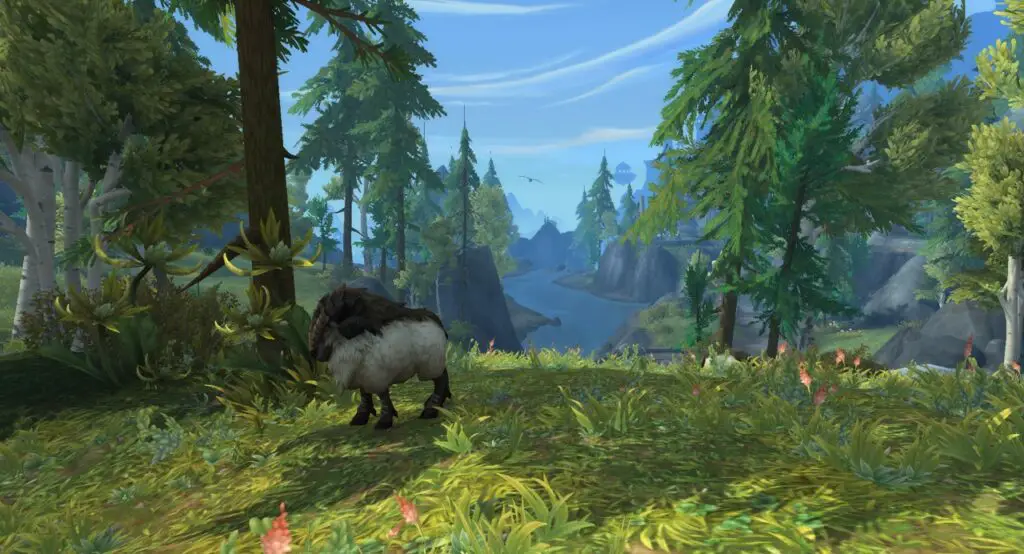 One of the most confusing parts of World of Warcraft for new players is figuring out how the gear system works. It seems like every RPG has a slightly different take on gear systems and its own set of stats for your character. In this guide, I want to talk about how to equip gear, but more importantly, I want to show you how you can figure out if you are equipping the best gear for your character by talking about stats, quality, and types of gear!
How to Equip Gear in World of Warcraft
In the last guide, we completed our first quest and earned a new belt as a reward. Equipping it on our character is as easy as finding it in our bags and then right-clicking on it.
We can confirm that the gear was equipped by pressing 'C' on the keyboard or clicking on the Character Info icon in the quick menu.
Perfect, it looks like our character is wearing our shiny new Chaser's Belt!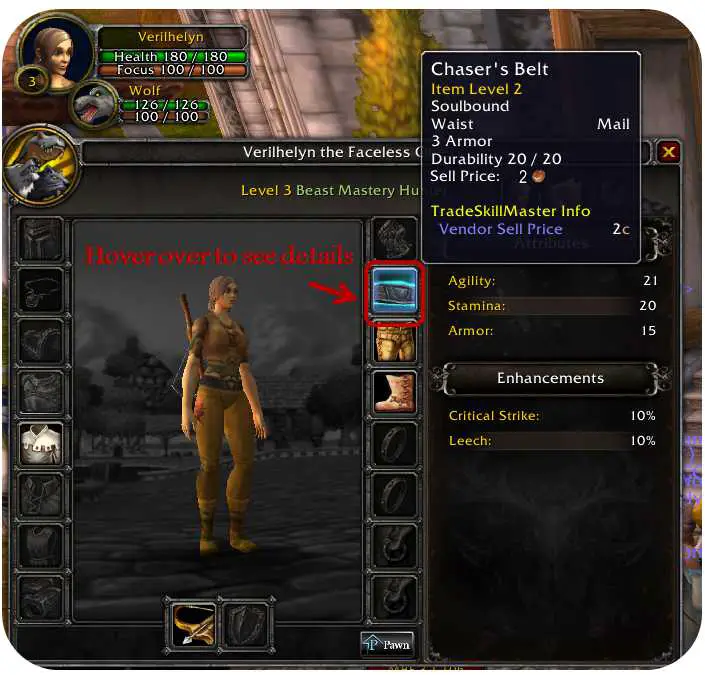 In this case, we did not have a belt on before, so it makes sense to put our new belt on ASAP. Sometimes, however, you may already be wearing a piece of gear in that armor slot.
What do you do then?
Well, you'll want to compare your new piece of gear to what you are already wearing. Fortunately, there is an easy way to do this. If you navigate to the new piece in your bag and hold Shift while hovering over it, it will show the equipped and new pieces side by side.
When comparing the pieces, you want to look at the gear details, particularly the "stats" it has. You can then select the one with higher stats.
But what are these stats that you should compare?
What Do the Stats on Gear Mean in WoW?
Each piece of gear you collect in World of Warcraft (with the exception of shirts, or low-quality/cosmetic items) will have stats on them. Stats directly contribute to the amount of power your character has. You can see your character's total stats on the right side of the character info window.
 Now let's talk a little more about what these stats do. Our new hunter has a few stats but will gain many different stats as she levels. In general, we can break these stats down into three categories: primary, secondary, and tertiary.
Primary Stats
There are two primary stats that every class and spec have in common:
Stamina – impacts the amount of HP you have
Armor – reduces the amount of physical damage your character takes
Additionally, there are 4 other primary stats that vary based on your current specialization and class.
Intellect – increases mana regen and damage dealt by casters
Strength – increases damage dealt by swordsman/bruiser specs
Agility – increases damage dealt by other specs like a hunter, outlaw rogue, etc…
Mana regen – how quickly your mana is restored when not at 100%
If you look at guides for your class and spec online, you'll see that they often recommend which stats you could prioritize. When you are just starting out, I wouldn't worry too much about stats, but you should prioritize equipping gear with the highest stamina and appropriate primary stat.
You can see which stat is best for your character by clicking on your class in the list below:
DEATH KNIGHT

Death Knight (DK) players should prioritize gear with strength. For Blood DKS, you'll want to also have as much armor and stamina as possible to survive while tanking.
DEMON HUNTER

Demon Hunter (DH) players should prioritize gear with agility.
DRUID

Your primary stat will depend on what specialization you choose to play.

Balance and Restoration druids should prioritize intellect.
Guardian and Feral druids should choose gear with agility. Guaridan druids should also get as much stamina and armor as possible to survive while tanking.
EVOKER

Evoker players should prioritize gear with intellect.
HUNTER

Hunter players should prioritize gear with agility.
MAGE

Mage players should prioritize gear with intellect.
MONK

Your primary stat will depend on what specialization you choose to play.

Windwalker and Brewmaster monks should prioritize agility. Brewmaster monks should also get as much stamina and armor as possible to survive while tanking.
Mistweaver monks should choose gear with intellect.
PALADIN

Your primary stat will depend on what specialization you choose to play.

Holy paladins should prioritize intellect.
Protection and Retribution paladins should prioritize strength. Protection paladians should also get as much stamina and armor as possible to survive while tanking.
PRIEST

Priest players should prioritize gear with intellect.
ROGUE

Rogue players should prioritize gear with agility.
SHAMAN

Your primary stat will depend on what specialization you choose to play.

Restoration and Elemental shamans should prioritize intellect.
Enhancement shamans should prioritize agility.
WARLOCK

Warlock players should prioritize gear with intellect.
WARRIOR

Warrior players should prioritize gear with strength. Protection warriors should also get as much stamina and armor as possible to survive while tanking.
Secondary Stats
Gear in World of Warcraft also can have secondary stats. Like primary stats, each specialization will have one or two secondary stats which are better for them.
Those "best" secondary stats are constantly changing based on the current state of each class in the game. To figure out where your class stands, I recommend looking up a guide made just for your specialization. But, I wouldn't worry about that until you reach level 70 and are involved in dungeons/raids or in PvP (which we'll talk about in a future part of this guide).
The major secondary stats include the following:
Critical strike – gives your abilities a chance to hit or heal for more than normal
Haste – increases the rate of spellcasting
Versatility – reduces the amount of damage you take and increases damage done
Mastery – Spec-dependent stat that increases your power in some way
Tertiary stats
Tertiary stats are the final category of stat enhancements to your character. Unlike primary and secondary stats, these stats are more focused on utility like how fast your character moves. There are three main tertiary stats which include:
Leech – returns a portion of the damage you deal or heal to yourself as health
Speed – increases your characters rate of movement
Avoidance – reduces damage you take
Tank spec specific tertiary stats:
Block – chance to reduce incoming damage by amount equal to block
Dodge – chance for attack to miss you entirely
Parry – chance to reflect attacks and take no damage
Other Stats and Attributes for Gear
In addition to the primary, secondary and tertiary stats, your gear also has attributes that are good to know about.
Item level (iLvl) – Level of the gear, important for end game content
Armor type – Depending on your class you can wear mail, plate, cloth or leather (see image below)
Ownership – Soulbound means it can only be equipped on your character, binds-when-equipped means it can be traded to other players.
Durability – amount of beating your weapon or gear can take before needing repairs. Finding a place to repair is as easy as clicking the binoculars by your minimap and toggling Townsfolk -> "Repairs" on.
Weapon damage – damage done by your auto attacks
Weapon speed – time between auto attacks
Indestructible – makes it so that piece of gear has no durability and does not need repaired.
Armor and Weapon Types in WoW
On top of those stats and attributes, you'll also need to know that there are a variety of different armor and weapon types. There are four main types of armor in World of Warcraft: plate, mail, leather, and cloth. You can also wear other pieces of gear like rings, necklaces, and trinkets, but we won't get into that much for now.
For weapons, you can use one of about a dozen options including: axes, bows, crossbows, daggers, fist weapons, guns, maces, polearms, staves, swords, wands, or warglaives.
Each class/spec will have a type of armor and weapon that is best suited to them, so it is good to figure out what that is so you can get the most out of your gear.
Best Armor Types for Each Class
| Class | Armor |
| --- | --- |
| Death Knight | Plate |
| Demon Hunter | Leather |
| Druid | Leather |
| Evoker | Mail |
| Hunter | Mail |
| Mage | Cloth |
| Monk | Leather |
| Paladin | Plate |
| Priest | Cloth |
| Rogue | Leather |
| Shaman | Mail |
| Warlock | Cloth |
| Warrior | Plate |
The armor type shown for classes is the best choice of armor type. Technically… you can wear a lower, softer armor type but why would you want to be a warrior wearing a cloth robe?
In addition to your class determining armor type, it also impacts what type of weapons you can use. However, your spec will also have an influence on what weapons is best. As a result, it would be overwhelming to list all possible combinations, so we will look at where you can find the list of usable weapons for your class.
First, open the Spellbook & Abilities menu by clicking on it or pressing the 'P' key.
Next, navigate to the book icon tab on the right side of the window.
Finally, find the 'Weapon Skills' icon and hover over it. It should look like the following: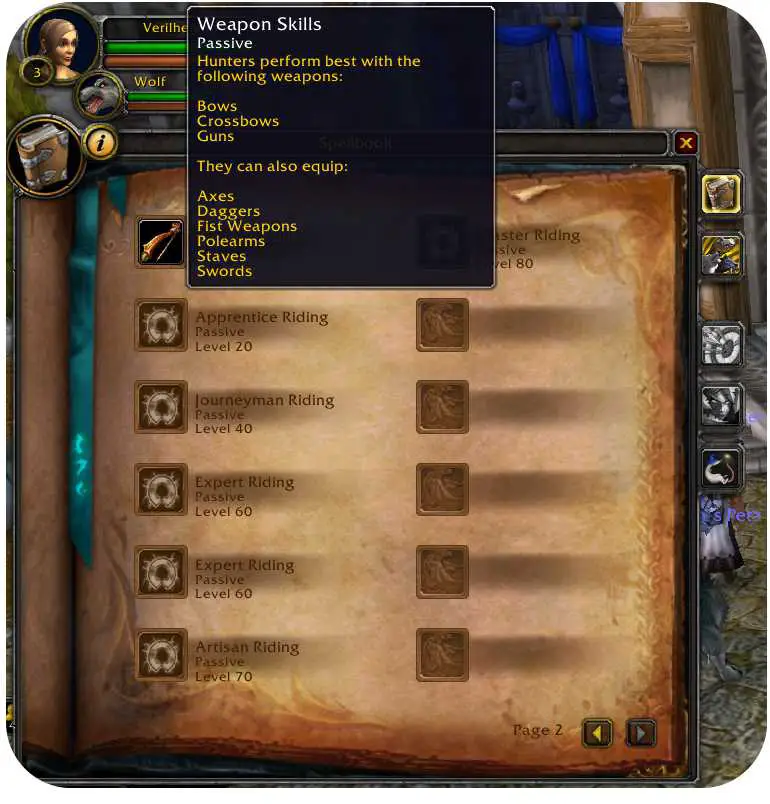 Gear and Item Quality (rarity)
Like I mentioned at the start of the guide, the whole gearing system is a lot to take when you first start, but stick with me a little longer.
In addition to stats, gear in World of Warcraft also has a color coded indicator which represents its quality. Additionally, the color code applies to items in the game as well.
Higher quality items or gear are generally more difficult to obtain, but come with extra stats or special abilities that make them worth seeking out. These colors are displayed when hovering over an item or piece of gear in your bag.
A list of the quality names, associated colors, and a cheat sheet are found below:
Poor (Gray) – Generally worthless gear or item, good for selling to a NPC vendor which buys items in exchange for gold.
White (Common) – Has some value, early level gear, reagents required for various recipes.
Green (Uncommon) – More difficult to obtain than white items but still pretty easy to find.
Blue (Rare) – Slightly stronger version of green items, still not too hard to get.
Purple (Epic) – Will comprise most of your gear at higher levels, hard to find early on.
Orange (Legendary) – Extremely powerful items, usually a limit on how many can be equipped at one time.
Light gold (Artifact) – Only applies to a few items: weapons in the Legion expansion and Heart of Azeroth necklace in Battle for Azeroth.
Light blue (Heirlooms) – After reaching the maximum level you can buy this type of gear which can be used by your lower level characters (called alts) and grants bonuses while leveling.
Next Steps
Great, we now know how to equip and evaluate gear on a basic level. Since you will change gear so frequently while leveling, we will save a discussion on gear optimization for a future guide. In the next part, we will talk more about items.
As a side note, there are also some great tools — called addons — that you can use to help you select the best gear for your character. The one I like is called Pawn. If you are interested in testing it out, you can check out my guide to World of Warcraft (WoW) AddOns for Beginners and I'll show you how to set addons up.
Otherwise, feel free to jump ahead to whatever guide looks the most helpful below:
You are here
OTHER GUIDES FOR NEW PLAYERS