Part 9 of a guide for new, beginning, or returning players in World of Warcraft Shadowlands.
Welcome to part 9 of this ultimate guide for new World of Warcraft players. In our last part, we looked at player vs. environment modes — specifically dungeons and raids. This time around, we are going to look at player vs. player (PvP) in World of Warcraft. Specifically, we are going to talk about war mode, battlegrounds, arenas, and PvP currencies.
War Mode — World PvP
War mode, also called "world PvP", is a feature that was added in Battle for Azeroth and can be toggled off and on. When toggled on, it enables the ability to attack or be attacked by players of the opposing faction.
War mode can only be toggled on in each faction's major city — Stormwind or Orgrimmar. Conversely, it can be turned off in any rested area. To do so, you will need to navigate to the talents tab of your Specialization and Talents (shortcut 'N') window. You will then see an icon in the lower-right part of the window that can be clicked on or off.
You will gain additional benefits as a reward for having war mode toggled on.
World PvP and war mode allow for the use of your 4 PvP-specific talents throughout the world. These can provide an extra boost of power to your character and make some objectives easier to complete. The second benefit is increased quest rewards and/or experience. However, having the mode enabled means that you are vulnerable to attacks from the other faction while completing those quests.
The final benefit you gain from enabling war mode is being able to earn PvP currencies.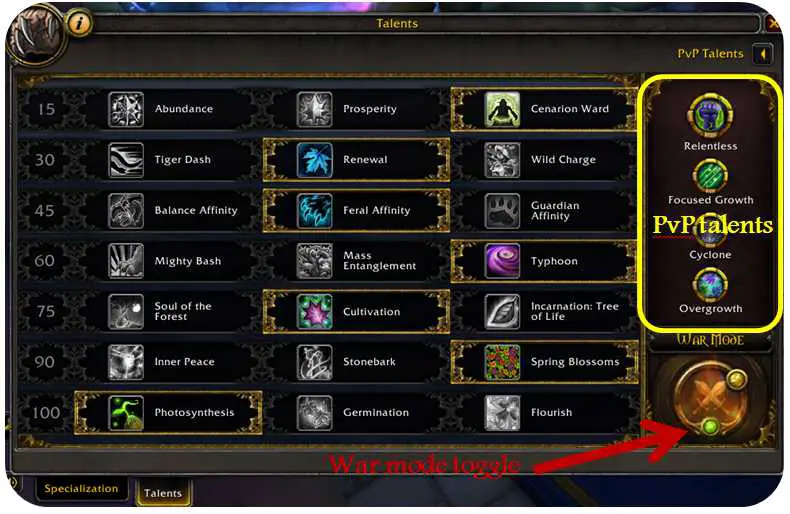 What are PvP currencies?
Player vs player currencies are points or "marks" earned for participating in PvP. They can be used to obtain gear, pets, mounts, and other power-enhancing items. At the time of writing, there are 3 major PvP currencies:
Honor points
Conquest
Mark of Honor
Honor points
The number of honor points determines your honor level. Players receive rewards in the form of toys, character titles, mounts, and pets as their honor level grows. You can also use it to purchase PvP gear from the vendor in Oribos. For a specific list of the rewards check out Wowpedia's great article here.
Conquest
While honor points are level-based, conquest is centered on weekly rewards. Each week, you have the opportunity to collect 500 conquest (called "conquest capping"). Conquest can be used to purchase and upgrade PvP gear in Oribos.
Mark of Honor
The last major PvP currency is the Mark of Honor. Marks are different than the previous 2 currencies because they are an item that can be saved and stored in your bag. You can then visit PvP vendors to exchange them for gear, profession recipes, profession supplies, or other consumables. Strongboxes, a type of loot received from battlegrounds or arena, is generally the best way to earn one or more Mark of Honor.
PvP Battlegrounds in World of Warcraft
Battlegrounds are objective-driven battles that include anywhere from 10 to 40 players. Normal battlegrounds have smaller groups — with either 10 or 15 players on either side. In contrast, epic battlegrounds have large groups of 25 or 40 players per side.
Joining a battleground is as simple as queuing up for one in the looking for group window ('i' key shortcut) under the "Player vs. Player" tab. You can also choose whether you want to queue for a specific battleground or one at random.
Overall, there are a few categories of objectives for battleground:
Domination – Capture and hold objectives (like King of the Hill)
Capture the Flag – Capture enemy flags while defending your own
Resource Race – Be the first faction to collect enough resources
Power Orbs – Players earn points by holding orbs which are dropped upon death
Payload – Capture and defend a moving vehicle until your team scores
Epic battlegrounds — Defeat the opposing faction's leader, reduce their reinforcements to 0, or destroy strategic structures
At the time of writing, there are 13 battlegrounds you can queue for. The following table shows the name of each battleground, number of players, and objective:
| | | |
| --- | --- | --- |
| Battleground Name | # of Players | Objective |
| Warsong Gulch | 10 vs 10 | Capture the flag |
| Arathi Basin | 15 vs 15 | Domination |
| Eye of the Storm | 15 vs 15 | Domination |
| Twin Peaks | 10 vs 10 | Capture the flag |
| Battle for Gilneas | 10 vs 10 | Domination |
| Temple of Kotmogu | 10 vs 10 | Power Orbs |
| Silvershard Mines | 10 vs 10 | Payload |
| Deepwind Gorge | 10 vs 10 | Domination |
| Seething Shore | 10 vs 10 | Resource Race |
| Alterac Valley | 40 vs 40 | Epic Battleground |
| Isle of Conquest | 40 vs 40 | Epic Battleground |
| Battle for Wintergrasp | 40 vs 40 | Epic Battleground |
| Ashran | 25 vs 25 | Epic Battleground |
PvP Arena
The final PvP activity we are going to cover is arena. Arena matches are played with smaller groups than battlegrounds — either 2 or 3 players on each side. Like battlegrounds, you can queue for a basic arena match through the Player vs. Player tab in the looking for group window. For a normal arena match, you will want to select "Arena Skirmish."
The objective of arena is simple; defeat the opposing players before they defeat you. Once your HP reaches zero, your character is out for the match and it is up to your teammates to win. Winning an arena skirmish will reward you with honor points and conquest.
Rated PvP
Rated PvP is a great option for players seeking a more competitive player vs. player experience. This mode includes the same battlegrounds and arenas but wins/losses impact your player rating. Wins increase rating, while losses drop it. The skill of the players you are matched against is determined by your rating.
To play rated PvP, you will either need a group of friends to play with or you can find a group through the "Premade Group" option. If you choose to find a group, it is helpful to understand a few abbreviations which commonly appear in the group name.
CR = Current rating
LF = Looking for
EXP = the highest rating a player has played at.
So a group advertised as "2s 1.6kcr, exp 2.2k LF healer" would mean that the group leader has a current rating of 1,600 but has played games in the 2,200 rating bracket and wants a healer for their 2 person arena group.
If you are new to rated PvP, your rating will start at 0 and you need to win games to increase it. At lower ratings, you will not lose rating for losing matches. As you increase your rating, you will receive greater rewards and special rewards reserved only for the best players. This includes better gear in the Weekly Vault in Oribos. The rating tiers are as follows:
Unranked: 0 – 1399
Combatant: 1400 – 1599
Challenger: 1600 – 1799
Rival: 1800 – 2099
Duelist: 2100 – 2399
Gladiator: 2400+
Final Thoughts
There you have it, a quick overview of PvP in World of Warcraft. I hope you found this information to be helpful. In the final part of this new player guide, we will look at the Basics of Using Addons.
If you want to revisit another part of the guide, check out one of the following:
You are here
MORE GUIDES FOR NEW & RETURNING PLAYERS