A quick guide to the Temple of the Jade Serpent dungeon from World of Warcraft: Mists of Pandaria 
I remember running Temple of the Jade Serpent in the old Mist of Pandaria days. It is a great dungeon. In this brief guide, I'll give you a quick overview of how to get to Temple of the Jade Serpent and a brief overview of the bosses to help you get started.  
How to Get to the Temple of the Jade Serpent in Dragonflight
You can get to the Temple of the Jade Serpent (TJS) by taking the Jade Forest portal from Orgrimmar or Stormwind. From there, fly to the east side of the zone to the location indicated on the map below.
Where is the Temple of the Jade Serpent Entrance?
The entrance to the Temple of the Jade Serpent is located on the east side of the Jade Forest around /way 56.2, 57.8. Once you enter the building, you'll see the meeting stone directly ahead and entrances for two instances on either side.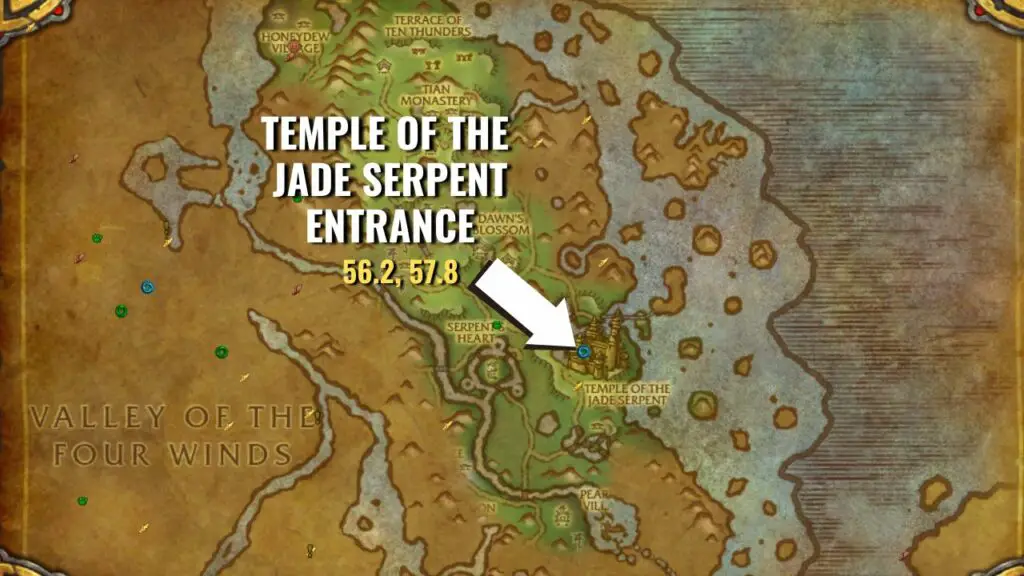 Temple of the Jade Serpent Boss Guide
There are four bosses in TJS. Since you are probably trying to read this before a run, I will provide a quick rundown for each boss. Whether you are new to the game or just need a refresher on mechanics, this should give you a basic understanding of what you need to know to survive each encounter. 
Wise Mari – Kick the boss's Hydrolance ability when possible, run out when targeted by vortex, and don't stand in the water because it will pulse a couple of times, and then do a large geyser that will wreck you. Finally, avoid getting hit by the beam (Wash Away). The boss will shoot the beam out and do a full circle before stopping. 
Lorewalker Stonestep (Strife & Peril) – Single-target damage one boss until they reach seven stacks of Intensity (unless your group says otherwise). Give your healer the Feeling of Superiority buff/debuff for as much of the fight as possible. There is a lot of damage to heal, and having the buff makes it easier on your healer.
Liu Flameheart – Get out of the large fire circle when the boss casts a serpent kick and avoid the four fire waves that follow. Healers should dispel the tank on red fire strike and pour huge single-target heals into them on green fire strike. Once the boss changes to a dragon, don't get hit by frontal or big green swirls on the ground. Healers should dispel the tank on red fire strike and pour huge single-target heals into them on green fire strike.
Sha of Doubt – Dispel Touch of Nothingness debuff and pour single-target heals into the other debuffed player if you only have one dispel. Stack up (preferably with a pillar at your back) when the boss casts Bounds of Reality and then burst down adds. 
Temple of Jade Serpent Dungeon Tips
Here are a few tips that can hopefully help make your life a little easier in TJS:
Tip 1: Kicks, kicks, and kicks
Temple of the Jade Serpent has many dangerous abilities that need to be kicked throughout the dungeon if you are doing mythic+. You should be able to survive missing those kicks at lower key levels, but as you push higher, you'll need to know all the important spells.
One of the best ways to learn what you need to kick is to watch a detailed guide like this one from Tactyks:
These advanced routing guides are the best ones out there right now. The guide video will walk you through a complete run of the dungeon at a +20 key level and provide you with a lot of great tips and tricks!
If you are farming old content or transmog, you won't need to worry about any dangerous abilities. Simply roll through the dungeon and stomp everything in sight!
Tip 2: Download helpful addons
If you haven't done so, you should grab some helpful addons and weakauras. 
For addons, I recommend you pick up Deadly Boss Mods or LittleWigs. Either one will work by telling you what abilities are coming up. If you choose to use Deadly Boss Mods, download the Deadly Boss Mods (DBM) – Dungeons sub-addon as well!  
I also suggest that you pick up Mythic Dungeon Tools. This addon shows a map for each dungeon, including the location of all the mobs inside, and allows you to plan out routes. You can even import routes for every dungeon by going to raider.io.
Frequently Asked Questions (FAQs)
What expansion is Temple of the Jade Serpent from?
Temple of the Jade Serpent is a dungeon from the World of Warcraft: Pandaria expansion.
How do I get past the green smoke walls at the beginning of the dungeon?
If you notice green smoke walls blocking your path upon entering the Temple of the Jade Serpent you may need to change the dungeon difficulty. The walls will only appear on mythic difficulty (a carryover from Pandaria's challenge mode for dungeons). All you need to do is switch to normal or heroic difficulty and the walls will disappear.