DRAGONFLIGHT PATCH 10.1.5 UPDATE: MANY OF THE REQUIREMENTS LISTED BELOW NO LONGER APPLY. THE ONLY REQUIREMENT TO UNLOCK KUL TIRAN HUMANS NOW IS TO REACH LEVEL 40 ON A CHARACTER AND VISIT THE STORMWIND EMBASSY TO PICK UP THE RECRUITMENT QUESTLINE STARTING WITH "MADE IN KUL TIRAS."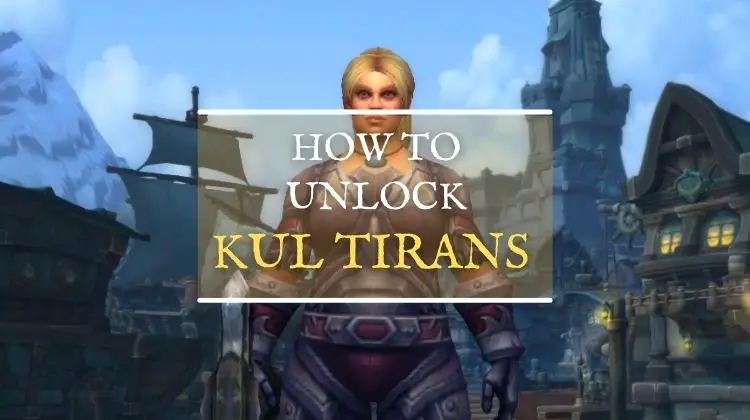 If you are a new or returning player, the process of unlocking allied races may feel daunting. Since the allied races were introduced in past expansions, the unlock process expects you to travel to zones and areas that you aren't familiar with. To make matters worse, many guides assume you already know how to get to these zones or what quests you need to do to earn a specific achievement. In this guide, I will walk through each step, including how to get to the zones so that you can unlock the Kul Tiran allied race!
As an overview, here are the steps I want to cover in this guide:
There are several requirements to unlock Kul Tiran Humans in Dragonflight:
Complete the storyline in each Kul Tiras zone to earn Loremaster of Kul Tiras.
Do part 1 of the Alliance War Campaign to earn Ready for War.
Reach level 50+ on an Alliance character if you haven't yet.
Do The Pride of Kul Tiras storyline.
Complete the A Nation United quest.
Earn Tides of Vengeance by finishing the second part of the War Campaign.
Do the 20 recruitment quests, starting at the Stormwind Embassy.
After finishing the recruitment quests, you can play as a Kul Tiran Human. Okay, so that gives you a quick overview of what is required. In the rest of the article, we will dive into the details of each requirement.
1) Complete each Kul Tiras zone storyline
Kul Tiras is the Alliance continent added in the Battle for Azeroth expansions. Before you can complete the storyline in each zone on the Kul Tiras, you need to know how to get there.
How to get to Kul Tiras in Dragonflight
If you have been to Kul Tiras (Boralus Harbor) before, you can get back by taking the portal to Boralus from the Mage Quarter tower in Stormwind. To unlock the portal, you can pick up a quest called The Tides of War in Stormwind's Trade District (from the NPC next to the hero's call board). You can also get to Boralus Harbor by taking the southernmost ship from Stormwind harbor docks.
However, if you take the ship without first doing The Tides of War, there won't be any quests for you when you arrive.
Horde players can get to Kul Tiras in Dragonflight by doing the Horde war campaign that starts at level 35. This will allow you to set up footholds on Kul Tiras that you can reach by taking the ship from the docks in Dazar'alor. If you don't have the portal to Dazar'alor (from Orgrimmar), you will need to complete the Mission Statement quest first.
Kul Tiras zones
There are three major zones on the continent of Kul Tiras — Drustvar, Stormsong Valley, and Tiragarde Sound. You can begin questing in Tiragarde Sound at level 10 by selecting the Boralus Harbormaster's Office map. Drustvar quests start at level 25 from the same spot. To begin questing in Stormsong Valley, you must be level 35.
Each of these zone storylines will take a considerable amount of time to finish. If you have flying unlocked, it may take you 2 – 4 hours for each zone, depending on your class and comfort with your character. If you don't have flying, it could take you twice as long. You will know you have satisfied the requirements for the zone when you earn the following achievements:
As another important note, completing the Loremaster of Zandalar achievement on a Horde character will give you the alliance equivalent!
2) Part 1 of the Alliance War Campaign
At level 35+, you become eligible to begin the Alliance War Campaign. However, you will only be able to complete a few steps because some of the portions of the story are gated behind higher-level requirements and other questlines. You can choose to start working on it while finishing zone storylines or wait until you are done.
Once you reach level 50, you'll want to complete the short side quest to unlock your legendary necklace called the Heart of Azeroth. To begin the process, you can pick up a quest called A Dying World from the Earthen Guardian found outside the Snug Harbor Inn in Boralus.
In total, there are eight storylines as part of the first chapter of the War Campaign. Here is a list of each quest chain and the level required to begin it.
You can begin the first step in each storyline from the ship (Wind's Redemption) in Boralus Harbor. The quest giver is an NPC named Halford Wyrmbane, and he can be found at coordinates (69.6 27.0). Finishing each of these objectives will reward Ready for War.
3) Reach level 50+
This one is pretty straightforward. You need to reach level 50 to complete the first part of the War Campaign and all other steps listed from here on out. If you are starting a character from scratch, you should hit level 50 with quests in the three zones alone.
4) Pride of Kul Tiras Storyline
After earning the Loremaster of Kul Tiras achievement and reaching level 50, you can begin working on The Pride of Kul Tiras.
This quest series begins with What You May Regret, which you can pick up from Cyrus Crestfall in the Boralus Harbormaster's Office.
In total, there are 25 quests you will need to complete to earn The Pride of Kul Tiras achievement. Some players have had difficulty with this step because there are four dungeon quests included in the chain. Luckily, as of patch 9.1.5, you can skip each dungeon quest by speaking to the quest giver again and selecting "I entrust you to handle this mission!"
Here are the 25 quests that you will need to complete:
1. What You May Regret
2. Lost Shipment
3. A Local Guide
4. An Explosive Entrance
5. The Keys to Success in Freehold
6. Sweete's Strongbox
7. Tol Dagor: The Fourth Key (Dungeon)
8. The Mysterious Island
9. A Forlorn Hope
10. The Strength of the Storm
11. Ritual Effects
12. Shrine of the Storm: The Missing Ritual (Dungeon)
13. Opening the Way
14. Fate's End
15. Lost in Darkness
16. Of Myth and Fable
17. The Old Bear
18. Nightmare Catcher
19. Buried Power
20. Hatred's Focus
21. Waycrest Manor: Draining the Heartsbane (Dungeon)
22. Into Darkness
23. Runic Resistance
24. Thros, the Blighted Lands
25. Siege of Boralus: Lady Ashvane's Return. (Dungeon)
After finishing the quest for Siege of Boralus and earning The Pride of Kul Tiras, you will be able to start a quest called A Nation United. This is a single quest that can be picked up from Genn Greymane in the Harbormaster's Office (Boralus). Completing it should be straightforward so let's jump to the next step!
6) Finish the second part of the War Campaign
I have listed this as the 6th step in the process of unlocking Kul Tirans, but you can technically do it once you are level 50+ and have earned Ready for War.
To begin the 2nd part of the War Campaign to earn Tides of Vengeance, look for the orange exclamation point on your map for the quest named The Calm Before. It will be offered by Mathias Shaw on the same boat that all other War Campaign quests have started from.
If you are having trouble finding it, you might want to turn "trivial quests" on your map by clicking on the magnifying glass near your minimap.
7) Do the 20 quest recruitment storyline
If you haven't had your fill of questing yet, it is time to do some more! Fortunately, you are almost there!
You can begin the recruitment quests by talking to Aysa Cloudsinger at the Stormwind Embassy. The quest you are looking for is called Made in Kul Tiras.
While 20 quests sound like quite a lot, you will be able to bang through it pretty quick because many of them are "go talk to that guy" types of quests.
Once you finish that quest chain, you will (finally) unlock the Kul Tiran Human allied race and a shiny new Kul Tiran Charger mount!
I have included a few frequently asked questions below. If you are working on unlocking other allied races, here is my quick allied race unlock overview and links to detailed guides for every race.
 Frequently Asked Questions
Q. How long does it take to unlock Kul Tiran Humans?
This depends on where you are in the process and whether you have BFA flying unlocked. At the fastest, you might be able to unlock Kul Tirans in 8-10 hours. For a new character with no flying or BFA playtime, it may very well take you upwards of 20-30 hours instead.

If you want to invest time into BFA flying, please check my guide on earning BFA pathfinder.
Q. What racial traits do Kul Tirans have?
Kul Tiran Humans have 1 active racial ability and 4 passive ones. Their active ability, Haymaker, can be used to knock enemies back and stun them for 3 seconds.

Their passive racial skills include:  
Brush It Off: Heal for 2% of damage taken over 4 seconds and 1% increase to versatility.
Child of the Sea: 10% faster swim speed and 50% more breath capacity.
Jack of All Trades: Plus 5 to all tradeskills.
Rime of the Ancient Mariner: Take 1% less Frost and Nature damage
Final Thoughts
Unlocking the Kul Tiran allied race is an involved process. In addition to completing the major Kul Tiras zone storylines, you need to complete the first two parts of the Alliance War Campaign and a recruitment quest chain.  
Hopefully, this guide helped to clarify exactly what is required and answered some questions you had.
Thanks for reading!