Part 7 of a guide for new, beginning, or returning players in World of Warcraft Shadowlands.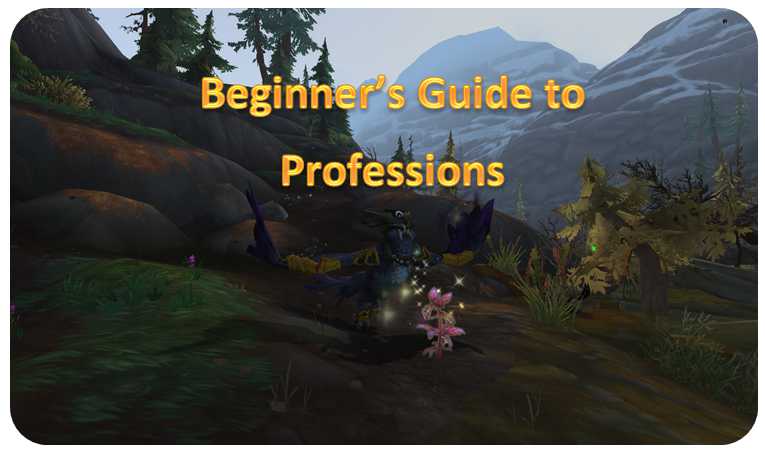 In our last guide, we talked about how to obtain, sell and store items. While these are all valid uses for items, we haven't talked yet about one of the main uses for items… professions. Hence, In this guide, we are going to talk about professions in World of Warcraft including what they are, how you learn one, and what they enable you to do. So first, let's answer the basic question… What is a profession in WoW?
A profession is a craft or skill that you can learn which returns a benefit to you or other players. Some professions allow you to gather resources from around the world while others enable you to craft everything from consumable potions to mounts.
Notice, we said that you "can learn" a profession. You are not required to learn a professions if you don't want to. However, while it is not mandatory to learn a profession; it is strongly encouraged. In addition to providing your character with benefits, you can create items that other players can purchase from you for gold.
Learning and leveling a profession
To learn a new profession, you will need to visit a large city and find a trainer in that profession. Finding the trainer can be difficult at times, but if you approach and click on a guard, they have an option to find profession trainers. Once you find the trainer, you can learn a profession for a small initial amount of gold.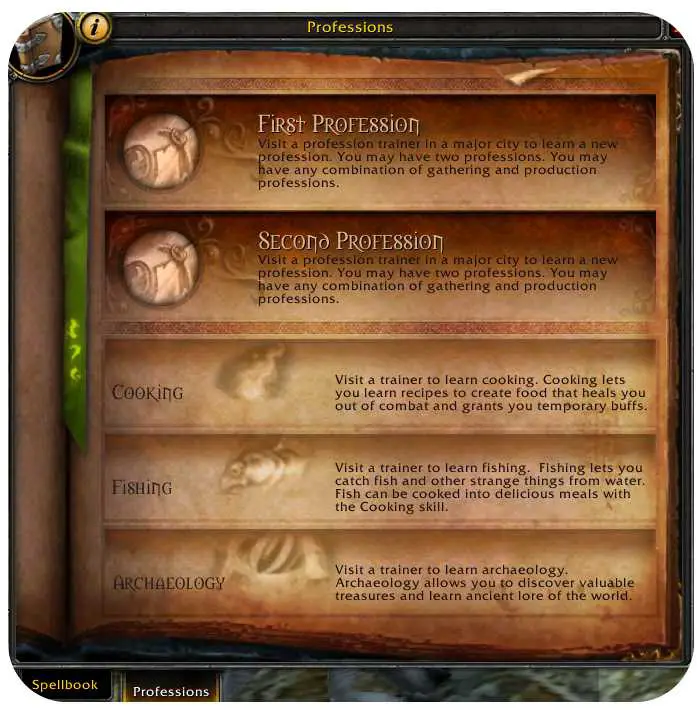 As you gather resources or craft items, your mastery of that profession will increase and you will gain levels. Greater levels in a profession enable you to learn more recipes from your profession trainer. Learning these new recipes costs additional gold and can quickly add up in cost if you learn every one. Additionally, more recipes can drop from monsters you defeat throughout the world.
Professions in World of Warcraft: Battle for Azeroth can be leveled up to level 175. While this sounds like a high number, it can be very easy to reach that level but may set you back a good amount of gold to do so. Wow-professions.com provides helpful and easy guides for leveling the major professions here if you are interested.
WoW Profession types and unlearning a profession
In general, there are two categories of professions — primary and secondary. Each character can learn up to 2 primary professions and can learn all secondary professions which include fishing, cooking, and archaeology.
Since you are limited to 2 primary professions, you will want to think about which ones best match your playstyle and needs.
Additionally, you may have times where you want to unlearn one of your existing skills to learn a new one. This can be done easily. However, when you unlearn a profession, you will lose the experience and levels you gained in that skill. Fortunately, Blizzard introduced Forgotten Technique Tomes to relearn any lost skills.
To unlearn an existing profession, simply open your Spellbook and Professions menu ('P' key on keyboard). From there switch tabs on the bottom of the window to "Professions". Finally, click the red, crossed-out circle and confirm that you would like to forget that skill. Now you can go to a large city and learn another profession in its place.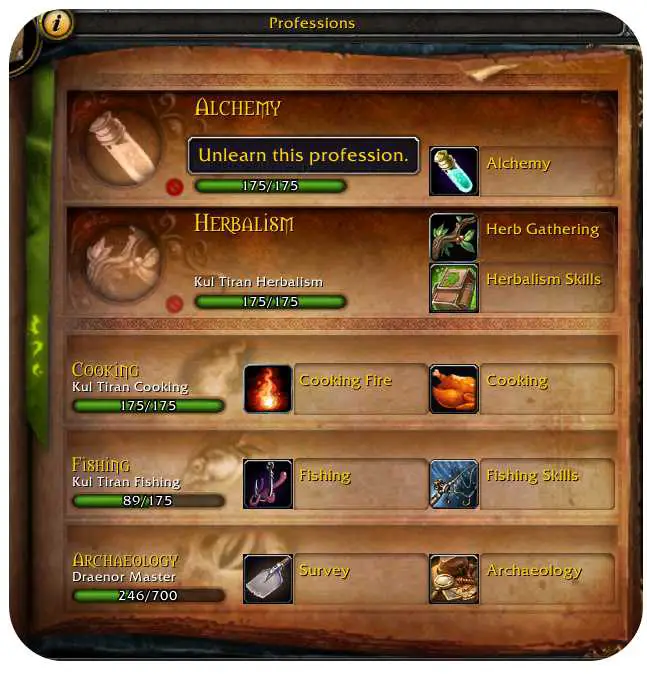 Overview of professions in World of Warcraft
In general, there are two types of professions — gathering and crafting/service.
Gathering Professions
Gathering professions allow you to collect new resources throughout the world. You use these professions by interacting with objects throughout the world. There are five professions that fall into this category.
Herbalism (Primary)
Mining (Primary)
Skinning (Primary)
Archaeology (Secondary)
Fishing (Secondary)
The herbalism profession is used to collect herbs (plants) from around the world. These herbs can be used to create potions or ink used to create power enhancing scrolls.
Mining, as you might imagine, allows you to extract ore from rocks throughout the World of Warcraft. These ores can contain gems, be used to create gear or other useful items.
Skinning on the other hand, gives you the ability to obtain meat, fur or other skin from defeated enemies. Meats can be used to cook food for your character while furs/skins allow you to craft gear and other useful items.
Archaeology is an interesting profession. In short, it allows you to find digsites throughout the world and look for lost items or treasuries. Some toys and gear can only be obtained through this profession.
Finally, fishing gives you the ability to obtain fish which are primary used to cook food with.
Crafting/Service Professions
In contrast, crafting/service or production professions are focused on taking raw materials and making new items or enhancing existing items. You use these professions by opening the Spellbook (shortcut 'P'), navigating to the professions tab, and clicking on the profession icon. You can also drag these icons to your action bar for quick access. Production professions include:
Alchemy (Primary)
Blacksmithing (Primary)
Cooking (Secondary)
Enchanting (Primary)
Engineering (Primary)
Inscription (Primary)
Jewelcrafting (Primary)
Leatherworking (Primary)
Tailoring (Primary)
Alchemy gives you the ability to convert herbs and other ingredients into beneficial potions.
The blacksmithing skill uses ore which has been converted into refined bars to create armor and keys.
Cooking gives the ability to utilize ingredients to make food which restores health, resources or provides buffs to your stats.
The Enchanting profession can be used to break down gear, or "disenchant", gear. Disenchanting gear gives you materials which can then be used to add spells or effects to other gear to strengthen it.
Engineering enables you to make a variety of weapons and gadgets which will do things like bring a fallen party member back to life in combat.
The Inscription profession uses pigment and ink obtained from herbs to create scrolls which enhance your power or alter the appearances of your spells and character.
If you learn Jewelcrafting you will be able to "prospect" ore to find gems and cut them into patterns which can be added to gear. The main benefits gained from adding gems to your gear are greater stats for your character. In order to add a gem to a piece of gear, it must have a socket to place the gem in.
Leatherworking enables you to use leather scraps obtained from skinning creatures to create leather armor and things like drums which increase attack speed.
The tailoring profession utilizes cloth dropped by humanoids to create bags and cloth based armor. They can also make things like a magic carpet mount.
What profession should I learn?
What profession you learn is ultimately up to you. Some players swear by one or several professions but there are always cool things you can do no matter what you choose.
However, it is helpful to think about the interactions between the professions when deciding. As an example, leatherworking requires scraps obtained from the skinning profession. While you can purchase those scraps off the auction house, you may want to take the skinning skill yourself to collect those materials.
To help you see the interactions between the professions we have included a cheatsheet of all the professions and their inputs (if any) below.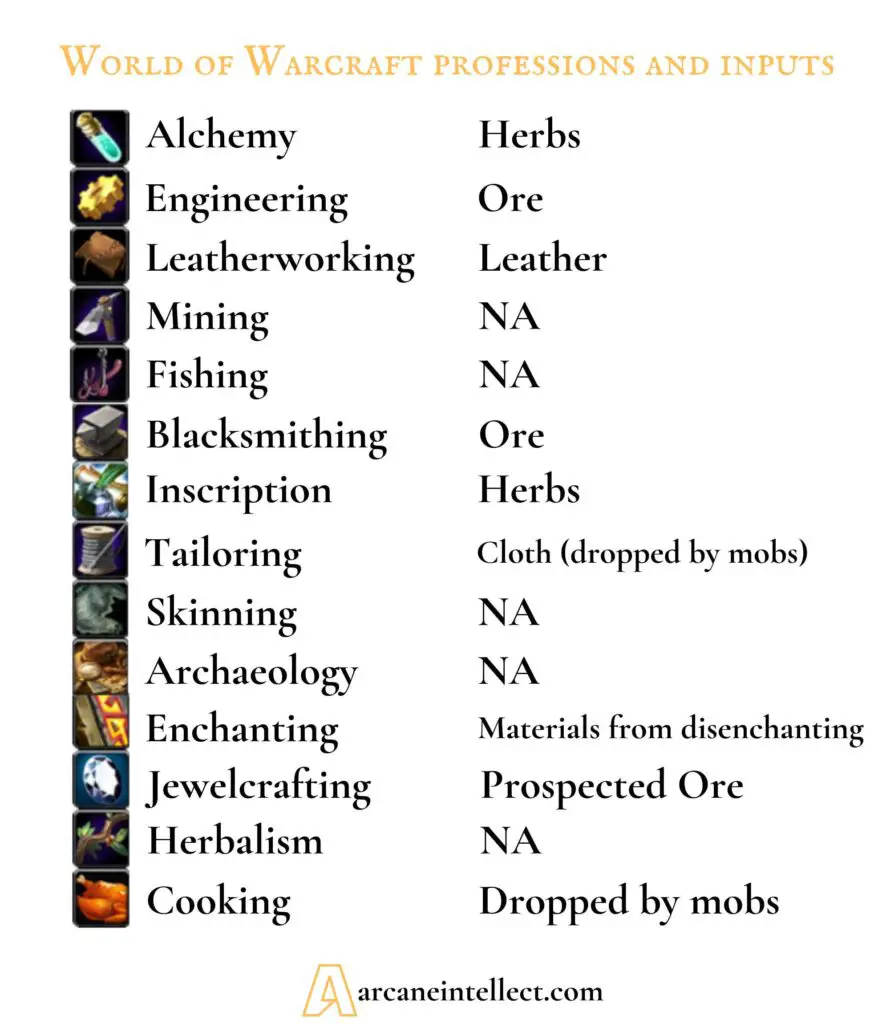 TLDR: Professions in World of Warcraft
Professions in World of Warcraft are used to collect or craft items for your character or to sell to others. You can only have 2 primary professions. Professions can be learned in large cities throughout the game. Some focus on gathering materials while others are used to create new items. It is helpful to consider the interaction between professions.
Thanks for reading our guide on professions in World of Warcraft. Next time around, we will look at Dungeons and Raids in World of Warcraft. Feel free to jump around if another topic interests you more below:
You are here