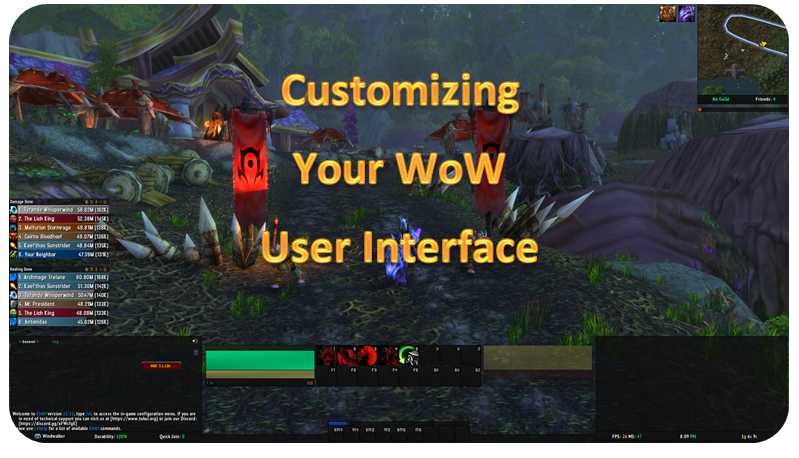 One of the quickest ways to improve your gameplay in World of Warcraft is by customizing your user interface (UI). As silly as it may sound, the location of various windows and information has a major impact on how well you play. By default, your attention is focused on your character. However, if we look at the default UI from my first article on the Basics of UI, we notice that information is spread all over the screen.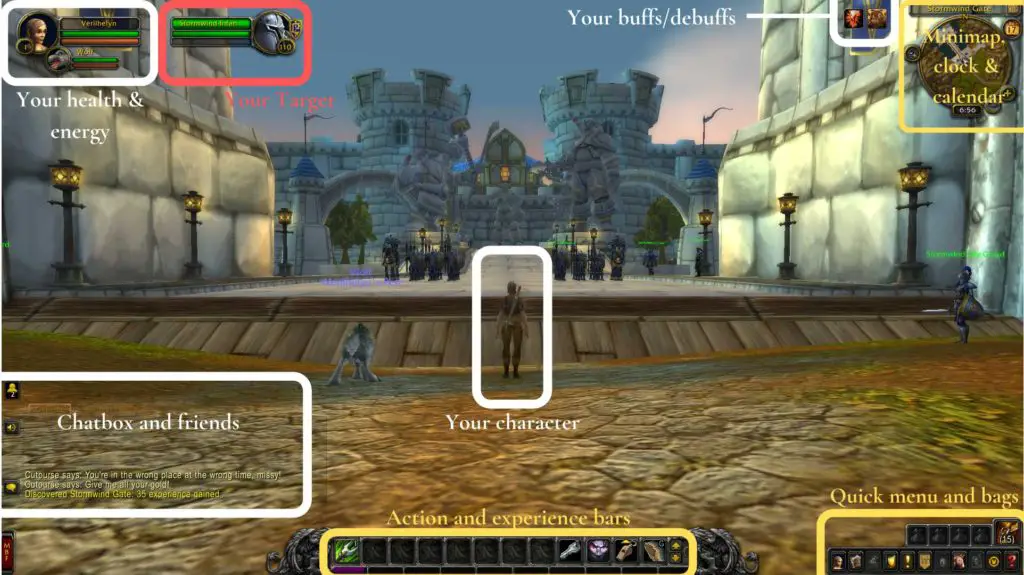 Health and resource bars are in the top left, buffs/debuffs are in the top right, spells are on the bottom and your character is in the middle of it all. In an intense encounter, it can be difficult to quickly move your eyes between all these elements and the enemy you are focusing on — especially when played on a large monitor which increases the space between information. Time spent looking around increases your chances of missing important information or dying to a mechanic (perhaps a pool of bad stuff under your character).
Or maybe you don't like some of the colors or artwork used in the default UI. So, even if you aren't interested in "improving your gameplay," you may still get enjoyment out of making a UI that is your very own.
By customizing your UI, you can reduce the time needed to move your eyes between elements, add additional information, and personalize your experience.
When it comes to customizing your UI, there are two potential options: use a UI replacement AddOn like ElvUI or build your own. We will look at the strengths, weaknesses and steps for both of these approaches now.
Option 1: Using a user interface replacement: ElvUI
If it is your first time customizing your UI, you may want to consider using a UI replacement like TukUI or ElvUI. While TukUI and ElvUI are similar, ElvUI is better suited for players new to customization; hence, we will focus on ElvUI for this article.
ElvUI strengths and weaknesses
The biggest strength of ElvUI is the time which it takes to get a full UI replacement up and running. Upon opening the AddOn for the first time, you are guided through a series of steps to choose your layout and theme (colors). This initial setup is straightforward and helps you produce a basic UI which is still a significant improvement over the default. Additionally, you can share your settings or import other user's settings through websites like wago.io (I will talk about this more in a moment).
However, the ease of setup and predefined templates means that you may have to do a bit of work to get your UI functioning how you want. This task can prove to be somewhat daunting and has a little bit of a learning curve required to understand how the various modules and options work. On top of that, because ElvUI is a full UI replacement, it means that it has many features — including ones that you may not want. Some players argue that these extra features create bloat and impact their game performance or experience.
Fortunately, there is no risk in giving ElvUI a test run since it is free and can be easily disabled if you don't like it. Let's look at how you can download and setup ElvUI now.
1. Download the ElvUI addons files from tukui.org
Unlike many AddOns for World of Warcraft, ElvUI must be downloaded from the creator's website and not through a service like CurseForge. It can be downloaded at tukui.org directly or through a desktop client.
If you download the client, you will have to register an account but it will be easier to keep the AddOn up-to-date. After creating an account and signing into the client application, you can simply navigate to the "Browse" tab and select "Install ElvUI." You can install several AddOns through this screen for both Classic and Retail WoW. To switch between these, you will have to change the dropdown in the bottom-right portion of the window.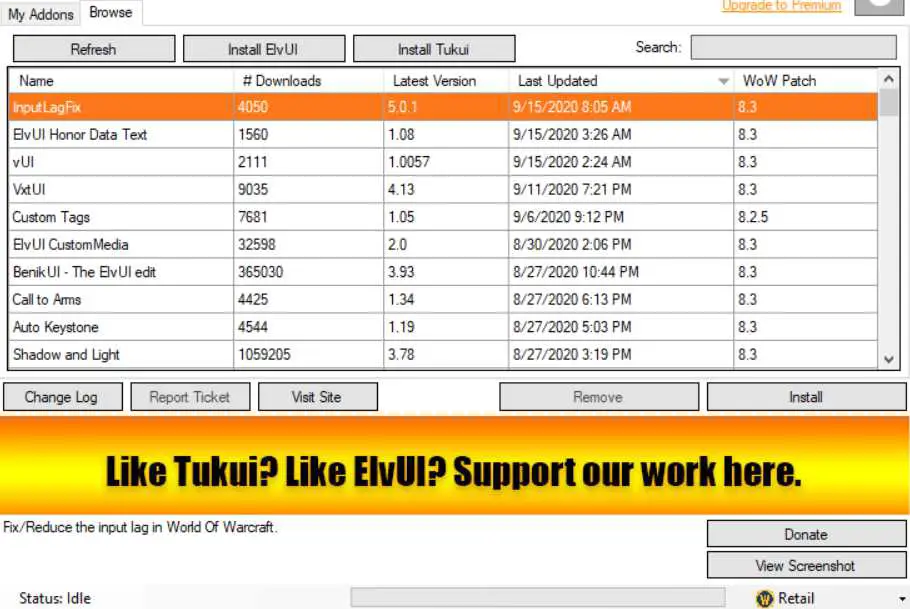 The other option is to download the files directly. This means that you will not have to register an account; however, you will need to re-download and replace the folder anytime you want to update. If you are not sure how to install the downloaded file manually, check out our Beginner's Guide to Addons.
2. Complete in-game setup
Now that you have the ElvUI AddOn installed, it is time to launch the game.
Upon entering the world, a new "ElvUI Installation" box will pop up. Do not "Skip Process," but press "Continue" instead.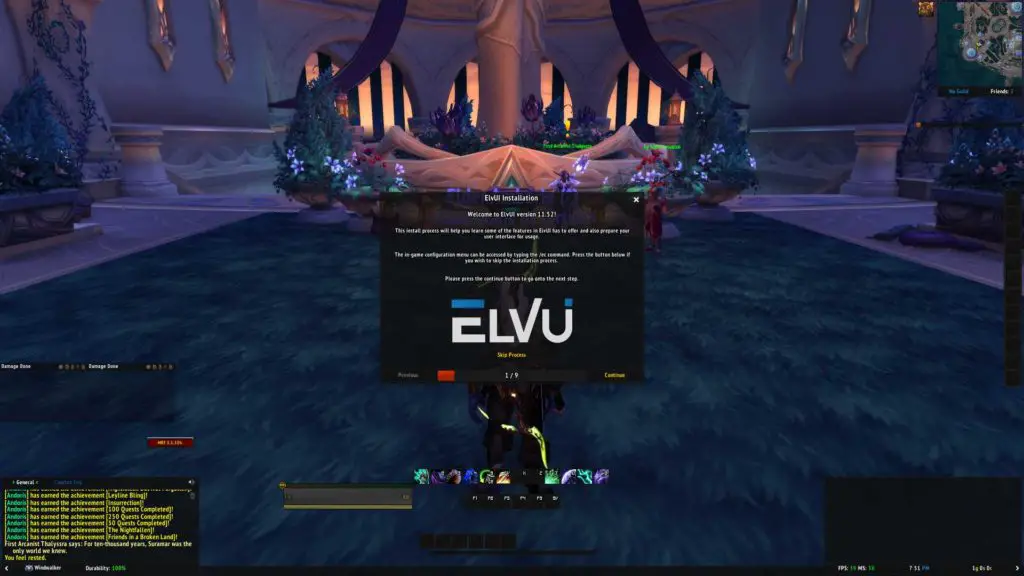 After pressing "Continue", the second screen will ask you to setup your CVars. Make sure to click "Setup CVars." You will know it was done correctly when a small prompt indicates that "Cvars Set." Press "Continue" again.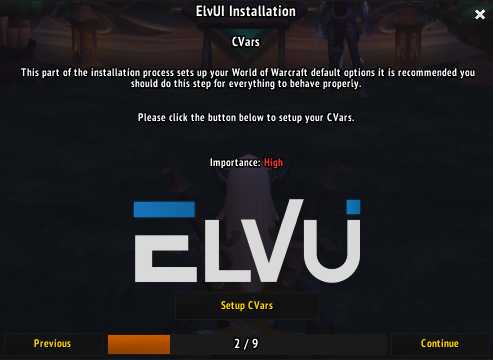 The third setup screen is for configuring your chat. You can click this now, or work on customizing your chat later on.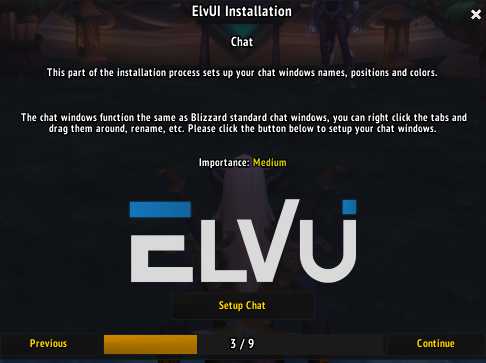 Screen four allows you to create a profile for your new UI layout or select an existing profile. You can either click "Continue" or create a new profile if you plan on using the same layout across several characters.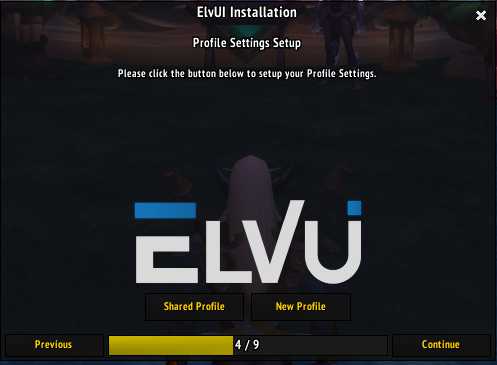 The fifth setup screen allows you to choose colors for your ElvUI theme. You can click between the 3 options and see which one you prefer and then continue to the next screen.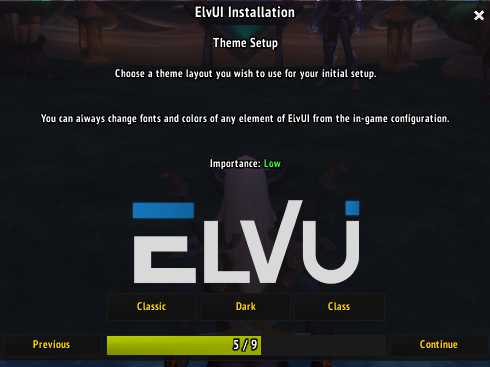 The next step is to select the scale of your UI. You can either select to "Auto Scale" or can use the slider and preview button to experiment with size until it looks the way you want.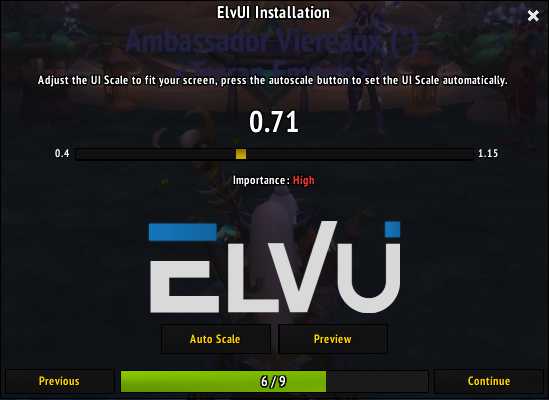 Screen 7 gives you the option to choose between 3 different layouts: Tank/Physical DPS, Healer and Caster DPS. Select the layout that makes sense for your class or that looks the best to you and continue.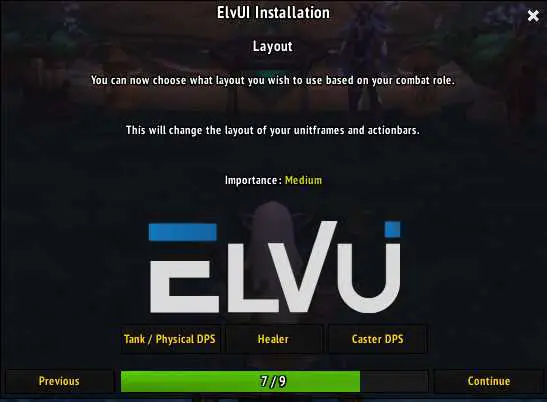 Almost there. The second to last screen asks you to choose between setting up "Aura Bars & Icons" or "Icons Only." I would personally recommend "Aura Bars & Icons," but you can select either option and continue.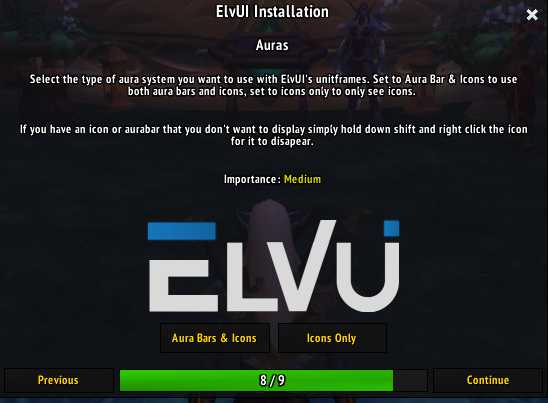 The last screen gives you the option to join the ElvUI Discord. You can join or simply press "Finished" to move on.
3. Refine your UI layout and appearance
Great, you have now completed the basic setup for ElvUI. While you could stick with the default settings and layout, there is a good chance you will want to refine things further.
To make additional changes, you will need to type /elvui or press ESC and select the 'ElvUI' option in the game menu. Upon doing this, a settings box for the AddOn will open with many options. You can navigate through different modules in the left menu.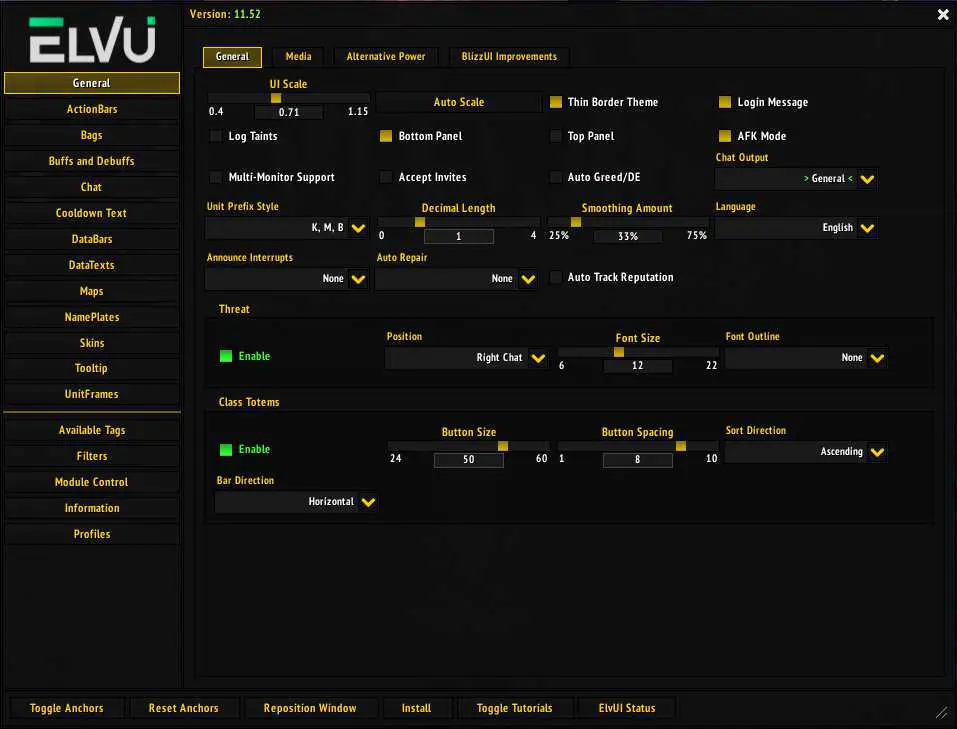 I could spend an entire article (if not series of articles) walking through all the potential options available. If you want to deep dive into the modules and options I would recommend reading this detailed guide on Wowhead.
For now, I want to point out the "Toggle Anchors" button in the bottom-left corner of the ElvUI settings window. When selected, this button will turn on the ability to change the layout of any item in your UI. It is also very helpful because it provides the names for the various elements and allows you to drag them wherever you would like.
The other really helpful resource for getting started is the ElvUI profile sharing offered on wago.io.  After navigating to the website, you will find a list of ElvUI profiles for every class and specialization in the game. You can either scroll through these for inspiration or you can import them into your game.
To import a profile, simply find a layout you like on wago.io and click on the option to "COPY ELVUI IMPORT STRING." Then, navigate to your ElvUI settings window -> "Profiles" in the left menu -> "Import Profile" and paste the string you just copied.
Alright, that is it on ElvUI for now.
The other way that you can customize your UI is by downloading other AddOns and building your own UI from scratch. While this approach
Option 2: Use other AddOns to build your own custom UI
The other path you can take is to build your UI from scratch with the help of one or more AddOns. While it sounds difficult, there are many easy to use AddOns available for this purpose.
Ground-up user interface strengths and weaknesses
The strength of this approach is that you can download only the features/AddOns that you need. Perhaps you are fine with the default chat box and map but want to move the location of your health and spell bars. In this case, it would be overkill to change your entire layout with a tool like ElvUI. Additionally, building your UI from scratch means that you end up with a layout that makes sense to you and is exactly what you want.
On the other side, building your UI from scratch typically requires managing several AddOns and may take some time to find ones which you like. Additionally, building a ground-up UI can feel overwhelming if it is your first time customizing, especially if you do not have an idea of how you want your screen to be laid out.
Fortunately, like ElvUI, you can get the AddOns for free and experiment to see if you find something you like. You can also watch streamers or other video content creators to see what they are doing as inspiration. Let's talk about a few basic AddOns you could start with and a basic setup.
Download and setup the required AddOns
First, you will need to download AddOns to customize the various elements of your UI. You may only be interested in changing your action and health bars. For this article, we will look at one or more of the most popular AddOns for action bars, unit frames, nameplates, map, and bags. The AddOns I cover are just a few of the many options available; however, they should serve as a good starting point and you can experiment with others along the way.
Action Bar
By far, the most popular action bar AddOn is Bartender 4. It is extremely easy to use.
To begin, type /bt in your chat box or find the icon and right-click on it. From there you can turn off the default artwork, unlock the positioning, change the size and number of buttons and add many other customization options.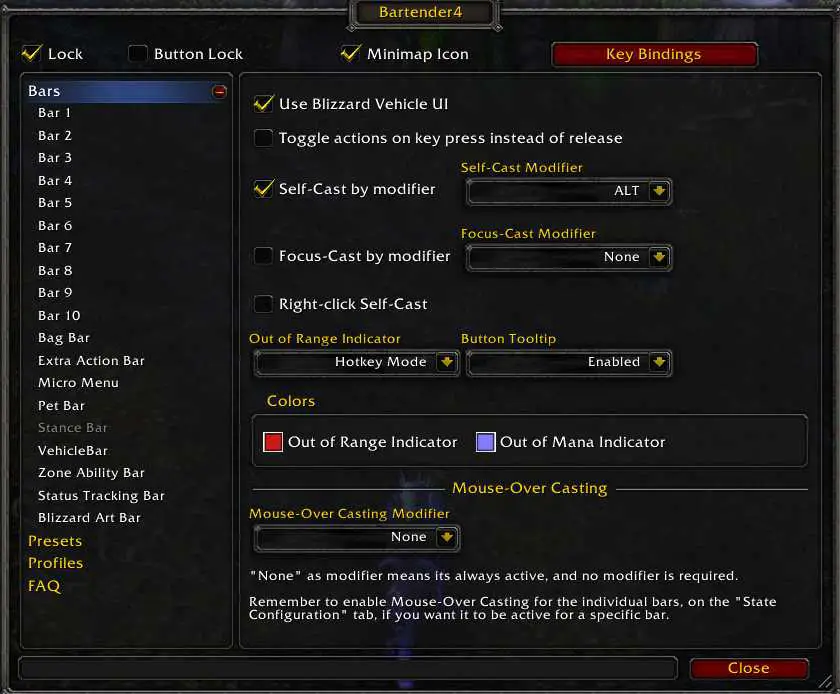 To move bars on your screen, simply uncheck the "Lock" box in the top-left portion of the Bartender settings window. You can change the size, padding and number of icons by navigating to the bar you want to customize in the left menu. The "Key Bindings" button is also extremely helpful as you can hover over an icon and press the key you want it to be bound to (or press ESC while hovering to delete a bind).
Unit Frames
More than any other category of AddOns, there are many different types of unit frames and nameplates. The term unit frame typically refers to the health/resource bars for your character, target and party or raid members. Conversely, nameplates are the visual indicators of health that appear above NPCs or other players in the World.
For unit frames, there are many good options. While I will only mention 2 of them by name, there are many others which are tailored for the types of content you play. For instance, if you are a healer who raids, the Healbot or VuhDo unit frame AddOns are extremely helpful. To give you an idea of what a unit frame AddOn looks like, here is an example of the Shadowed Unit Frame and Z-perl Unit Frame AddOns.

The examples above are the default appearance for the respective AddOn. If you don't like an aspect of the appearance, like having a portrait, you can change it in the options. In a future guide, we will dive deeper into the various customizations you can make using unit frame AddOns. For this guide, I will show you a basic example of a Shadowed Unit Frame setup.
For this example, I disabled some of the default units so that I only have a player, pet, target, party and boss unit frame.
I then unlocked the unit frames under the "General" option, and moved them where I wanted. Finally, I disabled the portrait for the "Player" and "Target" units. The end result is minimalistic health bars located directly under my character on either side of my spell bars created with Bartender.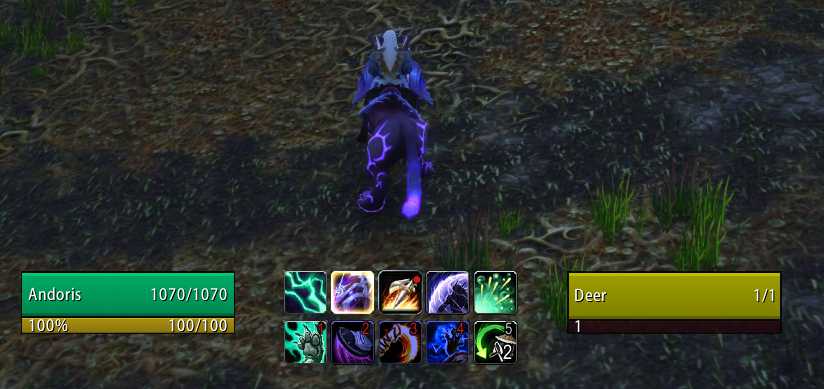 Nameplates
In addition to unit frames, you can also customize your nameplates which are the health bars that appear above enemies. There are several different AddOns which offer great looking nameplate replacements. Three of the most popular are Tidy Plates, Threat Plates, and Plater. To help you decide, here is an image of the default appearance of each AddOn.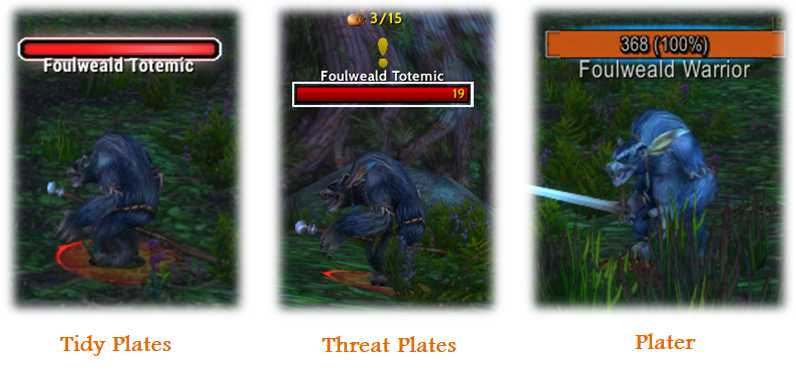 I personally prefer Threat Plates, but any of these is a great option. Fortunately, there is very little setup required for most nameplate AddOns. If you want you can customize them, but I find that the default settings work well enough for most content.
Map
While you are making over your UI, you can't forget about your map. The AddOn I recommend for customizing your map is called SexyMap. In addition to changing the shape of your map, you can customize the border with various auras and animations. You can also add coordinates to your map in the AddOn settings. Here is an example of a few cool map borders you can select:

Bags
The last area of your UI to rework in a basic customization is your bags. While there are many AddOns for this purpose as well, the most popular one is Bagnon. It is clean, easy to setup and allows you to see all your items in one searchable window. As with the other AddOns we have mentioned, you can use the settings window to adjust things like the number of columns, scale/size and color scheme.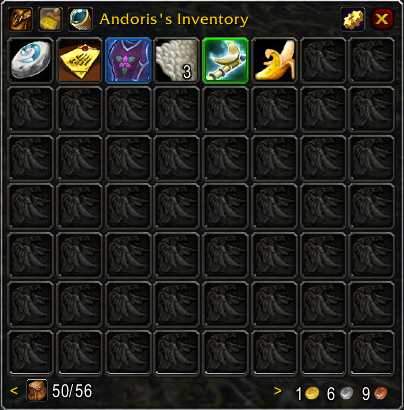 Ground-up UI Result
Great, we have talked about how to customize action bars, unit frames, nameplates, the map and bags. Putting it all together (with the inclusion of Details! Damage meters), I created the rough custom UI shown below in a matter of about 15 minutes. While it is not the most beautiful UI, it is certainly an improvement over the default UI as my spells and health are now located closer to my character.
Other helpful UI related AddOns
With relatively few AddOns, we created a new UI from scratch. As mentioned, there are so many different UI altering AddOns available that it would not be practical to cover them all. However, there are several other popular ones which I think are important to at least mention here. They are:
MoveAnything – Lets you hide or move any UI element in the game.
WeakAuras – Powerful AddOn which enables you to create "auras" or graphical representation of events or information in the game.
Dominos – Action bar customization AddOn similar to Bartender 4.
OmniCC – Adds countdown text to spells, items and abilities that are on cooldown
Prat – AddOn which adds helpful functionality to your chat window.
Details! ­– My preferred combat meter AddOn, could also use Recount or Skada.
Final Thoughts
Improving your user interface setup can significantly improve your gameplay or in-game experience. In general, there are two approaches you can take to change your UI — use a UI replacement AddOn like ElvUI or build it yourself from scratch. While there are strengths and weaknesses of each approach, it ultimately comes down to personal preference.
Do you have a nice clean user interface you want to share? Any other helpful AddOns you use for your UI? Would love to hear from you.
Thanks for reading!