A quick guide to the Ruby Life Pools dungeon in World of Warcraft: Dragonflight
Welcome to this Ruby Life Pools dungeon guide! In this guide, I'll give you a quick overview of how to get to the dungeon, each boss's basic mechanics, and some tips that have helped me prepare for my Ruby Life Pools runs in Dragonflight.
How to Get to the Ruby Life Pools in Dragonflight
You can find Ruby Life Pools (RLP) in the Waking Shores — a short dragon-riding flight to the northwest from Valdrakken. It is one of the first dungeon locations players will encounter during the main Dragonflight storyline.  
Where is the Ruby Life Pools Entrance?
You can find the Ruby Life Pools dungeon entrance at ground level on the southern end of the life shrine (not on top of the building). For coordinate users, you can navigate there by going to /way 60.0, 76.2.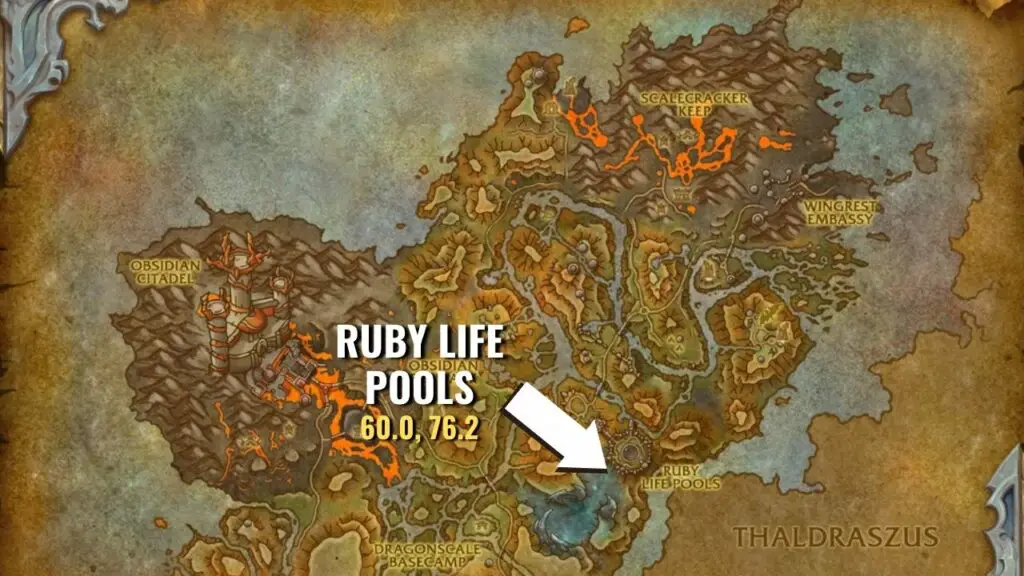 Ruby Life Pools Boss Guide
There are three bosses in Ruby Life Pools, but they can be a brick wall for many m+ groups. While the boss encounters have received several nerfs since the Dragonflight release, there is a chance they are nerfed even further by the time you read this. However, it is unlikely that the nerfs will remove mechanics, so I'll just focus on giving you a quick idea of what mechanics each boss does.
I recommend you also watch some clips that explain the mechanics, but I wanted to make this guide a good second-monitor resource to have pulled up during a run to remind you before each boss.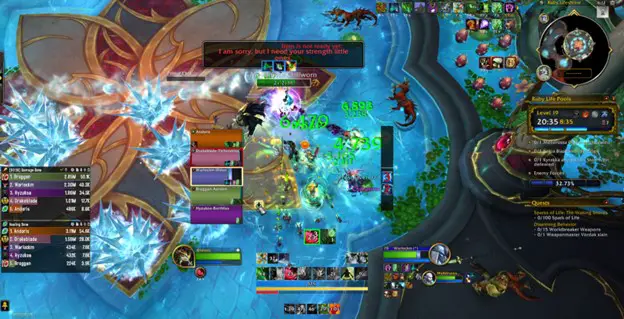 Melidrussa Chillworn – Stack with your group when the boss casts Hailbombs. Run out when you get a large frost circle and drop it on the edge of the room, then run away and don't let it pull you in. Kill the whelplings when the boss awakens them. Healers should dispel Cold Claws before eight stacks, and tanks should mitigate Frigid Shard. 
Kokia Blazehoof – Stay roughly stacked with the group throughout the fight, and don't stand in fire. You will want to move the boss around the upper ring after fire spawns.  Kill adds when they spawn and bait Molten Boulder in the opposite direction of where your group is moving. Use big group heals and personal defensives while the add is up. Run out of large fire ring when the add dies. Tanks should have defensives and heals ready for Searing Blows cast by the boss.
Kyrakka and Erkhart Stormvein – Focus damage on the dragon early in the fight and stay loosely stacked. Run out when you get Infernocore debuff to drop fire away from the group. Avoid getting pushed off or hit by fire during winds. Don't get hit by frontal flame breath from the dragon. Tanks should mitigate Stormslam, and healers should dispel the debuff it leaves behind. 
Ruby Life Pools Dungeon Tips
Ruby Life Pools requires a lot of knowledge, perhaps more than any other dungeon this expansion, to complete it successfully. Here are a few ways you can master RLP and rock your runs.
Tip 1: Download the Mythic Dungeon Tools (MDT) addon
If you haven't done so, you should grab the Mythic Dungeon Tools addon. While the route for RLP is straightforward, the amount of dangerous abilities in the dungeon is not. 
So many deadly things are happening in every trash and boss pull in this dungeon, destroying so many groups. Hence, for my first tip, I recommend you grab MDT and spend some time right-clicking enemies on the RLP map to see their abilities.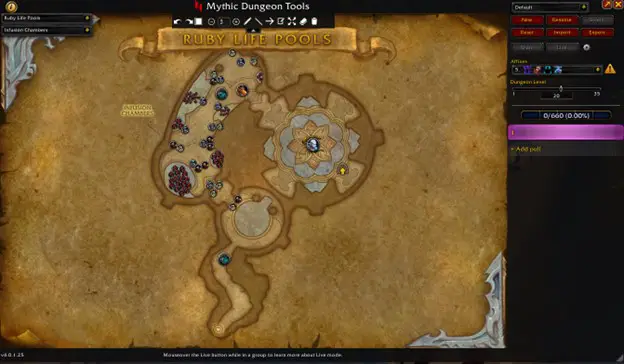 The more you understand the mechanics of each pull and mob, the more successful you will be. For instance, you can use the Living Bomb (fire circle) debuff on the Cinderweavers and Flame Dancer mobs to interrupt them and reduce the damage your party takes!
Tip 2: Master the dungeon 
Beyond using MDT, you should also check out some of the in-depth walkthroughs posted for RLP on YouTube. I have personally used and highly recommend the dungeon guides made by Tactyks, including this one:
My Other Dragonflight Dungeon Guides
If this guide helped you out, feel free to check out my dungeon guides for the other Dragonflight season one dungeons!
Frequently Asked Questions (FAQs)
What expansion is Ruby Life Pools from?
Ruby Life Pools is a dungeon from the World of Warcraft: Dragonflight expansion.