A guide to accessing the Forbidden Reach in World of Warcraft: Dragonflight
If you played through the Dractyhr Evoker intro when Dragonflight came out, you've already dabbled in the Forbidden Reach. Unfortunately, no other classes have been allowed there… until now! With patch 10.0.7, we can visit the reach and play around with a handful of new content. So, how do you get to the Forbidden Reach?
You can get to the Forbidden Reach by accepting the Hidden Legacies quest that pops up once you hit level 70. Completing it will give you the Return to the Reach follow-up quest and unlock a flight path. You can then use the flight path or dragonriding to return to the Forbidden Reach. 
If you decide to use dragonriding to get there, it might be helpful to talk about where to find it. Let's look at that now and a few other common questions you might have.
Where is the Forbidden Reach in WoW?
The Forbidden Reach is located off the northeast coast of the Waking Shores as a part of the Dragon Isles. Since it is set down lower than Valdrakken, it is easy to ride on your dragon. I was able to dragonride from The Seat of the Aspects to the reach in about a minute.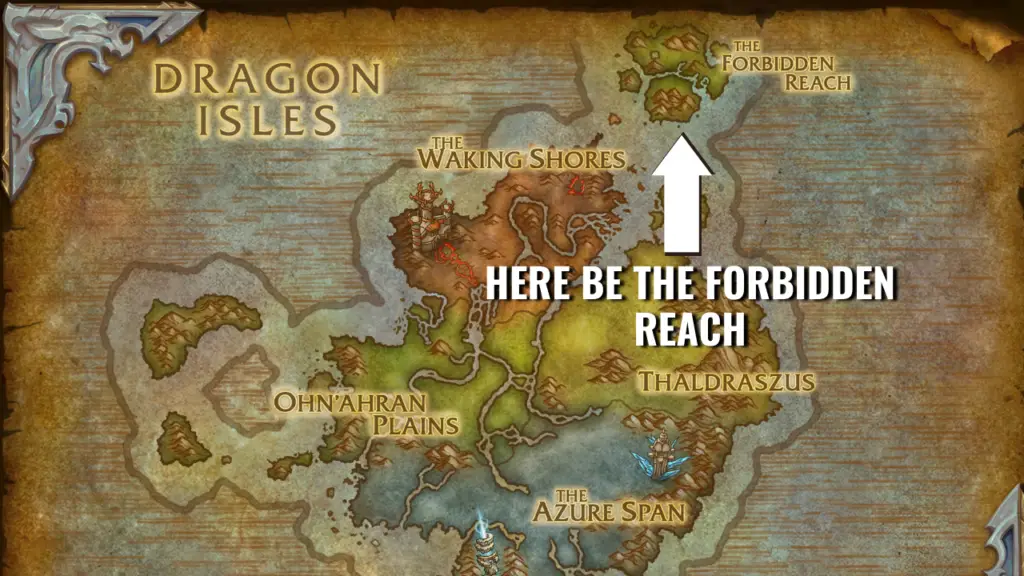 Can you use dragonriding on the Forbidden Reach?
Not only can you use your dragon in the Forbidden Reach, but there are also eight new dragon glyphs to collect! 
Can I skip Hidden Legacies and the introduction questline?
Once you have completed the introduction questline for Forbidden Reach on one character, you can skip it on your others. If you choose to skip, you will save yourself about 15 minutes but lose some gear, currency, and rep rewards. 
More specifically, you will miss out on the following:
Item level 385 BoA Cloak
1000 Elemental Overflow
An Untapped Forbidden Knowledge tome (used to upgrade Primal Storm gear)
A little over 1,000 Valdrakken Accord rep
I would love to see a day where skipping rewards those items, but it is what it is for now. 
Suggested for You: How to Unlock the Zskera Vaults
Why isn't Hidden Legacies showing up for me?
Currently, it appears that the only prerequisite for Hidden Legacies is reaching level 70. If you hit max level and it doesn't show up, you can try logging out and back in. 
Another thing you can try is to accept the quest from the "Suggested Content" tab of your Adventure Guide.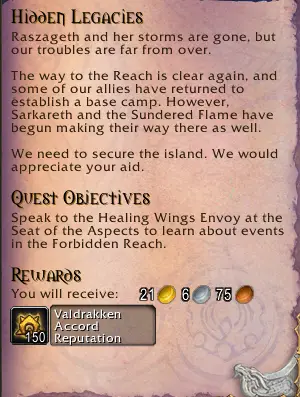 MORE DRAGONFLIGHT GUIDES!