Part 6 of a guide for new, beginning, or returning players in World of Warcraft Shadowlands.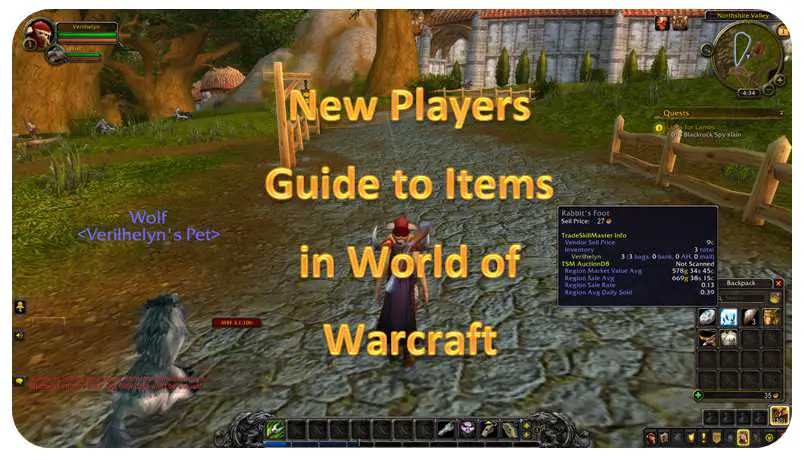 Welcome to part 6 of this ultimate guide for new World of Warcraft players. In our last article, we looked at how gear works (you can check it out here if you missed it). This time around, we are going to discuss items in World of Warcraft.
What are items in World of Warcraft?
Simply put, an item is an object which your character takes possession of. Items can be consumed to enhance character power, create other items, sell to other players, or may have no use whatsoever.
There are several ways to obtain items. You will obtain most of your items through looting defeated enemies, completing quests, or gathering them from natural resources.
Items vary in quality. You can check the quality of an item by hovering over an item and looking at its color. The cheat sheet below, which was also posted in our article on gear, shows the order of item quality based on colors. In general, items of higher quality are more valuable and difficult to obtain.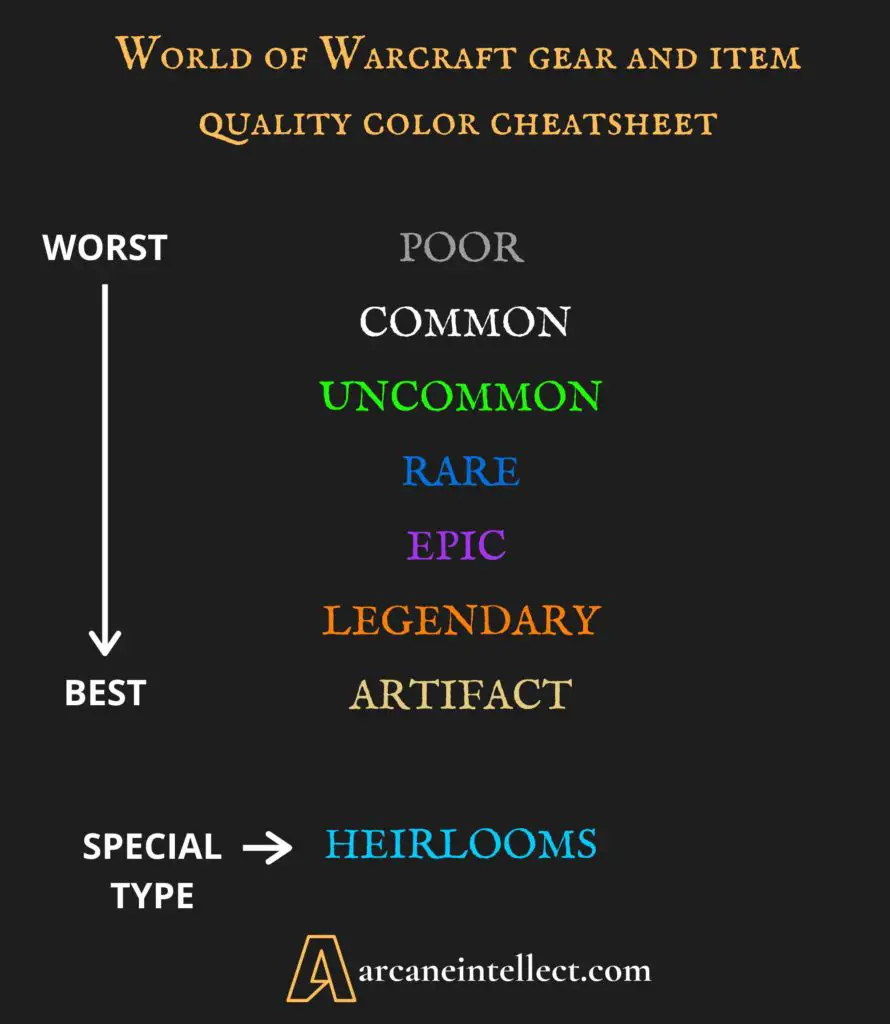 There are A LOT of different items in the World of Warcraft. As such, you can obtain more items than you can hold at one time since your backpack space is limited. Once you get more items than you can carry you have three options: you can sell your items to a NPC, sell them to other players or place them in storage. Technically, you can also destroy an item, but would do so very rarely.
Selling and Storing Items in World of Warcraft
Before we talk about selling items, it is helpful to talk about currency in World of Warcraft. The primary currencies in the game are gold, silver, and bronze. Conversion between these is easy as 100 bronze equals 1 silver and 100 silver equals 1 gold. You can earn gold through a variety of activities in the game. Gold can be used to repair gear, use flight paths to travel, purchase items (including mounts), and can even be used to buy game time (saving you the $15 monthly subscription). When you sell an item you will receive gold/silver/copper in return. You can see your current amount of gold in the bottom of your backpack ('B' key shortcut).
Selling to NPCs
You are able to sell to a NPC if you hover your mouse over them and your cursor turns into a bag. You can click the NPC and then right-click items in your bags to sell them. If you sell an item by mistake, you can change the tab in the window and buy it back. This is the preferred method to get rid of many of the poor (gray) quality items you find. If your item quality is common (white) or better, you may want to consider selling it at the auction house. This is because players will typically pay higher prices than the NPC for better quality items.
Selling to the Auction House
The auction house is a player-to-player market for selling items in World of Warcraft. It is also one of the best ways to make gold. If you obtain an item that you think might have value you can sell it on the auction house. Additionally, many players also attempt to "flip" an item, which means they purchase it for a low price and sell it higher or transform it into another item to sell.
Finding an Auction House
You find auction houses primarily in large cities throughout the game. Here is a Wowpedia article with a list of the major cities where you can find auction houses. Once you make it to one of these cities you can click on the magnifying glass by your minimap to turn on an icon for auctioneers. As a side note, a mount with an auction house (a long-necked dinosaur often called "long boi") was added to the game in Battle for Azeroth. It can no longer be bought directly since the Shadowland expansion launched.
Navigating the Auction House and Buying Items
Once you find an auctioneer, you can click on them to open a new window. The window will have an area to browse by type of item, search for a specific item, and list your items for sale. You can navigate between buying and selling using the tabs at the bottom of the window.
In the screenshot below, there is an add-on tab called TSM4. An add-on is an addition to the game that you have to download. Check out my guide on recommended add-ons and how to install them here (Beginners Guide to AddOns).
Once you have found an item you would like to buy you can click on it. To finalize the purchase, click the item and place a bid or buy it for the listed price.
As mentioned earlier, you can actually use in-game gold to purchase game time. To do this, you select "WoW Token" from the buying tab of the auction house. Once retrieved from your mailbox (can find by turning the icon on from minimap eyeglass), it can be redeemed for 30 days of game time or converted to $15 in your Blizzard account balance.
Selling your item on the auction house
On the "Sell" tab, there is a little more to think about. Once you switch to this tab, it will be blank. From there, you click on the item you are interested in selling and it will place it in the window. The left side of the window can be thought of as auction settings. Here you can specify how many you want to sell (Quantity), how much you want to sell each one for (Unit Price), and how long you want it to be posted (Duration). It will also show how much you are expected to pay the auction house as a fee for posting (Deposit) and the expected amount you would receive if you sell successfully (Total Price).
The right side of the window shows the current auctions for that item and can be useful in setting the price for your item. If there are no other auctions for that item and you don't know what price to set, there are many great online tools like The Undermine Journal. Once you have created your auction, you can then view it under the auctions tab.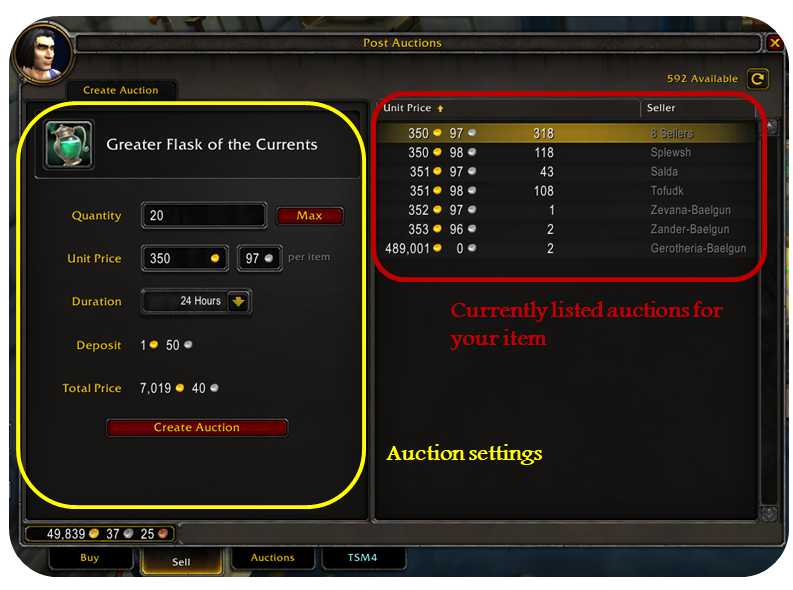 Once your auction sells you will get your deposit back but the auction house will take a percentage cut of the sales. Additionally, it will take an hour for your money to arrive. You can see the time until you receive your payment under the auctions tab as well.
Item Storage
What if you don't want to sell your item to a NPC or another player and just want to hold on to it? That is where storage comes into play. In short, there are three main types of storage — your personal bank, void storage, and a guild bank.
Personal and Reagent Bank
Your personal bank can be accessed in large cities throughout the game. You can find a list of most of the bank locations here.
Using your bank is simple and straightforward. In short, after finding the bank, you click on a banker and click on an item in your bag to deposit or an item in your bank to withdraw. By default, your bank can store 28 items with the option to pay to unlock additional spaces which you can fill with storage bags.
Additionally, on the bottom of the window for your bank is a second tab for a "Reagent Bank." This tab is a 98 slot storage that can be unlocked for 100 gold. However, you are limited to only depositing crafting materials. In the next part of this series, we will talk more about crafting and professions so hang tight.
Void Storage
Void storage is also a personal bank but is a long-term way to store your items in World of Warcraft. This is because it costs gold to activate the feature and then additional gold every time you want to store an additional item. Again, you can find void storage in the largest cities in the game.
Guild Bank
The last storage option in the game is a guild bank. Unlike the previous two options, the guild bank is shared between members of a guild. Some players will effectively create a personal guild (with help of other players) to use as extra storage. If you ever see people paying for "guild signatures" in the in-game chat, this is likely their plan.
If you are in a guild with other players you can put items that have value for other guild members. Many guilds have rules as to which items can be deposited, so check before you deposit. Additionally, guild banks have different permissions attached to them, which means that if you put an item in, you may not be able to get it out without talking to a leader in your guild.
Guild banks can be accessed in the same locations as your personal bank. Also, guilds who have reached level 11 unlock a perk called "Mobile Banking" which allows guild members to summon a chest and gain access to the guild bank once an hour.
TLDR
Items in World of Warcraft are used to make other items, enhance power, sell or store for the future. Items can be sold to NPCs or other players. Generally, players will pay more for items than a NPC. To store items, a player can go to a large city and put it in their personal bank, reagent bank, void storage, or guild bank. 
In the next part, we will look at one of the main uses of items: Professions Guide for Beginners.
If are comfortable with professions, feel free to jump ahead to whatever guide looks the most helpful below:
You are here