A complete introduction for players looking to improve their DPS, tanking, and healing in World of Warcraft.
Understanding rotations is one of the fastest ways to improve as a World of Warcraft player. Unfortunately, the concept of a rotation and why it is important is not really taught in-game. This can be a problem for new players and players who don't have someone to guide them through it.  When you first start out, the game introduces you to the idea of pressing a key to use an ability to do more damage. In other words, you learn "how" to use spells and "why" you want to. However, you don't really learn "when" to use your spells. This is where the idea of a rotation comes into play. So, what is a rotation in WoW?
A rotation is an order in which you cast items, spells, or other abilities in World of Warcraft (WoW). While any order of spell casting could be considered a rotation, the term typically refers to the optimal/best cast order for your character. Learning your rotation is vital if you are interested in raiding or dungeons in WoW.
Why are rotations important?
Rotations are important because they influence how effective you are with your damage, healing, or survivability. If you are interested in doing more difficult content (mythic+, heroic/mythic raiding, high-level PvP) learning your rotation is not optional. Additionally, even if you choose to focus on questing, leveling, or other content, you will find that understanding and improving on your rotation will make the game more enjoyable. If you have a quest to defeat 10 enemies and it takes you 3 minutes to kill each one… it won't be much fun. 
How do you determine your rotation?
For most classes, rotation is determined by a combination of several different factors. In addition to your spells, you also have to consider your cooldowns, talents, procs, opener, and number of targets. We will now walk through each of these factors.
Spells
It may seem pretty obvious, but one of the biggest determinates of rotation is the spells themselves. Some abilities are designed to be central to the playstyle of your character, while others are more situational.  Additionally, there are many spells that are designed to have a synergy with other abilities when used in a particular order.
Cooldowns and the global cooldown (GCD)
One of the more significant influencers in rotation is the cooldown of your abilities. After you cast many abilities, you will have to wait several seconds (or minutes in some cases) to use the spell again. The time you wait is known as the cooldown. While there are some abilities that do not have cooldowns, they typically cost a lot of resources to use and can only be used sparingly.
In addition to basic cooldowns on your spells, there is also a time restriction on abilities known as the global cooldown (GCD). The global cooldown is the length of time you have to wait to cast another spell once triggered. Most spells will trigger the GCD when used and require you to wait about 1-1.5 seconds before using any other ability. Even spells which are instant and have no cooldown may be subject to the global cooldown. However, there are some spells in the game which do not trigger GCD (referred to as being "off the global cooldown"). A spell that is off the GCD can be used and then followed immediately by another spell.
Damage or heals over time (DoTs/HoTs)
Many classes have abilities that deal damage or heal a target over time. One example of this is the warlock spell Corruption. From the tooltip, it tells us that using this ability on a target will deal a percent of damage to a target over 14 seconds. Similarly, a restoration shaman has an ability called Riptide which heals the target over 15 seconds. These types of abilities are called "damage over time" (DoTs) or "heals over time" (HoTs). When you cast one of these abilities on a target, we generally say that you "applied" your DoT/HoT. There are several classes that revolve around keeping these over-time spells on targets to maximize their DPS/HPS. A few of these include affliction warlock, arms warrior, feral druid, and restoration druid.
Talents
A major component of your rotation is the talents you select. Many talents are built to influence which spells you prioritize and how frequently you cast them. As an example, let's look at the havoc demon hunter talent First Blood. Upon hovering over the tooltip, it tells us that it reduces the Fury (resource) cost of the ability Blade Dance and increases its damage to the first target it hits. If I choose this talent, I would want to make sure I am prioritizing the use of Blade Dance because it is going to cost fewer resources and do more damage. Every class/specialization in the game has talents that influence the rotation and playstyle of your character. Taking time to read and understand all your talent options can go a long way in improving your rotation.
Procs
Many abilities and items in World of Warcraft have a chance to give your character a temporary boost in power. As an example, let's take a look at The Unstoppable Force weapon. At the bottom of the tooltip, in green text, is the phrase "Chance on hit: Stuns target for 1 second." How frequently this stun occurs is random. When it does occur, we refer to it as a proc. You could then say, "my stun proc'd on that last hit."

As another example of this, let's look at the feral druid's spell proc Bloodtalons. The tooltip tells us that if we cast 3 different combo-point generators in 4 seconds, then our next two Rips or Ferocious Bites attacks will deal 30% more damage. In other words, casting 3 spells will proc Bloodtalons and give us additional damage. We would then want to cast Rip or Ferocious Bite to take advantage of the proc. Understanding the influence of procs and tracking their occurrence is vital if you want to maximize your tanking, healing, or DPS.
Opener
One of the most important moments in combat is the beginning — particularly for DPS players. At the beginning of the fight, many of your abilities and bonus effects will proc, making it an ideal time to maximize your damage. To do this, you use an opener. An opener is a defined order in which you use items and cast spells which only applies to the beginning of the fight.
As an example, one of the most important components of an opener is the use of a "pre-pot." Pre-potting simply means that you use a potion that gives you additional stats for a short period of time to further maximize your damage. It must be used seconds before the fight begins. If executed correctly, you will get the opportunity to use another potion in the middle of the fight as well.
After pre-potting, you will typically cast other abilities which increase your character power. Since these various buffs stack, you can do a lot of damage by using several of these types of abilities all at once. You then prioritize your strongest abilities and then settle into using your main rotation.
If you are questing, fighting non-elite enemies doing PvP you may not need to worry as much about an opener, but it is good to know what it is. 
Number of Targets: Single-Target/Multi-target
Another influential factor in determining your rotation is the number of targets you are fighting. If you are fighting one target, it is referred to as single-target combat unsurprisingly. If you are fighting more than one target, you are in multi-target combat.
The types of abilities you use will vary between these two types of combat. Additionally, the number of targets you are fighting in multi-target combat can even impact your rotation. You may not use the same abilities on a group of 3 enemies that you would on 5 or 6 enemies.
The largest difference between a single-target and multi-target rotation is the use of area of effect (AoE) abilities in multi-target cases. When you are fighting a single target, you want abilities that deal a large amount of damage focused on one enemy. Conversely, when you fight several targets, you want your damage to splash and hit all enemies at once. It is common to see new players use AoE abilities when they shouldn't in single target combat or forget to use AoE (damage splashing) abilities for many targets.
How can I improve my rotation?
Now that you understand some of the major influencers of rotation, how can you go about improving your ability to execute the best rotation? Here are a few tips:
1) Understand your classes talents and abilities
As mentioned above, understanding the synergies between abilities and talents is vital if you want to improve your rotation. If you want to improve and have not taken the time to hover over your spells and talents to read what they do, that is a good place to get started. 
2) Read or watch guides on your specialization
Beyond reading what the spells/talents do, there are many great class/spec guides available online. When searching for these guides, I would recommend including your spec name, class name, and the current patch number. For instance, the Shadowlands expansion represents patch 9.0. If I was playing unholy death knight, I would search "unholy death knight guide 9.0." If you don't include the patch number, there is a good chance you will end up on a guide that has not been updated with the latest content. Your search should yield a good number of written and video guides from across the internet to help you get started.
3 Practice, practice, practice
While reading or watching guides is a helpful way to get started, it is not a substitute for testing things on your own. Each major city in the game has an area with target dummies that you can use to practice your rotation. I would highly recommend downloading a combat meter AddOn (see my guide on AddOns for recommendations) and taking the time to practice. Additionally, you can always jump into a looking for raid or dungeon finder group and test out your skills. Practicing your rotation also improves your muscle memory and makes it more likely that you will be able to execute it when more difficult situations arise.
4 Use AddOns
In addition to a combat meter, there are several AddOns that will help you get started with your rotation. One example is Hekili, an AddOn that displays a scrolling bar with the next best spell to cast in your rotation. While it is not a perfect tool, it is still very helpful when you are first learning your class. If you are interested in checking out Hekili, I wrote a guide to help you get started WoW Addon Spotlight: Hekili.

In addition to Hekili, there are several other AddOns that help a lot with your rotation. One of the best and most popular ones is WeakAuras. WeakAuras is a highly customizable framework for adding visual indicators of cooldowns, buffs, debuffs, and other information you are interested in. The only downside is that setting the WeakAuras up can prove difficult when you are just beginning. If you would like to give it a shot, I would recommend browsing some pre-built WeakAuras on Wago.io. From this link, you can browse specific WeakAuras for your class or objective.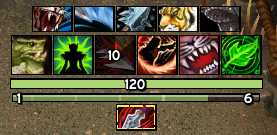 If you are just beginning with AddOns, I would recommend trying Hekili and then move on to WeakAuras. It is best to use AddOns like Hekili to start to learn the basic patterns. In the long run, however, you don't want to become dependent on these types of AddOns because combat encounters can vary widely from fight to fight, and using this approach may produce sub-optimal results.
Conclusion
If you are looking to improve in World of Warcraft, understanding your rotation is a good place to start. While figuring out the connection between your abilities, talents, cooldowns and situational factors seems complicated, it will become easier as you take the time to learn and practice. Additionally, there are a lot of good resources and AddOns to help you along the way.