A guide to embellished gear in World of Warcraft: Dragonflight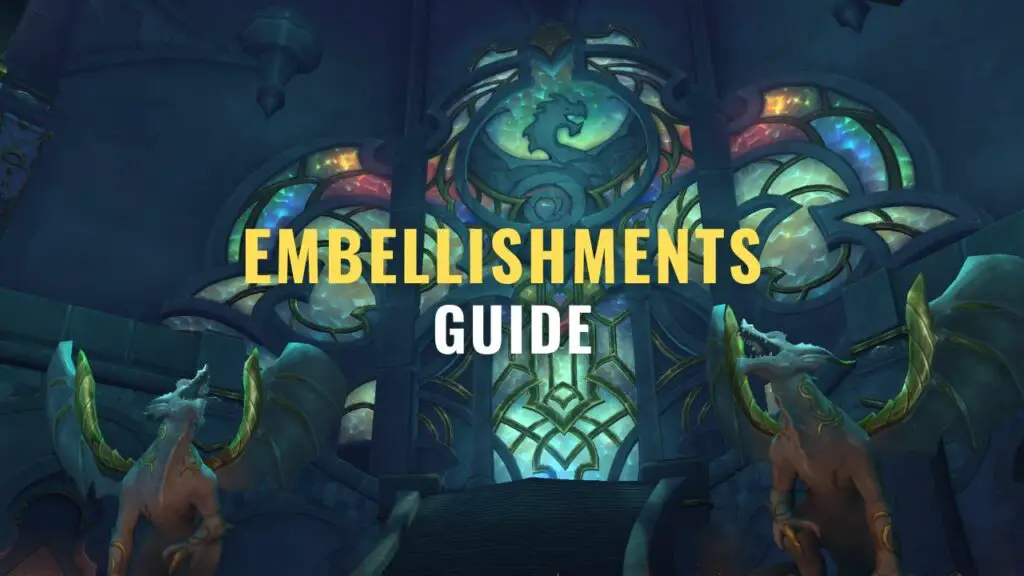 When Dragonflight first came out, the new profession overhaul and crafting system confused me. From profession equipment and talents to crafting orders, it all got overwhelming quickly. Fortunately, some quests walk you through those systems, but not for embellishments. In this article, I want to give you a quick rundown of how embellishments work so you can pick the best gear for your characters.
What are Embellishments in WoW?
Embellishments are special effects for crafted gear in Dragonflight. Some items come with the embellishment built in — like the Elemental Lariat necklace — but others require an extra reagent during crafting.
There are a lot of different embellishment bonuses to choose from. This wide selection makes it easy to customize your gear based on your playstyle. 
If you like to raid or do mythic+ but hate paying for food, you can grab an Alchemical Flavor Pocket embellishment to extend the duration of your food buff and make it last through death. If you are a healer, you might roll out a Magazine of Healing Darts to shoot random healing darts at group members. 
It just depends on how you play the game!
In a way, embellishments are like tier sets and can make your character a lot stronger.
How many embellished gear pieces can you wear?
Sadly, you can only wear two embellishments at a time. That means you might have to juggle gear based on your activities and the benefits you're trying to get. You can tell that a piece has the bonus ability by looking at the tooltip, which will say "Unique-equipped: Embellished (2)," like in the image below.  
Some embellishments work in pairs as part of a "set," but both count toward the unique-equipped limit.
 In other words, if you use that set, you won't be able to use any other embellishments. 
Where to get Embellishments?
Embellished gear comes from crafting professions.
You can make them yourself or place a crafting order in Valdrakken to have another player create them. If you want a piece of gear with a built-in embellishment, all you need to do is provide the base materials, and you are good to go. 
If, on the other hand, you want to embellish a piece of eligible crafted gear, you'll need to provide an "Optional Reagent." These reagents are crafted mainly through professions in the game and can be bought at the auction house. 
Here is a list of those reagents and a brief description of what each one does:
Built-in Dragonflight Gear Embellishments [List]
Some profession crafting recipes include an embellishment when you create them. These built-in bonuses can be very powerful, so knowing what each one does is helpful.
Here is a complete list of items that have built-in bonuses from embellishments:
Crafted Cloth Embellishments (Tailoring)
Crafted Leather Embellishments (Leatherworking)
Crafted Mail Embellishments (Leatherworking)
Crafted Plate Embellishments (Blacksmithing)
Crafted Weapons with Embellishments 
Jewelcrafting Embellishments

| Item | Slot | Effect |
| --- | --- | --- |
| Choker of Shielding | Neck | Use to drain stats from your gems to create a shield around yourself for 10 seconds |
| Elemental Lariat | Neck | Spell and abilities have a chance to empower one gem and give you extra of that stat for 12 seconds |
How to Remove Embellishments From Crafted Gear
If your gear comes with a built-in embellishment, you cannot remove it. As long as you wear that gear, it will count toward your embellishment cap.
However, if your gear includes an optional embellishment, you can remove it by applying Griftah's All-Purpose Embellishing Powder. You can purchase this for 50 gold from Griftah, an NPC found at the Obsidian Citadel around /way 25.6, 54.2. To use the powder, you'll need to recraft the item yourself or through a profession work order. 
The only downside of removing the embellishment is that you can impact the crafted quality of the item during recrafting. If you submit a work order with your rank 5 item, and the crafter who fills it isn't as skilled, it may lose item levels.
On the other hand, crafting gear with an embellishment makes the recipe more difficult, so it is also possible that the item's quality will increase after you make it again. 
Frequently Asked Questions (FAQs)
Can you sim for embellishments?
Yes, if you look under the "Simulation Options" before running in Raidbots, you will see some options to set uptime for embellishments. Beyond that, you can also run gear sims to estimate the impact of using a specific piece. 

Which embellishments are best for my character?
There are a lot of helpful guides on choosing your embellishments online. Check out this Wowhead guide to get a rough idea of which bonuses you might want for your spec.

Does higher-ranked gear have stronger embellishments?
No, embellishments bonuses are equally strong in rank one and rank five crafted gear!
Which items can I add embellishments to?
Unfortunately, the list of every crafted piece capable of embellishment is huge. The best way to find out if it is possible is to visit the work order table, click through the gear you are interested in, and look for the "Add Embellishment" slot under optional reagents. 
MORE WORLD OF WARCRAFT GUIDES!