So you are considering trying World of Warcraft for the first time or returning to play after an extended break. Is World of Warcraft free to play? The answer is yes and no. To play the full version of the game (Shadowlands expansion content) you would need to pay some money. But, what if you are not ready to take the plunge and spend the $60ish required to play Shadowlands ($15 for a monthly sub, $40 for Shadowlands, + tax). Fortunately, you can actually try out World of Warcraft for free with a Starter Edition account today.
What is the World of Warcraft Starter Edition?
The Starter Edition is a free version of World of Warcraft. It allows gamers to try out the game before they buy it. It comes with limitations on the content you can play and does not allow you to level your character above level 20. However, you can upgrade from a Starter to a full account at any point to keep all the progress you made.
How do I get the World of Warcraft Starter Edition?
Getting Starter Edition access is simple. You can begin by going to worldofwarcraft.com and clicking the "Try Free" link at the top of the page. This will take you to a screen that will download the game. After launching the downloaded file, your computer should pull up a login screen where you can sign in to an existing Blizzard account. There is also an option to "Create a free Blizzard Account" on the login screen. Creating a Blizzard account is mandatory to play World of Warcraft, even for the Starter Edition.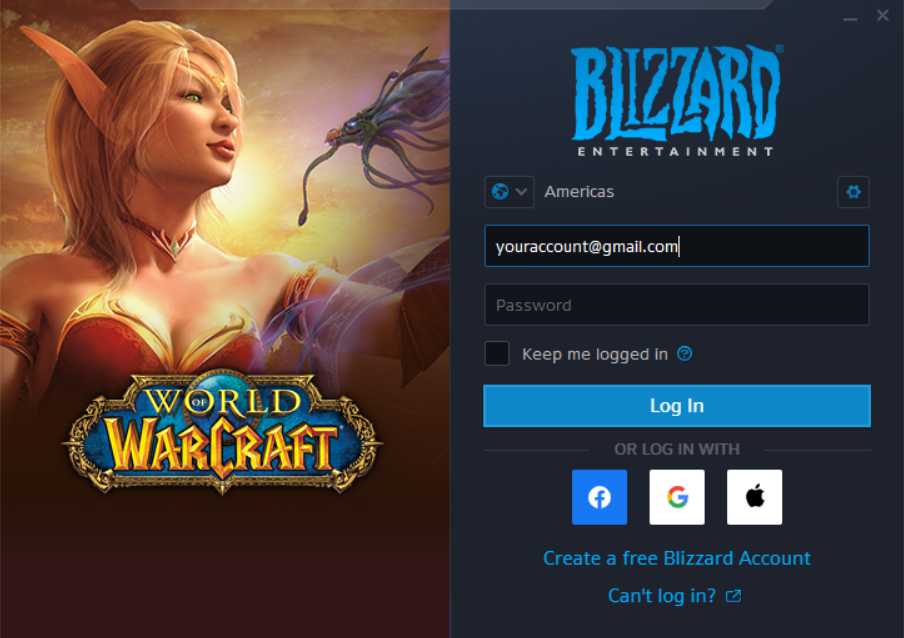 What content do I have access to in the Starter Edition?
A Starter Edition account comes with quite a bit of content to play through. In addition to creating characters, you can level up to level 20, train professions, and use basic chat functionality. If it is your first time playing, you will begin your adventures on Exiles Reach. The island of Exiles Reach is designed to guide new players through the basics of playing World of Warcraft. For returning players, you can play the Exiles Reach content, but may also have the option to play a race-specific starting experience.
Limitations of the WoW Starter Edition
According to a post on Blizzard's support website, a WoW Starter Edition account does not have access to the following:
Expansion content (quests, zones, allied characters, etc)
Characters above level 20
More than 10 gold on a character
Professions above level 100
Pet Battles
Certain chat channels
All guild-related functions
Character transfers, faction changes, etc…
Joining or creating a party
Trading and mailing
Use of the Auction House
Voice chat or Real ID

What happens I reach level 20 on a Starter Edition account?
Once you reach level 20 on a starter account, you can continue playing the content you have access to but will not gain more experience. You can also try other characters or classes and level them up to 20.
.
How can I get the full version of the game?
If you decide it is time to make the leap and upgrade to a full version, you can do so by purchasing a monthly subscription. Doing so is as easy and clicking on the "Subscribe Now" button on the character selection screen. Once you click the button, it will open up a screen that will walk you through the process.
After paying the $14.99 monthly fee (or whatever your local currency is), your account will be upgraded. This will remove the restrictions from your Starter Account — including allowing you to reach level 50. It will also give you access to all content up through the Battle for Azeroth expansion.
In other words, the following expansions are included in the monthly World of Warcraft subscription:
Original World of Warcraft
Burning Crusade
Wraith of the Lich King
Cataclysm
Mist of Pandaria
Warlords of Draenor
Legion
Battle for Azeroth
That is a lot of content for the cost of the monthly subscription. If you want to continue your journey into the Shadowlands, you will also need to spend the $39.99 to upgrade.
Try World of Warcraft today!
If you have never played World of Warcraft before, or if it has been a while, I would strongly encourage you to try it out with a Starter Edition. The addition of the Exiles Reach content has made it easier than ever for new players to jump in and learn how to play the game.
Related Articles
Ultimate Guide for New World of Warcraft (WoW) Players in 2020 (Part 1)
Creating Your World of Warcraft Character