A quick guide to the Court of Stars dungeon from World of Warcraft: Legion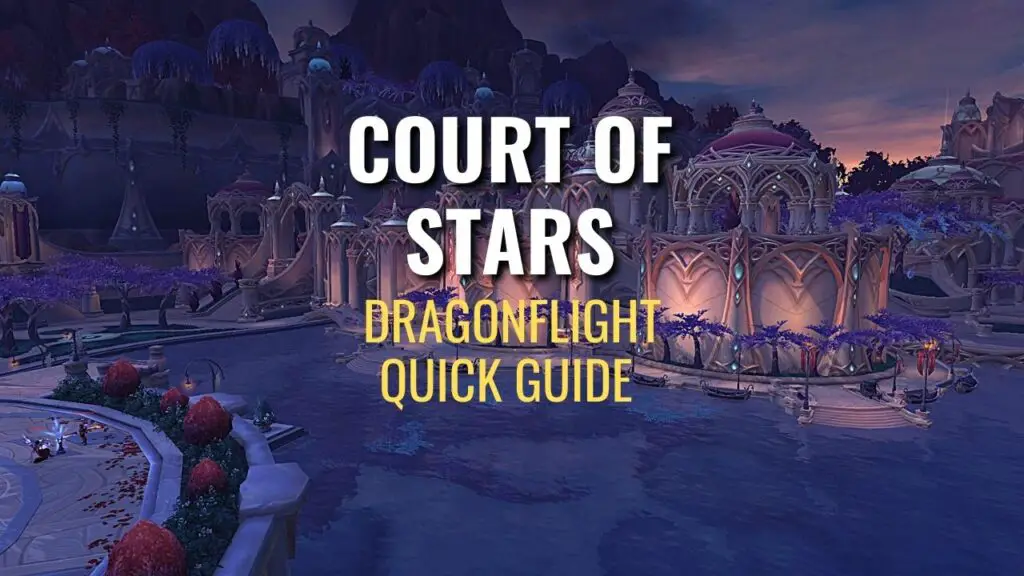 Welcome to this Court of Stars dungeon guide! In this guide, I'll give you a quick overview of how to get to the dungeon, each boss's basic mechanics, and some tips that have helped me in my m+ runs in Dragonflight.
How to Get to the Court of Stars in Dragonflight
You can find Court of Stars (CoS) in Suramar — a zone on the Broken Isles. To get to the Broken Isles, you can take the Stormwind or Orgrimmar portal to Azsuna and then fly east to Suramar.
Where is the Court of Stars Entrance?
The entrance to the Court of Stars is located at the center of Suramar City on the Broken Isles. If you use TomTom or another coordinate addon, you can navigate there with the /way 50.7, 65.5 after arriving in Suramar.
The meeting stone and instance portal are located inside a tall tower. To get into the building, you can either take the transport pad on top of the tower or enter at ground level.  
Court of Stars Quick Boss Guide
There are three bosses in Court of Stars. Since you are probably trying to read this before a run, I will provide a quick rundown for each boss. Whether you are new to the game or just need a refresher on mechanics, this should give you a basic understanding of what you need to know to survive each encounter. 
Patrol Captian Gerdo – Deactivate pillars on your way to the boss and around the boss's area. If you have a rogue or alchemist in your group, they should poison the vial in the middle of the boss area. Once engaged, avoid the sparkling purple lines and cones on the ground, and jump or dispel when the boss casts Arcane Lockdown. At 25% health, he'll drink out of the vial and die if your group remembers to add the poison.  
Talixae Flamewreath – Lure the boss's sidekicks away by defeating nearby Felbound Enforcers (or by using special items, which we'll discuss below). Once the boss is alone, start the fight and stack loosely with your group. When the boss casts Infernal Eruption, get out of the fire and kill imps fast. Dispel withering soul and burn the boss. 
Advisor Melandrus – Avoid getting hit by tornados, and move when the boss dashes toward you (blue swirl). Move out of purple lines on the floor. Move away from the boss and clones during Slicing Maelstrom and pop big healing or defensive cooldowns.
Court of Stars Dungeon Tips
CoS is a pretty cool dungeon with its unique bonuses and puzzles. However, the puzzles are unique enough to be intimidating if you aren't sure what is happening. 
To help you, we'll take a quick look at a few things you should know before you run Court of Stars. 
Tip 1: The Romantic Boat Ride
When you start your run, you'll want to hurry down to the end of the dock and click on the small lantern to summon a boat. If you have a boss mod addon like DBM or Littlewigs, it will select the chat option for you automatically; otherwise, make sure to choose the option in the window. 
After a few seconds, a small one-person boat will appear, and your character will hop in. Several seconds, which feels like an eternity on an m+ run, will pass, and you'll be placed on a nearby dock to begin your run. 
Tip 2: The First Boss
As mentioned above, the first boss has a mechanic where he will die at 25% if you poison his flask. If you don't, he'll gain 30% health and damage, and things will take longer.
The other important mechanic to know about for the first boss is the watch posts. When your boat lands, you'll take a left and head up the stars. After leaving the building, you'll see a large pillar next to the bridge. 
There are five of these in total, and you'll want to deactivate most, if not all, of them to make the boss fight easier. The boss patrols around a circle in the middle of three watch posts. Make sure you don't forget to interact with them to turn them off! 
To help you out, I made a beautiful map that shows you what the watch post looks like and where to find each one.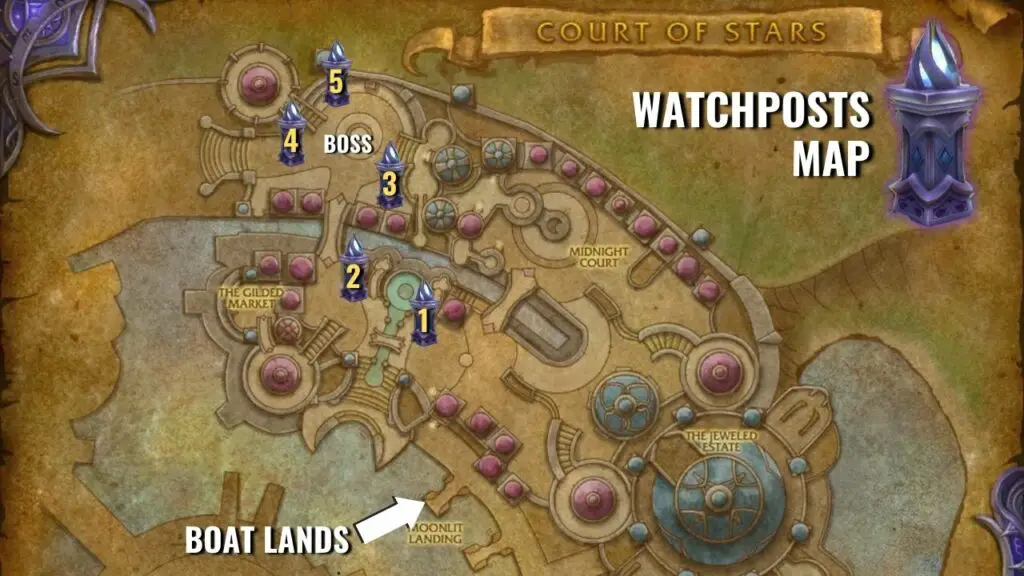 Tip 3: The RNG Courtyard
After defeating the first boss, you'll make your way up the large set of stairs, through the building, and into the Midnight Court. 
This is where the fun begins. 
Each time you do the dungeon, there will be a different set of objects you can interact with to receive a bonus or lure a minion away from the boss. The items you can interact with are determined by your race, class, or profession. 
There are many items, but not everyone will be available for each run. Here is the complete list if you are interested:
Item
What it does
Who can use
Arcane Power
Conduit
Disables construct mobs
Engineers, Gnomes,
or  Goblins
Bazaar Goods
Attracts mini-boss
Rogues, Warriors,
or Leatherworkers
Discarded Junk
Attracts and damages mini-boss
Hunters or Blacksmiths
Fel Orb
Grants party 10% critical strike
for rest of the dungeon
Demon Hunters, Paladins,
Priests, and  Warlocks
Flask of the
Solemn Night
Kills the first boss at 25% health
Rogues or Alchemists
Infernal Tome
Grants party 10% damage
reduction
Demon Hunter, Paladins,
or Priests
Lifesized
Nightborne
Statue
Attracts mini-boss
Miners or Jewelcrafters
Magical Lantern
Grants party 10% increase
to damage dealt
Mages, Enchanters, 
Blood Elf, or Night Elf
Nightshade
Refreshments
Grants increased health
pool to your party
Cooking, Herbalism,
or Pandaren
Starlight Rose
Brew
Grants party improved health
and mana regeneration
Death Knights or Monks
Umbral Bloom
Grants party 10% haste
buff for rest of dungeon
Druids and Herbalists
Waterlogged
Scroll
Grants party 30% increased
movement speed
Shamans, Skinners,
and Inscriptionists
Wounded
Nightborne
Civilian
Attracts mini-boss
Healers, Tailors,
and First Aid
For those of you who are a little more visual, you can also get a WeakAura that adds the possible locations to your map like this one. The image below shows what it looks like when you open your mini-map.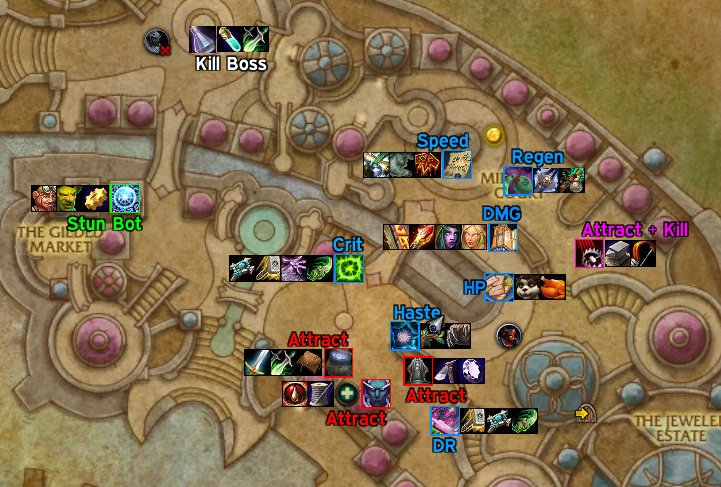 Tip 4: Finding a Spy
The last odd thing in Court of Stars is the undercover spy puzzle. After defeating the 2nd boss (Talixae), talk to the NPC near where you fought the boss. She will give you a disguise which grants you access to the party. 
Unfortunately, not every party guest is what they seem.
There is a spy, and it is your job to find them. To do that, several NPCs will be spread throughout the room, giving you clues about what to look for. These clues are things like the person is a woman who wears gloves and doesn't have a cape. 
If you have a boss mod addon, it will keep track of the clues for you, which you'll then need to use to find the correct person. 
As a little tip, if you are a protection paladin, you can watch your shield as you approach NPCs, and when it begins to glow, you've found the spy. Demon Hunters can also use their spectral sight to see the spy after collecting all the clues!
If you aren't one of those classes, you'll have to do it the old-fashioned way and look at the NPCs closely. 
Once you find the spy, some RP will play as they are escorted up the stairs. They will then turn into a demon you must defeat to collect keys to unlock the door to the final boss!
Tip 5: Master the dungeon.
Beyond the basics, Court of Stars has many dangerous abilities that need to be kicked throughout the dungeon. You should be able to survive missing those kicks at lower key levels, but as you push higher, you'll need to know all the important spells.
One of the best ways to learn what you need to kick and how to survive is to watch a detailed guide like this one from Tactyks:
All of Tactyks advanced routing guides are excellent and have helped me heal high-level keys in Dragonflight season one. I can't recommend them enough!
Frequently Asked Questions (FAQs)
What expansion is Court of Stars from?
Court of Stars is a dungeon from the World of Warcraft: Legion expansion.