Step-by-Step Instructions for Choosing a Faction, Race, and Class for Your Character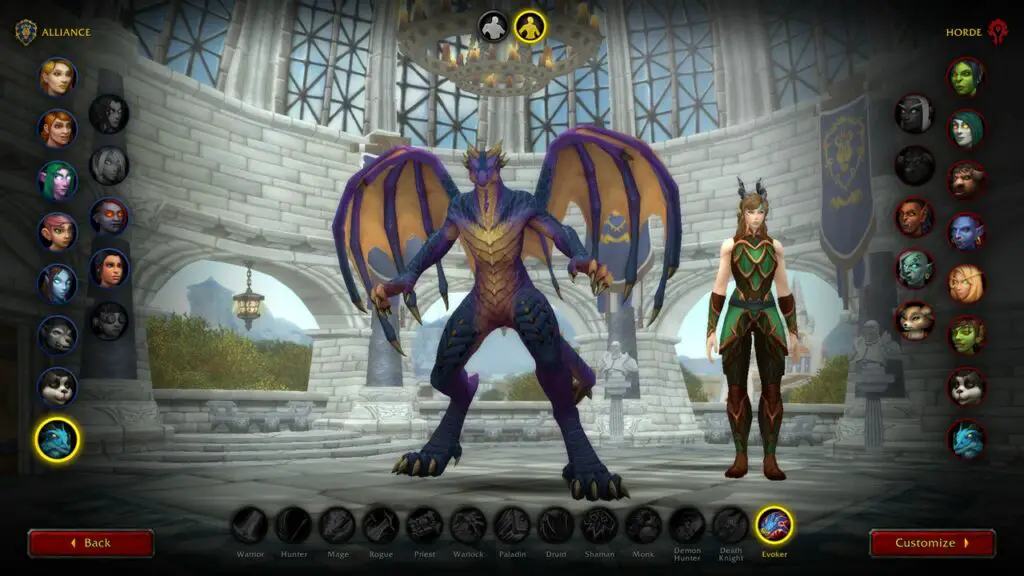 Welcome to part two of this ultimate guide for players new to World of Warcraft. If you missed part 1 and would like to learn more about how it costs to play WoW, how to set up an account, or how to select a realm, check it out now: Ultimate Guide for New World of Warcraft (WoW) Players. In this guide, I want to help you create your character in World of Warcraft.
Choosing a Faction
Once you decided on a realm for your new character, it is time to choose a faction. A faction is a group of various races that has a shared history, viewpoints, or objectives.
While there are many factions that you will encounter in your journeys, there are only two playable options available to players: Horde or Alliance.
Which one you choose is up to you. The faction you chose used to influence who you could play with, but recent changes to the game have removed many of those restrictions. The main differences now are slight differences in the quests you'll do, and which races you can play (which I'll talk about more in a moment).
In other words, you are free to choose the faction that speaks to you the most.
If you want a little more insight into the lore and motivation differences between the two, check out the video below. The video was made before the changes to faction restrictions, so the piece about limiting who you can play with is out of date, but the rest of the information is really good.
Once you are ready to select a faction, it is time to choose your character's race. Or perhaps you like a particular race, and that determines your faction. Doesn't matter either way. But wait… what is a race?
Choosing a Race
Within each faction, there are a number of character races you can choose from. The main difference between each is the way the character looks and a unique set of skills or spells called racial traits.
Racial traits
Racial traits are passive effects that make your character slightly stronger or may help your character take reduced damage. Generally, these trait values added are small and for most players, the race you select is a matter of personal choice.
If you plan on playing the hardest content at the highest level these may matter to you, but if this is your first time playing the game, I would encourage you to not worry too much about these abilities and have fun with the game.
You can see what traits each race has by right-clicking on the icon. Here is an example of the racial traits of the Blood Elf race: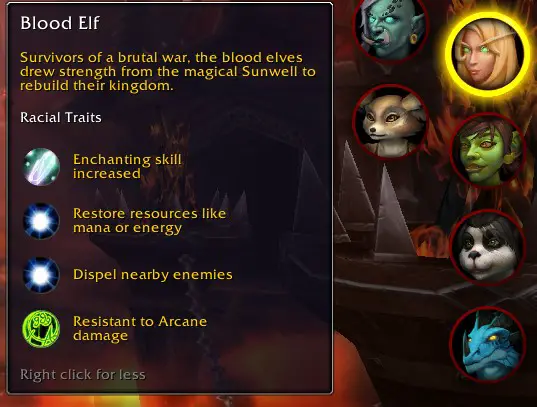 Alliance Races
For the Alliance side, there are 6 main races you select from, including:
Human
Dwarf
Night Elf
Gnome
Draenei
Worgen
Additionally, there is the Pandaren and Dracthyr race which is shared between the Horde and Alliance and a set of allied races. Currently, these allied races have to be unlocked through a series of quests. If you are interested in the specific tasks required to unlock allied races, check out my allied race guide. For the alliance, unlocking allied races adds the following playable races in no particular order:
Dark Iron Dwarf
Kul' Tiran
Lightforged Draenei
Void Elf
Mechagnome
In addition to having requirements to unlock, Allied Race characters begin at level 10.
Horde Races
If you decide that you would rather create a character belonging to the Horde faction, you will have the following options:
Orc
Undead
Tauren
Troll
Blood Elf
Goblin
Pandaren
Dracthyr
With the following allied races:
Highmountain Tauren
Mag'har Orc
Zandalari Troll
Nightborne
Vulperia
What role do you want to play?
Now that you have an idea of what faction and race you might like to play, it is time to think about what role you might want to play. If it is your first time playing (which this guide assumes), the number of options will undoubtedly be overwhelming. Fortunately, the options you have can be broken down into 3 major categories: damage dealer, tank, and healer.
As a damage dealer or DPS, your focus will be on… well… dealing damage. Additionally, you can choose to play as a melee DPS who attacks enemies up close or a ranged DPS who uses spells or weapons to attack from a distance.
Your second option, tanking, means that you are focused on defensive abilities and protecting allies from taking damage when in group combat. While the focus is on defensive abilities, you will still have access to many damage-based spells.
Lastly, the healer role's job is to restore the health of allies and party members once they have taken damage. As with the tank role, you will still have access to a few offensive spells which you can use to deal damage.
Luckily, you won't have to choose just one role to play, because many classes allow you to swap between different roles.
Selecting a Class
Once you have an idea of what role(s) you would like to play, it is time to select a class. If you have played a role-playing game (RPG) before, you may be familiar with character classes. In short, a class is the combination of abilities, spells, and potential roles your character can use or fulfill.
Each class also has anywhere from 2 to 4 specializations (specs). These specializations determine what role your character will be able to perform.
As an example, the warrior class has 3 available specializations: protection, fury, and arms. The protection specialization can perform the tank role, while fury and arms are focused on dealing damage.
While some spells carry over between all specializations (called baseline abilities), the majority of abilities your character has are determined by your specializations.
Overall, there are 13 unique classes you can choose from in World of Warcraft. A list of each class and associated roles is shown below: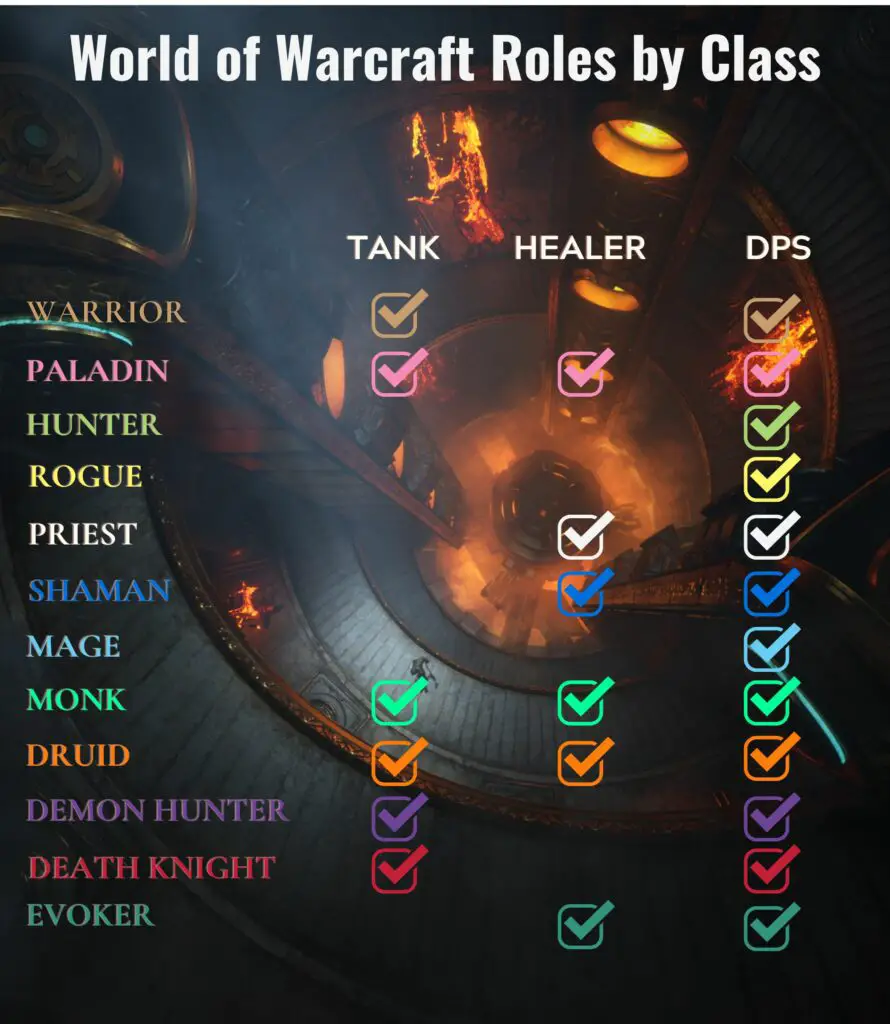 Fortunately, you are not stuck playing the specialization you chose while creating your character in World of Warcraft.
In fact, you can freely switch between the specializations available to your class once you have made your character.
If you play a class like druid, monk, or paladin, you could technically play any role (tank, healer, or DPS), while a class like hunter can only fulfill the DPS role. Overall, many players opt to play a DPS specialization, because it makes solo play easier.
However, you will find that one downside of playing DPS is extended wait times in finding groups for certain activities.
Hero classes
It is important to note that Death Knights, Demon Hunters, and Evokers are considered to be "hero classes". A hero class is one that assumes that you know how to play the game and you start at a higher level.
Death Knights and Demon Hunters, begin at level 8, while Evokers start at level 58.
You can only make one Evoker per realm, and you need to have a level 50+ non-Evoker character on any given realm before you can create a new Evoker.
Also, it is important to note that you can have up to 60 characters on one realm, so, if you select a class or role you do not enjoy, you can simply create a new character. Even if you enjoy your character class, you may appreciate making several characters since the playstyle between classes can actually vary a lot.
Your Next Steps
With a realm, faction, race, and class selected, you are ready to begin playing the game! Hopefully, this guide what helpful in the process of creating your character in World of Warcraft. In Part 3 of this ultimate guide series, I'll go over the User Interface in World of Warcraft (WoW).
If you are already comfortable with the user interface, you can jump ahead to any other topic that sounds helpful:
You are here