A quick introduction on how to install and use the DPS rotation addon Hekili
Execution of rotation is the largest influencer in DPS in World of Warcraft. Getting better at casting the right spells at the right time will cause your DPS to take off. Unfortunately, mastering a rotation can be a time-consuming process. In this article, we will talk about the WoW addon Hekili and how it can help you improve your rotation.
Once you are done here, I would recommend reading my article: Best DPS Rotation Addon in WoW. In that guide, I put Hekili head-to-head with 4 other DPS rotation addons — MaxDps, Ovale, HeroRotation, and Conflict Rotation Optimizer (ConRo). 
Features: What does Hekili do?
Hekili is a popular addon that helps with your rotation in World of Warcraft. It does this by showing a bar with a recommended cast sequence that adjusts based on your spec, combat situation (single target or AOE), and several other factors.
 The spell which appears on the far-left side of the bar is the "Primary" spell. This is the spell that Hekili recommends you cast next. As soon as you start casting, the bar will shift to the left and reveal the next spell you should cast.  
In addition to including your basic class spells, you can also set it up to include covenant abilities, major cooldowns, defensives, and even interrupts.  
Now that you have a basic idea of how Hekili works, let's talk about how to get it set up!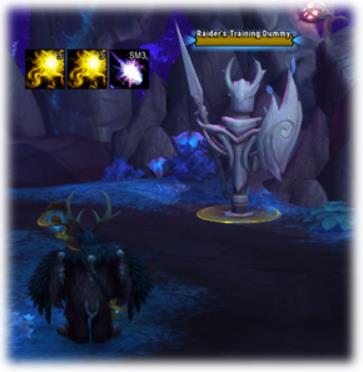 Setup: How to install Hekili
You can install Hekili through the same process as any other addon — by manually placing the files in your addon folder or through an addon manager like WowUp. If you aren't familiar with how to install addons, check out my article on How to Install WoW Addons in 2021.
How to use Hekili
Hekili works very well out of the box. You can install it, boot up your game, and you will have a basic cast sequence on your screen. From there, you can start mashing the buttons it tells you to!
By default, Hekili will show 3 icons, automatically detect whether you should cast single-target spells or AoE, and show covenant abilities. If you want to include other cooldowns, interrupts, or defensives, it will require further customization. However, you can make these changes pretty easy by left-clicking the Hekili icon on the minimap and marking the circles you want to enable.
You can also move the Hekili bars to where you would like on your screen.
How to move Hekili bars
You can move the Hekili bars once you enter the addon options. To do this, simply type /hekili into chat and press enter or right-click the minimap button if enabled. Once the options window opens, you will be able to left-click and hold to move the bars around. Easy!
Customizing Hekili
In the options menu, you just opened to move your bars, there are several other customizations you can make. In the left-hand menu of the options, you can see the following categories:
General
Toggles
Displays
Spec list
Priorities
Abilities
Gear and Trinkets
Issue Reporting
Snapshots
Profile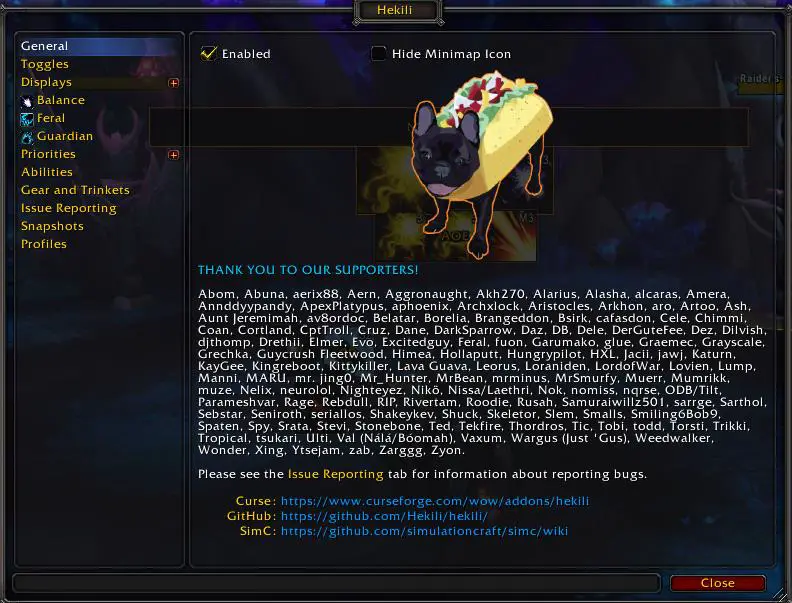 Let's walk through a few of these and how you can use them to customize the addon.
General & Issue Reporting
The general and issue reporting tabs include information on how you can contact the developers of Hekili with questions or report issues with the addon. Not much more to say about that, so let's move on.
Toggles
The toggles options let you choose which categories of spells are shown. From here you can change whether major cooldowns, interrupts, defensives, and potions are shown. You can also select the combat display mode you want (automatic, single target, AoE, etc…). These options are the same as the ones shown when you left-click the minimap icon so you would probably only use this tab if you disable the minimap button.
Displays
Your displays tab allows you to customize the recommendation bars' appearance. You can apply a font change to all the bars at once or customize specific bars by selecting them in the menu. One helpful change you may want to make is to adjust the size of your icons. You can go into this menu and change the size of the primary spell to be larger if desired.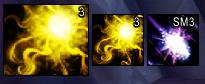 Spec List
Depending on what class you play, you should see a list of specializations in the left-hand window. From here, you can disable certain specs, assign your default potions, set up important cooldowns, and change settings related to the way Hekili recognizes enemies. You can also make some changes to the speed with which spells show up to improve performance if you are running into FPS issues.
Priorities
The priorities tab includes settings for — you guessed it — the spell priorities used in the addon. By default, Hekili uses "ideal" rotations from SimulationCraft (simc). If you aren't familiar with simc, it is a tool that top-end players use to estimate how much DPS they can do with different gear and in different situations.
 In other words, Hekili is taking that information on DPS estimates and giving the best rotation to reach that. For an advanced user, that default rotation may not be what they want. If you are using different gear or a different playstyle, you can change the priorities in this setting.
If you want to learn how to create a custom rotation, or get more details on setting up Hekili, check out the YouTube guide I made:
Abilities & Gear and Trinkets
The next two options — abilities & gear and trinkets — allow you to make adjustments to individual spells or trinkets. You can disable spells or equipment from showing up completely or set limits on when they appear. Some limits you can set include whether you want to show it in non-boss combat, how many targets should be present before using, and what "toggle" needs to be active.
Snapshots
Snapshots options are another advanced feature in Hekili. Without diving into too much detail, snapshots allow you to see the logic used to recommend a certain skill. To use snapshots, you can either use the keybinding ALT-SHIFT-[ to copy the logic or pause the recommendations and hover over the spell. This will show you the variables which are leading to that recommendation.
Again, most users won't care much about this setting, but it is there if you feel the need to "debug" the recommendations.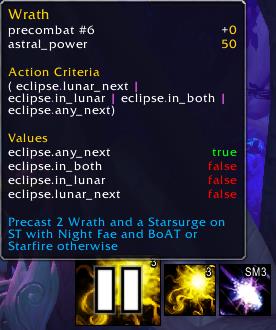 Profiles
What addon would be complete without the good-old-fashioned profiles setting? Profiles allow you to save the changes you have made to your addon and share them across characters or with other players.
So there, you go… you now have a good feel for some of the ways you can customize Hekili. Now, for a common question…
Is Hekili Good?
That is a great question. If you watch videos and talk to players, you will quickly see mixed feelings about Hekili and rotation addons. Some players love it, while others despise it.
My thought is that Hekili can be useful when you are just starting with the game or a new class. If you want to play on several characters, Hekili can help identify spells that are important to cast. Once you get a feel for the class, you can probably scale back your use of it.
With that said, I think the best option for improving your rotation is to gain an understanding of your class through guides and practice. Unfortunately, that can be a time-consuming process, especially if you are playing multiple characters. If you have less time to read guides and spend time tinkering, I think Hekili is a great tool to improve your DPS without spending hours reading guides and spell tooltips.
Final Thoughts and Important Links
Hekili is a helpful addon for learning and improving your rotation. I think most players can get some benefit out of using the addon, especially for alt characters. In addition to great out-of-the-box functionality, Hekili offers some great customizability to more advanced users. If you are looking to improve your rotation, I recommend that you try out Hekili for yourself.  
Authors: Hekili
Curseforge: https://www.curseforge.com/wow/addons/hekili
GitHub: https://github.com/Hekili/hekili
Thanks for reading!