A quick walkthrough of how to back up your addons manually and with the Singularity addon manager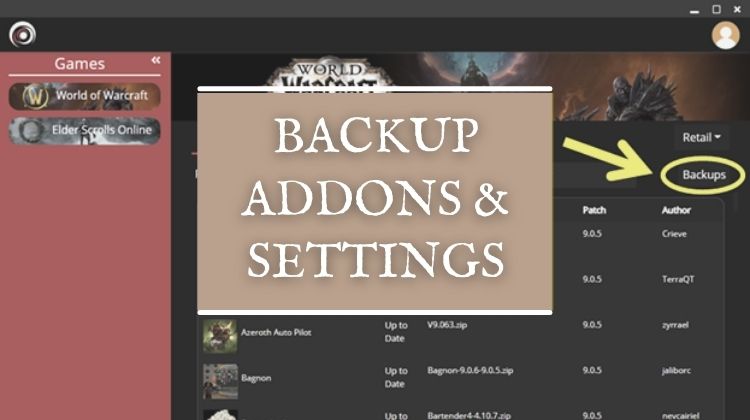 Finding the right addons and setting them up just the way you want can take a lot of time. That is why it is essential to create backups, so you don't lose all that work when an update goes wrong, or your computer crashes. In this article, I want to show you how you can back up your WoW addons and settings. How do you back up your addons?
You can back up your WoW addons by saving a copy of your Interface and WTF folder to an external hard drive or cloud service like Google Drive. Both folders can be found in your World of Warcraft game files. Another solution is to use an addon manager like Singularity to manage and backup your addons.
In the rest of this article, I want to walk you through what these folders are, how to find them, and how to move forward with backing up and restoring them. For a quick rundown of this process (in under a minute), you can check out this short YouTube video I made:
What is in the Interface and WTF folders?
Why is it important to back up these two folders in particular and not everything in your WoW directory?
Without diving into the entire file structure, the Interface folder is where the code for your addons is stored. If you have installed addons manually, you know that the Interface folder contains the actual code that runs your addons. Once backed up, you won't need to remember the name of every addon you had installed if something goes wrong.
The other folder, WTF, is where your addon settings are stored. When you make changes to an addon, the information required to keep those changes is stored here. If you had no WTF folder, your addons would forget your settings every time you loaded the game. This is why it is so important to back this up. Otherwise, any work and time you put into refining your UI and addons will be lost.
Now that we what these folders are used for, let's talk about finding them.
Finding your Interface and WTF folders
Finding the folders you need to back up is pretty straightforward. If you installed your game into the default location, these files could be found on your C:\ drive in Windows 10 or Applications folder on Mac. If you are like me, you may have installed your game into a different location completely.
If that is the case, or you are struggling to find the files in the default path, you can follow this process:
Open Battle.net Application.
Click on the cogwheel next to your WoW 'Play' button.
Click on 'Show in Explorer.'
Select World of Warcraft -> _retail_ OR _classic_
Your "Interface" and "WTF" folder should then be in front of you. If you still need help finding your files, you can check out my full article on Finding Your WoW Addon Folder.
Backing up and restoring files manually
Now that you have located the necessary folders, you are ready to back them up. You can do this by copying and pasting them from your game folder to a hard drive, cloud drive, or another location on your computer. If you need to restore your settings or addons, you can then move them from your 2nd location back into your game folder.
And that is all there is to it.
To summarize, you can manually backup your addons and settings in 6 easy steps:
Open your Battle.net desktop application
Select "Show in Explorer" from the cogwheel options list next to your play button
Click on the "World of Warcraft" folder
Select the version of the game you play (Classic or Retail)
Copy the "Interface" and "WTF" folders
Paste them onto a hard drive, cloud drive, or another location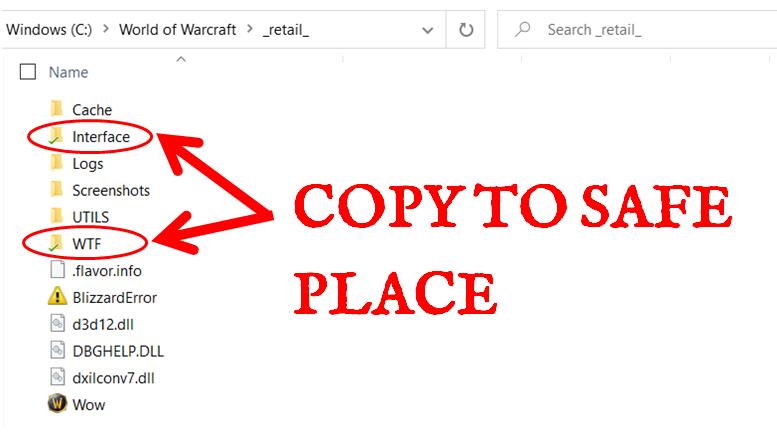 Backing up files with Singularity Addon Manager
The second way you can backup your addons and settings is with an addon manager. While several managers can handle backups (including Cursebreaker and Ajour), my favorite is newcomer Singularity.
Like WowUp, Ajour, and several others, Singularity is an open-source addon manager. This means that community members create it, and its source code is available through GitHub. In addition to installing and updating addons, Singularity has support for local and cloud backups and backup restoration with one click.
To get started with Singularity, you need to download and install the application from their website.
Using Singularity is comparable to other addon managers. You can see your addons under the "Installed Addons" tab or find and install new ones under "Browse Addons."
To begin backing up your addons, you can click on the backups button on the right side of the window.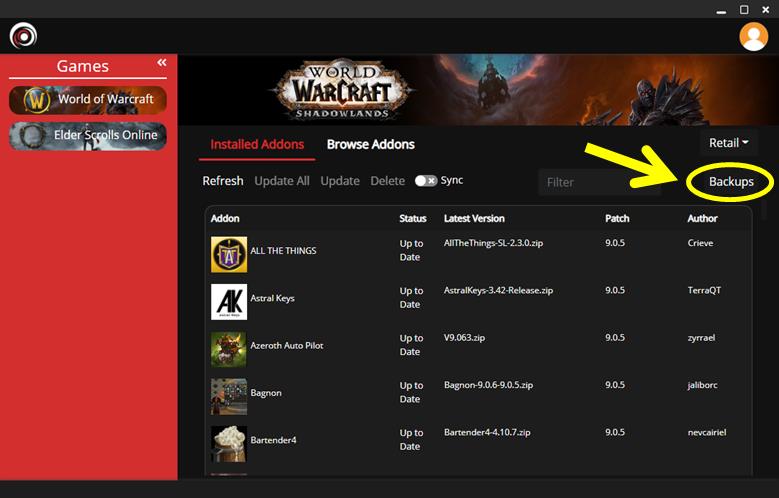 This will open a new window where you can select whether you want it to be a cloud backup or not. To create a cloud backup, you can simply switch the toggle over and press "Create Backup." This will create a cloud and local backup at the same time.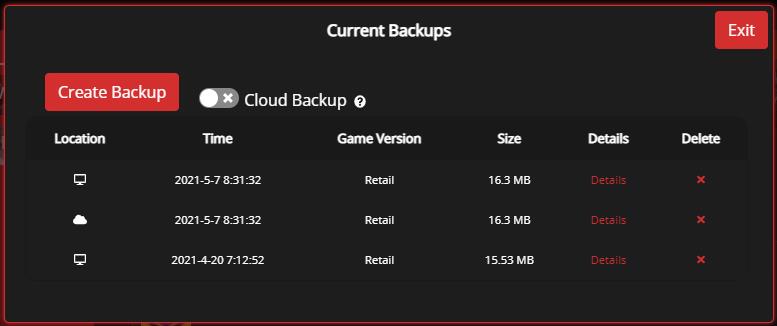 Before you start using cloud backups,  you will have to create a free Singularity account. Signing up for one requires a username, password, and providing an e-mail address. This data helps Singularity function and is not sold (see Singularity Privacy Policy).
Once you have an account, you can begin using the cloud backup feature. You are, however, limited to one — most recent — cloud backup per game version (Classic/Retail). This limitation is due to data storage expenses since they are funded only by the developer and a few Patrons. If you start using Singularity and like it, you can support the author (XORRO) on Patreon.

If you choose to not use the cloud backup feature, you can still create as many local backups as you want.
With a local or cloud backup created in Singularity, you can now restore your addons and settings to their former glory if something goes wrong. To do that in Singularity, you click the Backups button again, then click on the "Details" link for the version you want to restore. You can then check the boxes to choose to restore your settings, individual addons, or every addon from backup.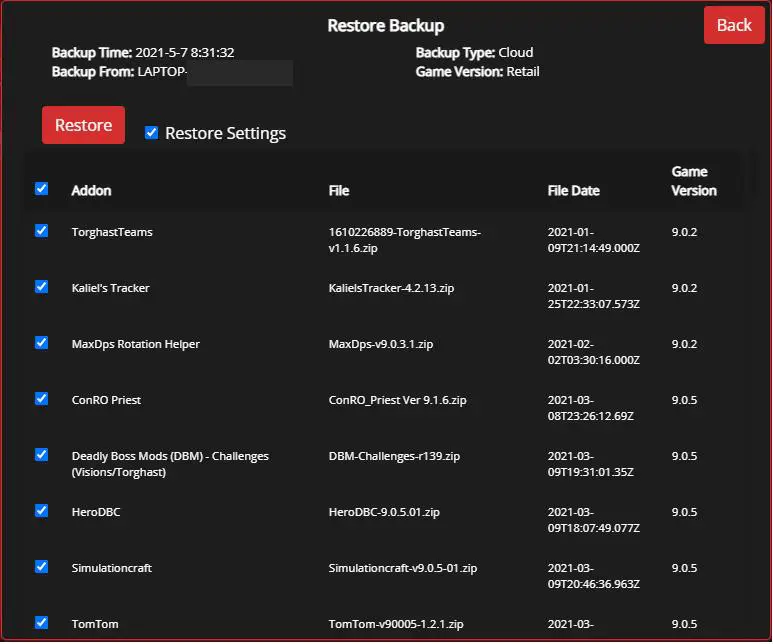 Final Thoughts
There we go, two different ways to backup your WoW addons and settings.
If you didn't already, please subscribe to my YouTube channel and bookmark this site to receive more guides on using addons. In addition to fundamental topics like addon backups, I will be publishing regular addon guides to help you master and choose the best addons for your game.
If you have addons you want to learn or other addon-related questions, I would love to hear about it in the comments! The comments box does ask for an e-mail, but that is just to stop spam. I don't do anything with the e-mail, and it isn't made public or sold.
Thanks for reading!