A list of my favorite addons for World of Warcraft (WoW) Shadowlands-specific content!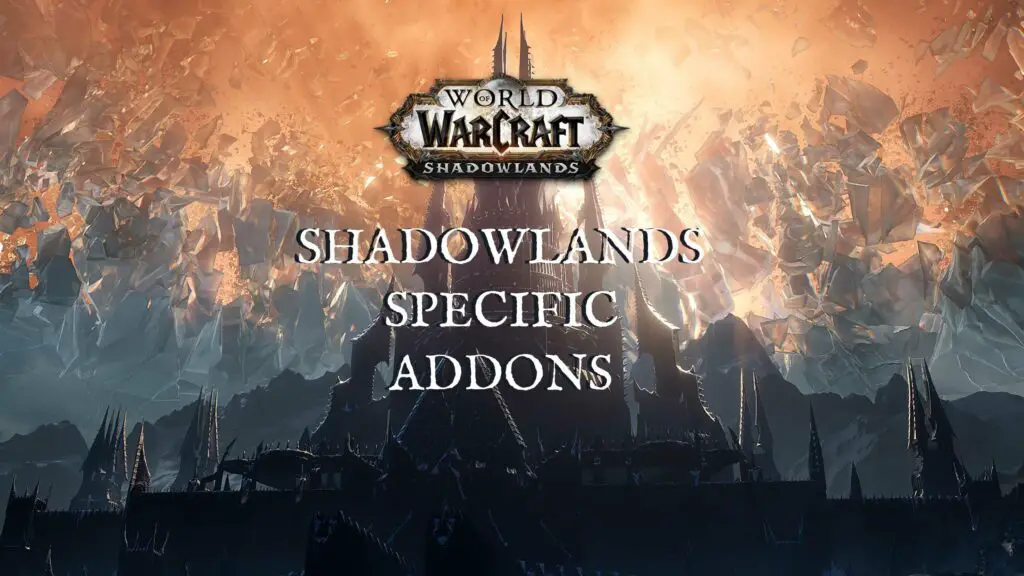 Shadowlands has a lot of unique content and features! From adventure missions to soulbinds and covenants, there is a lot to keep track of. In this article, I want to share some addons which will help you with Shadowland's specific features. We'll jump into the details in a moment, but here is a list of the best Shadowlands addons:
CovenantMissionHelper
Soulbind Conduit Manager
HandyNotes: Covenant Sanctum
What's Your Covenant
QE Dungeon Tips
Mythic Dungeon Tools
Maze Helper (Mist of Tirna Scithe)
Rune Helper (Tazavesh, the Veiled Market)
Torghast TourGuide
Mapster
Zereth Mortis Puzzle Helper
World Quest Tracker
HandyNotes: Shadowlands
HandyNotes: Oribos
If you are a WeakAuras user, you may also be interested in my article on Shadowlands specific WeakAuras.
Adventure Mission Addon(s)
There are many different adventure table addons that have come and gone throughout the expansion. However, one addon has stuck around and I really like using it. It is the CovenantMissionHelper addon.
This nifty little addon places a box to the side of the adventure window after selecting a mission. As you place units on the board, you can then click to optimize their positioning and simulate the outcome of the mission.
It is pretty easy to use but I did write a full CovenantMissionHelper guide that walks you through how to use all of its features if you are interested.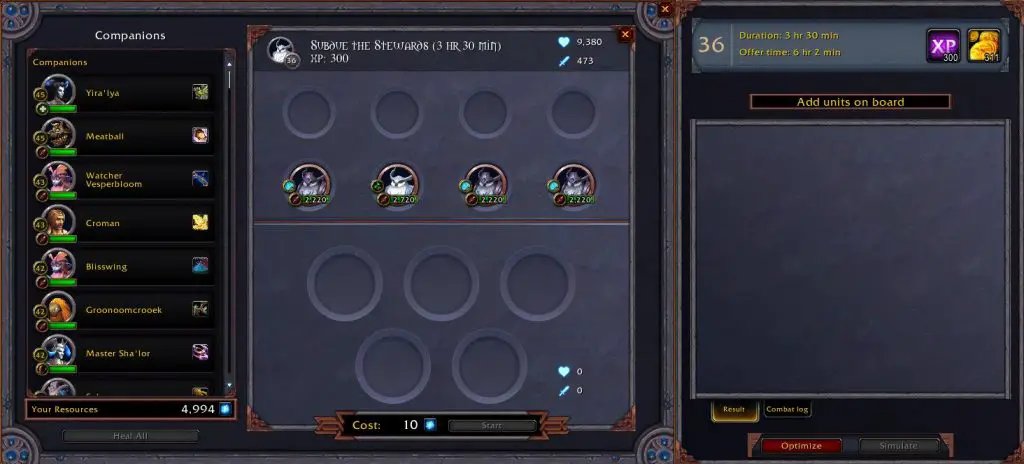 Conduit Addon(s)
Soulbind Conduit Manager is a great little addon that allows you to save different conduit setups for reuse later. After installing this addon, it will add a small grey box to the right of your soulbind trees.
You can then type the name of a new preset into the box and press the red plus sign. This will create an empty preset. To assign a path to it, you activate the tree you want to save and then hold the Ctrl key and click on the empty preset.
You can delete unused presets by holding shift and clicking on them.
Once you have saved your different paths, you can switch between them by left-clicking on them. No more need to use the activate button! Unfortunately, it hasn't seen updates in a while, but it still works for me!
Best Covenant Addons
If you are not familiar with HandyNotes you should check it out. The World of Warcraft is a large place with a lot of NPCs and important locations. Unfortunately, it is not always easy to tell where things are on the default game map. This is where HandyNotes comes in.
If you find yourself getting lost or trying to remember where things are in your covenant sanctum, HandyNotes has a sub-addon called HandyNotes: Covenant Sanctum. It will add more markers on your map specific to your covenant sanctum. As I keep upgrading and unlocking things in my sanctum, I find this to be very helpful.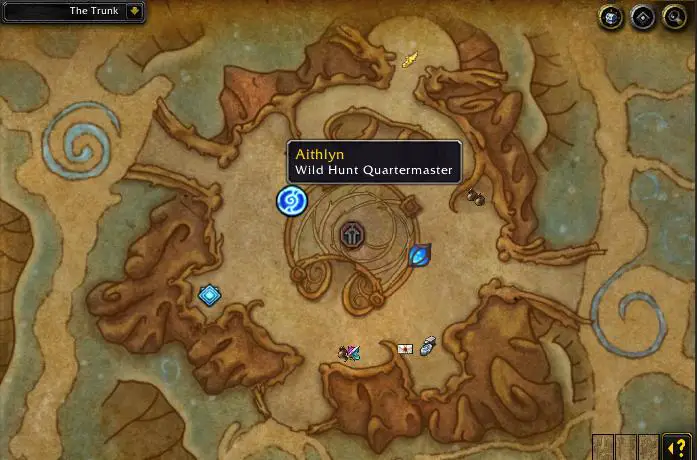 What's Your Covenant is an addon that adds other player's covenant information into the tooltip you see when you hover over them. This can be a handy bit of knowledge when you are looking for that Night Fae member for your Mists of Tirna Scithe run.
Best Addons for Shadowlands Dungeons
Questionably Epic (QE) Dungeon Tips is a great addon when you are trying to learn a new dungeon.
Whenever you phase into a dungeon, a neat grey box pops up that gives you a 2-3 sentence summary of how to defeat a selected mob or boss. In specific, it will show you tips for the following:
Stuff to dodge
Mobs you can skip
Spells to kick (interrupt)
High damage abilities
Targets you should CC
The addon is also very smart and will update based on what role you are playing. So, if you are busy getting your tank on… you can use this bad boy to remember what abilities need a cooldown.
This addon is extremely helpful if you watch a guide but always forget what everything does once in combat. If you are just starting to learn the dungeons, I highly recommend it!
While Mythic Dungeon Tools (MDT) has been around for a while, it makes for a great addon in any expansion. If you haven't used MDT, it is an addon that shows all the mobs in every dungeon in the game. Even more than that, it allows you to plan out routes and share them with party members.
There are also many members of the community who post their routes for anyone to use. The most popular routes are those created by Dratnos and are posted on raider.io each week for mythic+ players.
If you have done the Mist of Tirna Scithe dungeon… there is a good chance your group has failed the guessing game mechanic. Well, fear the fog no more with this helpful little addon.
Maze Helper opens a window upon entering the shrouded forest (and boss fight) with all possible symbols. You can then click on a sigil to select it and click again to de-select it. Once you have entered the 4 sigils, the correct one will show a green outline.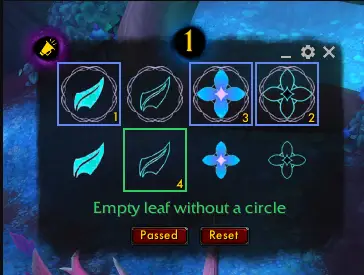 To make things even better, there is also an "announce" option in the top left corner of the box which can be clicked to send the correct answer to party chat! Instead of running between the pillars several times, you can check a pillar and mark it in the addon and then move on to the next one.
The next dungeon addon you need if you are serious about pushing keys is the Rune Helper addon for Tazavesh. This nifty tool helps you communicate the orb placement to your party during the Hylbrande fight in Tazavesh.
All you need to do is open up the console and match the locations shown to the squares in the addon. Once you've done that, click on "Announce" to send the correct positioning to party chat and you are good to go!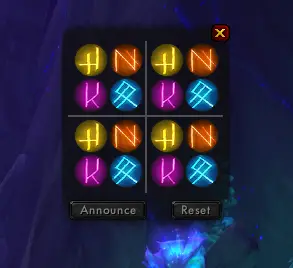 Best Torghast, Tower of the Damned Addons
Torghast TourGuide is an amazing quality of life improvement addon for your Torghast runs. It replaces the default Torghast UI with one that shows you all of your current resources, estimated score, and run time. I also like that it adds a dungeon journal you can browse through during your runs.
One of my other favorite things is that the resources in the Torghast TourGuide like Ravenous Cells are clickable from the UI. No more searching through my bags to find items during combat!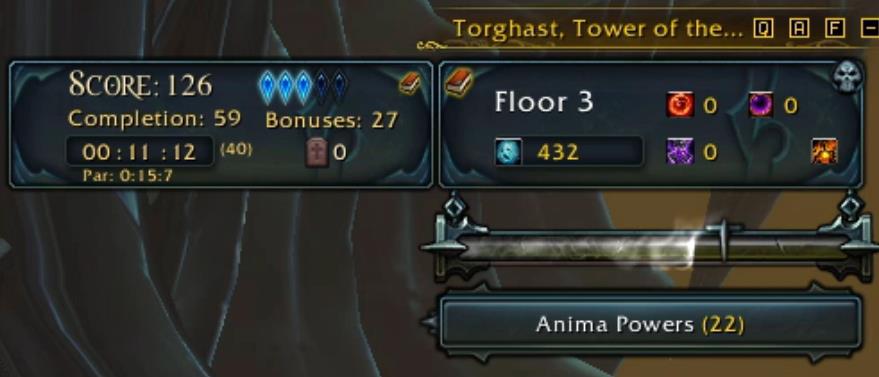 The first addon in the Torghast list is mapster. Technically, it is not a Torghast-specific addon. However, it is designed to remove the "fog" of undiscovered areas of the map which is helpful in Torghast.
When you enter a new floor, mapster will load the whole layout instead of the small fraction you usually start with. From there, you can use the layout to have a pretty good idea of where to head to reach the next floor. It can also help keep you from getting lost and circling back to areas you have already visited.
To give you an idea of how easy it is to find the exit based on the map, I have an example below. The exit is usually indicated by a bend in the path and generally appears at the top of a set of stairs.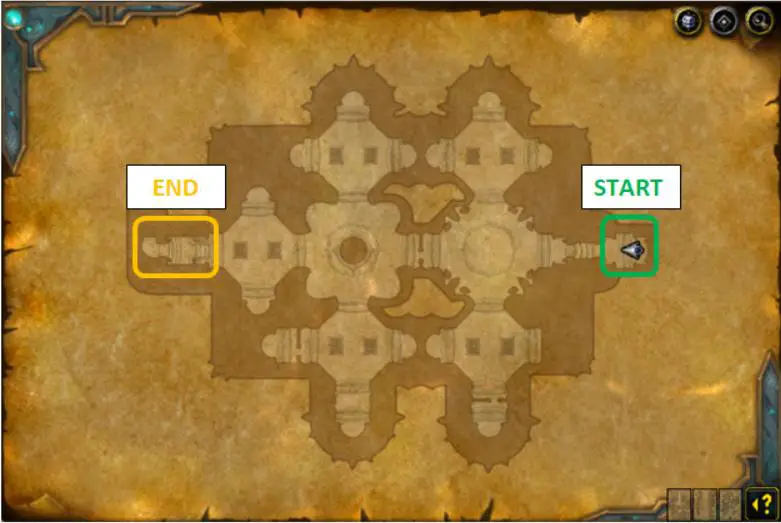 Best Open World Addons
As the name implies, Zereth Mortis Puzzle Helper helps you with solve the puzzles in Zereth Mortis. The addon works by giving you a cheat sheet window that you'll input some information into, and then you'll click "solve" to see the answer.
I have loved using Zereth Mortis Puzzle Helper and it has saved me a ton of time. If you need help setting it up and using it you can check out my full walkthrough guide.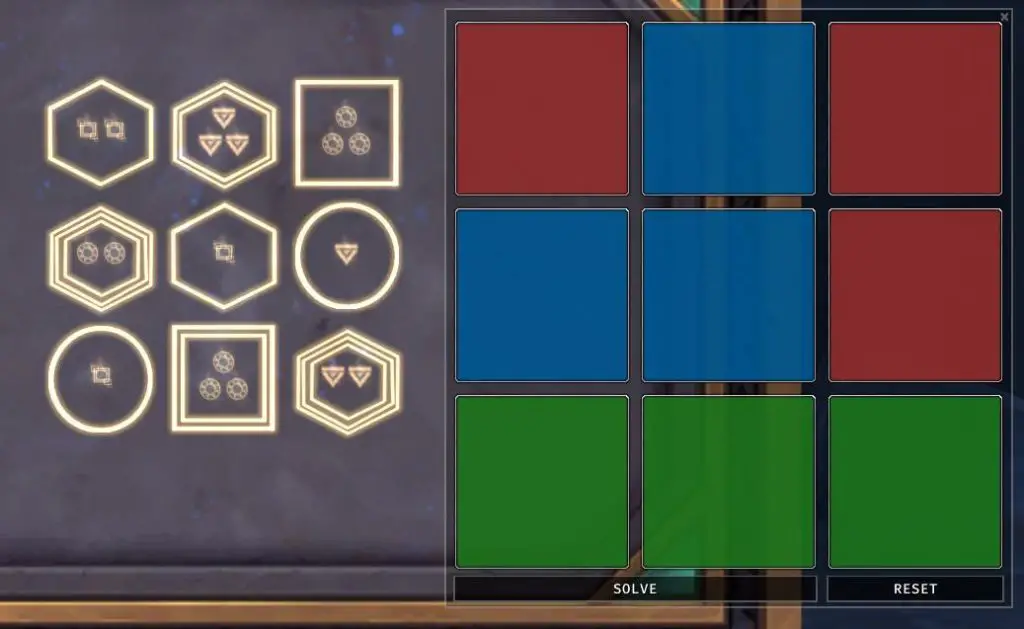 Anima is a major part of the Shadowlands expansion and powers everything in your covenant sanctum. If you plan on farming up some anima from world quests, I would recommend that you check out World Quest Tracker (WQT).
While this addon has been around for a while, it is still extremely helpful in the Shadowlands.
In addition to changing the icons of the world quests to reflect the rewards they offer, WQT gives a summary of all rewards in the top-left portion of your map. You will notice that it groups anima, conduits/gear, gold, and pet supplies.
Keeping track of every rare location and treasure chest in the Shadowlands is difficult. Luckily there are addons like HandyNotes: Shadowlands. Like its "covenant sanctum" counterpart, HandyNotes: Shadowlands add a lot of useful information to your world map.
It will add icons for locations of rares, treasures, and objectives of achievements. I love that you will also get additional information about the icons when you hover over them. I can't tell you how many times this has helped me unlock a treasure chest that required additional steps…
If you only get one addon from my list, I would definitely recommend that it be HandyNotes: Shadowlands.
While we are at it, let's look at another helpful HandyNotes addon — HandyNotes: Oribos.
Just like the other HandyNotes sub-addons, this guy places markers on your map to make navigation much easier. Can't remember where the bank is? Keep walking into the wrong area while looking for profession trainers? HandyNotes: Oribos is there to help.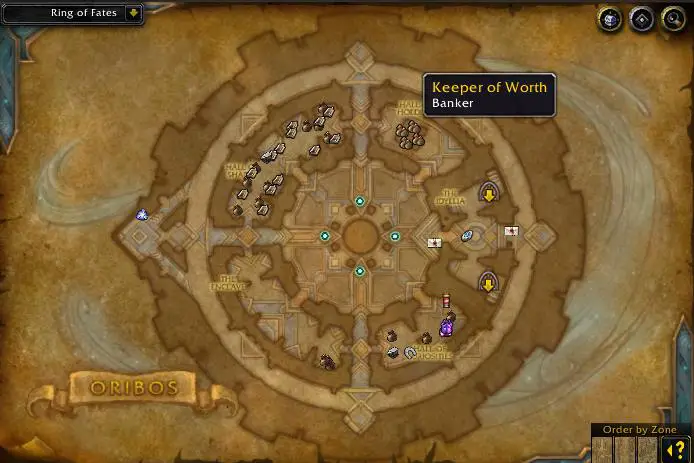 Final Thoughts
There are a lot of Shadowlands specific features that are made better with addons. The ones I have shared with you have been some of my favorite throughout the Shadowlands expansion. Let me know if there are any Shadowlands specific addons I missed.
If you want to see my overall favorite addons, you can also read my list of the best WoW addons to use in 2022.
Thanks for reading!