A quick introduction on how to set up and use the DPS rotation addon HeroRotation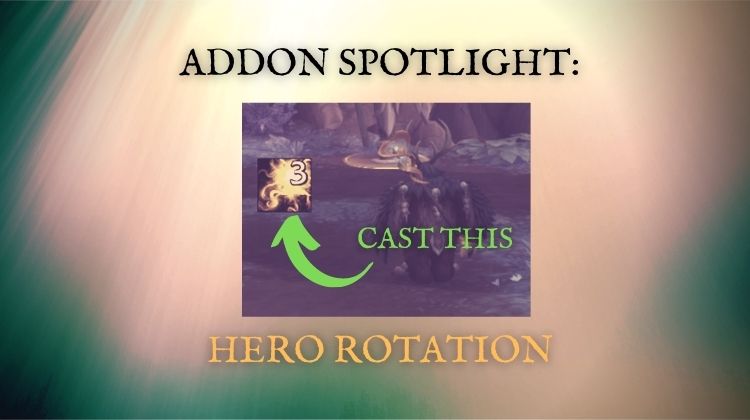 If you are looking to improve your DPS in World of Warcraft (WoW), you may want to play around with rotation addons. While these addons are not perfect, they can be helpful for players who are in the process of learning their class. In previous articles, I talked about two rotation addons — Hekili and MaxDps. In this guide, I want to look at another WoW addon called HeroRotation.
If you aren't familiar with the concept of a rotation, it may be helpful to brush up with my Rotation Beginner's Guide.
Okay, let's jump in.
Features: How does the HeroRotation addon work?
The HeroRotation addon provides suggestions on what abilities should be used to improve DPS. In other words, it is there to help you cast the right spells as the right time. Once it determines the best spell, it will show a box with the icon for the ability next to your character (by default).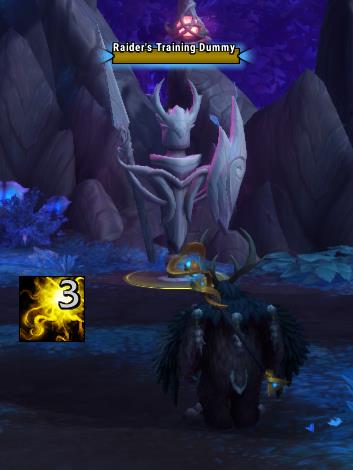 But, how does it know what spell is best to cast?
Like the other rotation addons, the suggested spells come from SimulationCraft action lists. These lists are computer-generated spell orders that maximize DPS — at least in theory. There are cases where the simulation can't capture all the nuances of a specific boss or fight, so keep that in mind.
Sadly, HeroRotation does not support every spec in the game. In some cases, the support that it does provide is weak. The developers categorize support as Good, OK, WIP (Work in Progress), and KO (No support) on their GitHub page.
Here is the list of the state of the addon at the time of writing:
While it is disappointing that not every spec has a good rating, I do appreciate the transparency from the developers. Also, missing support is driven more by lack of good simulation data, not developer willingness to implement it.
So, now that we have talked a little about how HeroRotation works, let's get started with setting it up.
Setup: How to install HeroRotation
You can install HeroRotation like any other addon — manually or through an addon manager.  If aren't sure how to install addons, feel free to read my guide on How to Install WoW Addons in 2021. To work properly, you will need to install 3 separate addons including:
HeroDBC
HeroLib
HeroRotation
HeroRotation for WoW Classic
The HeroRotation addon is also available in WoW Classic. However, at the time of writing, it has not been updated in over a year. Still, if you are looking for a rotation helper in Classic, it may be worth checking out. For a similar up-to-date addon in Classic, you can try out Conflict Rotation Optimizer Classic (ConROC).
How to use the HeroRotation addon
Once you have installed the addon, you can simply log in and click on an enemy to begin using HeroRotation. Without any additional setup, you should see the recommended ability box pop up next to your character. After you press the ability it wants you to, it will update its recommendations.
You will also notice smaller boxes appearing near your recommended ability. These boxes are indicators of major damage cooldowns which you want to cast. They will show up when they are off cooldown and when other conditions are met.
As an example, while testing the addon on my Boomkin, it only recommended casting Convoke and Celestial Alignment after DoTs had been placed and I was in the proper form. This is what the addon looks like with the cooldowns included:
Customizing HeroRotation
Customizing HeroRotation is straightforward. To access the options, you simply open the quick menu with ESC, click 'Interface' and then select the 'AddOns' tab. You can also access many of the options by typing /hr help.
There will be two sub-menus within the options. The first one is a general tab which allows you to move or change the appearance of boxes and activate extra features. One of the more interesting features is 'Solo Mode' which adjusts recommendations to maximize survivability. Unfortunately, it is not supported in every spec and is disabled in dungeons and raids.
Another helpful option to change in the general tab is 'Debug Output.' If you notice that HeroRotation is spamming your chat box, you have probably left this feature on. Unchecking the box will turn off the steady scroll of text and reclaim your chatbox.

The other options you can adjust are your character-specific settings. This includes options for the way that potions, trinkets, and covenant abilities are shown. By default, these will show what simulations think are the best options. If you want to override these (like using a different potion), you can do it in those options.    
Is HeroRotation Good?
While there is a lot of debate around the usefulness of rotation addons, I believe they have their place. In my article, Best DPS Rotation Addon in WoW, I did some testing that indicated that rotation addons could lead to significant and immediate improvement for most players.
In the long run, the best option is to learn the ins and outs of your class and not become dependent on an addon. However, for players who want to get the most out of their character without extensive practice, a rotation addon can be helpful.
At the end of the day, try it for yourself. If it helps you… great! If not, you can uninstall it.
Final Thoughts and Important Links
HeroRotation is a WoW addon that helps you cast your abilities in the best order. Its recommendations are based on a computer simulation, which means that it will underperform in some situations. If you are interested in more information on the addon, you can find it on their CurseForge and GitHub pages.
Thanks for reading!
Authors: Aethys
Curseforge: https://www.curseforge.com/wow/addons/herorotation
GitHub: https://github.com/herotc/hero-rotation