A quick introduction to earning and spending the new Torghast tower knowledge currency
Patch 9.1 introduced several new currencies and Torghast changes. One of the largest was the addition of the Torghast scoring system and tower knowledge. In this short guide, I will go over everything you need to know to earn and use tower knowledge.
What is tower knowledge?
Tower knowledge (TK) is a currency added in patch 9.1. It is obtained by completing runs in Torghast and can be used to upgrade talents and make Torghast easier. The total amount you can earn is capped, but that cap has increased with each weekly reset.
As long as you are under the cap, you can earn tower knowledge from every Torghast run. There is no lockout! This means that you can farm the same layer and same wing on repeat to catch up.
Where and how to use tower knowledge
As mentioned, TK can be used on a talent tree for Torghast. You can access these talents by unlocking the Box of Many Things during one of your runs. 
Since knowledge is capped, it is essential to plan how you will spend it. This will depend on what aspects of Torghast you struggle with and what your goals are.
I recommend the best upgrade order in my guide to The Box of Many Things that may be helpful. You can read that guide to see why I make the recommendations I do.
For now, here is a visual that maps the upgrade order from 1 to 42 (42, what a nifty easter egg).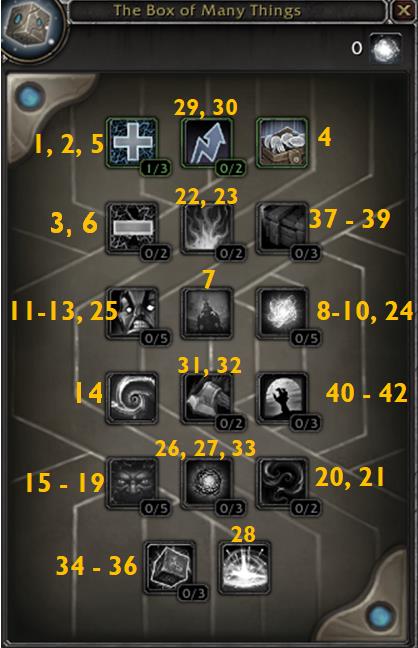 How much tower knowledge per run?
The amount of knowledge you earn is dependent on what layer you complete and how many gems you earn at the end. Wowpedia posted this helpful table that breaks down TK received based on layer and gems. This appears to be pretty accurate from my testing; however, let me know if you get different numbers.
How to catch up if behind on cap
If you are just starting to farm tower knowledge or have missed a couple of weeks since 9.1 launched, you are behind in the maximum cap. One of the best ways to catch up is to complete layer 9 with 5 gems and the adamant vaults perk.
It may take a few runs without the vault to unlock the perk. Once you have it, this strategy will give you the 90 tower knowledge for the 5 gem run and around another 10 from adamant vaults — for a total of 100.
While this is less than you can get from a higher layer, those layers are more difficult due to more torments and aggressive scaling of mob HP. Completing layer 9 gives the best tradeoff between reward and speed.
I recently wrote a guide that breaks down how to get 5 gem (flawless) runs and an addon that helps, which you can read here.
How to check your knowledge
You can view your current supply of tower knowledge by accessing the "Currency" tab under your character info screen. The character info screen can be opened from the micro menu or by pressing the default hotkey of C (if you haven't replaced it with another keybinding).
 In addition to showing current levels, you can hover over it to see how much of the season cap you have earned.
On this character, you can see that I have earned 681 of the 2,860 knowledge cap. I have some work to do!

If you want to learn about other Shadowlands currencies, make sure to check out my guide: Shadowlands Currencies and Where to Find Them!