Everything you need to know about unlocking and the best upgrade order for The Box of Many Things in Shadowlands patch 9.1.5.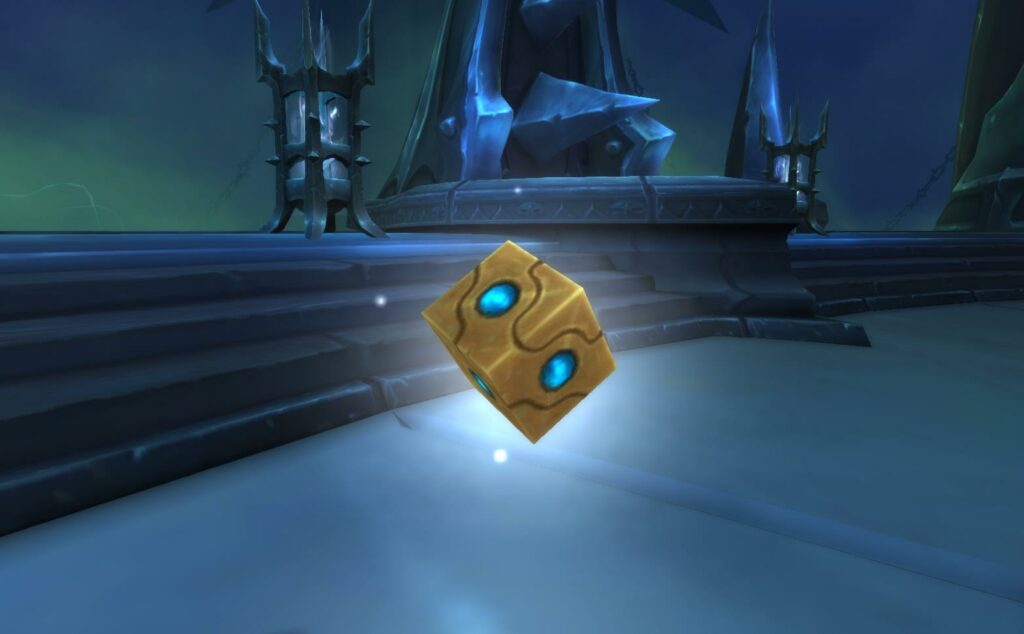 World of Warcraft received a talent tree system for Torghast in patch 9.1. To access these talents, you will need to unlock The Box of Many Things and earn a new currency called Tower Knowledge. In this guide, I will go over everything you need to know to get started with The Box of Many Things and give you some recommendations for the best upgrade order.
What is The Box of Many Things?
The Box of Many Things is a talent tree system for Torghast. It gives you special perks and bonuses to make your Torghast runs easier. You can unlock those perks by spending the Tower Knowledge currency that is earned from Torghast runs.
Where is The Box of Many Things?
You can find The Box of Many Things near the Wayfinder and Meeting Stone in Torghast. It used to be located in The Runecarver's Oubliette but was moved with the release of patch 9.1.5.
How to unlock Box of Many Things/Torghast Talent Tree
You can unlock The Box of Many Things by finding a broker named Ve'nish during a Torghast run. He can be found on any layer (including layer 1), and you can leave after accepting the quest. Once you pick up his quest, head back to the Runecarver at the entrance of Torghast to unlock The Box of Many Things. 
Is the Box of many things account-wide?
No, The Box of Many Things is not account-wide. You will need to find Ve'nish in Torghast and accept the quest to unlock the Box on each character.
Fortunately, you can earn more Tower Knowledge for completing higher layers and your highest floor completed unlocks across all your characters. For example, if you complete layer 10 on your main, you can now access layer 11 on any character. This makes it a little easier to get Tower Knowledge if you have the gear to complete more difficult layers on alts.
If you want to learn more about the best way to earn Tower Knowledge, make sure to check out my guide here.
Can you reset/respec The Box of Many Things?
You cannot reset or respec once you have spent tower knowledge on your Box of Many Things. Therefore, it is essential to know what talents you want to prioritize and plan your upgrade order.
What is the best upgrade order for the Box of Many Things?
The best upgrade order is going to depend on your goals in Torghast. I will give you a few recommendations for a good upgrade order. These recommendations assume that you want to prioritize talents that do the following:
Make Torghast faster
Make Torghast easier
Maximize Tower Knowledge gains
In making this upgrade order, I prioritized abilities that significantly impact runs, like the addition of blessings or removal or torments. I didn't prioritize talents like reducing trap damage, so feel free to change things up if you struggle with a specific Torghast mechanic.
I also delayed many empowered upgrades early on because you are empowered for such a short time. You will also want to use it just for the end of floor boss to maximize your score anyway. 
Based on all of that, the order I recommend and am following for my characters looks like this:
If you are more of a visual person, the upgrade order looks like this inside the Box of Many Things.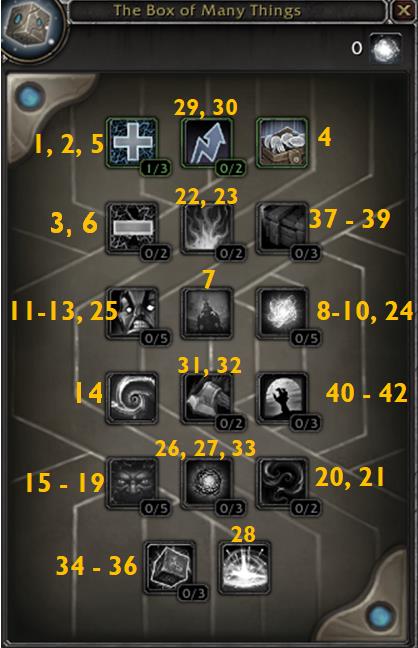 Torghast Blessings
There are 12 blessings you can get during your Torghast run (but not in Twisting Corridors). These are selected at random when you begin a run. You can have a maximum of 3 blessings active once you have unlocked all 3 ranks of Blessing of the Ancients.
Some of these blessings can have a significant impact, so they are worth investing tower knowledge into early.
If you are curious, here is a list of the blessings and a short description of what each one does:
Advantage – Bosses deal less damage, heal less, and have less health.
Anima Hoarder – Extra anima cell at the end of the floor.
Armed – A free set of Obleron Armaments stat booster.
Challenge Slayer – Chance to instantly kill non-boss elite enemy when they fall below 40% health.
Chaotic Concoctions – Free Chaotic Concoctions chest.
Cursed Souls – Soul Remnant's Blessing is empowered but lowers your stamina.
Diminishing Blows – The first 3 elite enemies you attack have their health reduced by 75%.
Phantastic – Your movement speed and haste are increased based on your Phantasma.
Rampage – Killing an enemy reduces ability cooldowns and costs.
Resilient – Reduces damage taken and length of CC effects.
Shoplifter – Brokers can be attacked for additional rewards.
Surging Power – Increased movement speed out of combat. Energy orbs that circle around you and deal damage in combat.
Torghast Torments
Torments are negative effects that are applied to your Torghast run based on layer. As you do higher layers, you get more torments.
| | |
| --- | --- |
| Layer | Torments |
| 1-5 | 0 |
| 6-7 | 1 |
| 8-9 | 2 |
| 10 | 3 |
| 11 | 4 |
| 12 | 5 |
Torments are updated daily so if you are struggling with one in particular you can come back the next day. There are 18 torments you can get, and some of them are super annoying.
Here is a quick list for reference:
Avenger – Enemies buff nearby allies haste when they die.
Backup – Bosses have an extra add you have to fight.
Claustrophobic – Enemies deal 10% more damage when there are 5 of them near each other.
Hardened – Non-elite enemies have 25% more health.
Lockdown – The annoying Maw bombardment and chains if you get hit.
Raging – Non-boss enemies gain 50% damage when below 30% health.
Reinforced: Commanding – Elite enemies buff health and defense of allies.
Reinforced: Doom Conduits – Elite enemies summon Doom Conduits.
Reinforced: Follower of Klontzas – Elite enemies can cast Lesser Subjugations.
Reinforced: Reflective – Elite enemies can gain a reflective shield in combat.
Reinforced: Unstoppable – Elite enemies gain a shield that cancels your first stun or interrupt.
Supernatural Power – Unnatural Power is significantly stronger.
Thanatophobia – You are feared when you drop below 40% health.
Tricks and Traps – Traps deal more damage, and there are more of them.
Twisted Magic – Magic damage increased by 15% for ALL players and enemies.
Twisted Strength – Physical damage increased by 15% for ALL players and enemies.
Unstable Phantasma – A glob will spawn occasionally and steal your Phantasma if you don't defeat it fast enough.
Volatile Doom – Enemies can leave a Doomed Soul Remnant on death which explodes a few seconds later.
If you are looking for some tips on how to handle each torment, I would recommend reading TheRedRogue's article WowHead article.
Recap
The Box of Many Things is an excellent addition to Torghast. It can be unlocked by finding Ve'nish during a run of any layer of Torghast. After returning the Box to the Runecarver, you can begin upgrading your skills by spending Tower Knowledge.