A quick introduction on how to set up and use the Plater nameplate addon in WoW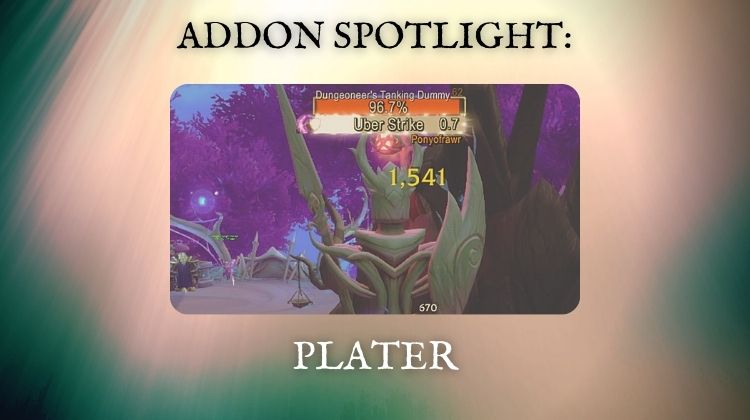 There are over 500 settings in the Plater nameplates addon! This makes it a little overwhelming to start using for many players. In this guide, I will try to simplify Plater for you and help you get started with this powerful addon.  I will not go over every setting, but I will highlight some of the most critical settings in Plater.
I did my best to write this guide to be as clear as possible. If you are more of a visual person or want to learn more about advanced topics like scripts and mods, you should check out the companion video I made for this article.
How to use Plater
To get started, you will first need to install Plater. You can do this manually by downloading it from CurseForge or through an addon manager like WowUp. If you need a more detailed guide on how to install addons, check out my article here.
Once installed, you can open the plater options by typing /plater in your chatbox. You can adjust the size of this window by moving the scale slider in the top left.
As a pro-tip, you can also right-click on any of the sliders in the Plater options, type a number in, and press enter.
General Settings tab
HP bar size
The first tab in the options is for general settings. Anything you change here will apply to all of your nameplates. In the bottom left, you can change the sliders to adjust the width and height of your health bars.
You can adjust the "Fine Tune Scale" slider under the Level and Strata tab to change your nameplates' overall scale, including the cast bar.
Turn on stacking nameplates
Another important setting back on the general settings tab is the stacking option. You can make your nameplates stack by clicking the "Stacking nameplates" checkbox in the first column. This will make it so your nameplates don't overlap, which is essential when fighting several enemies.
Occluded units and transparency – hide units behind walls
I also recommend that you check the box titled "Use Blizzard's nameplate alpha." This will apply transparency to enemies that are hidden behind walls and keep your UI cleaner. Changing the "Occluded Unit Multiplier" will adjust the transparency. I typically like to set it to around 0.2 or 20%.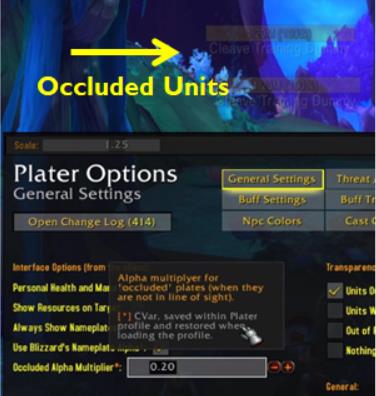 You can also change the overall transparency for all nameplates with the 3rd column on the general tab under "Alpha Amount by Frame –Enemy" and "Alpha Amount by Frame –Friendly."
Add combo points to your target
The last major setting on the general tab in retail is "Show Resources on Target." When you enable this, it will add combo points and other resources to your target's nameplate. If you use Plater in TBC, you need to turn combo points on by selecting "Modding" and enabling the combo points mod.
Settings by unit type – move NPC name text
In addition to the general settings tab, you can use the Personal Bar, Enemy NPC, Enemy Player, Friendly Npc, and Friendly Players settings to customize health bars further. For example, if you select "Enemy NPC," you can change the size of the bars with the sliders at the top of the 2nd column.
This will override the width and height you chose on the general settings tab.
You can also change the appearance and location of the text on the nameplates. To adjust the enemy name settings, you change the options under "Npc Name text." Switching the anchor dropdown will move the location of the name.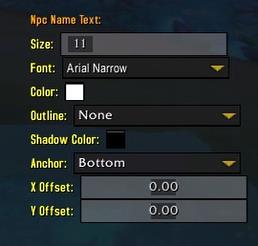 There are a handful of options here to play around with so go to town!
Buffs and Debuffs
Alright, let's move on and talk about buff and debuff icons. By default, buffs and debuffs rest on top of the healthbar. You can click on the "Buff Settings" tab to see their current location. If you want to move where the buffs show up, you can change the offset values in that same tab at the top of the 2nd column.
If you enabled combo points earlier, you might want to change their location. You can do this pretty quickly under the "Personal Bar" tab by changing the "Y Offset on Target" and "Offset if Buff is Shown" values in the bottom right.
Add special buff icons to the side of your nameplates
One of the other nice things about the buff icons in Plater is the ability to set special buffs. This will cause crowd control, debuffs, or any aura you choose to appear on the side of a frame. To set it up, click on "Buff Special" and then enter the name of what you want to track in the Add Special Aura box.
In this example, I put druid Sunfire in, and you can see that it moved the icon from the top to the side.
As a shortcut, you can also add special buffs under the "Buff list" tab. This will show all of the buffs or debuffs you have encountered recently, so you can scroll through the list and click "Add" to create a new special buff.
Customize your castbars
There are a lot of other customizations you can make to your nameplates. You can navigate through a list of spells under "Cast colors" to change the color of cast bars based on spell names. This can be a great way to highlight dangerous attacks and ones that need interrupting.
You can also adjust the size and colors of your cast bars overall with the "Cast Bar" settings.
I recommend that you click the "Toggle Cast Bar Test" when trying to make changes. That just makes it easier to see what each option does. I don't do much adjusting on my cast bars or things like NPC colors, but they are fun options to play around with.
Scripts vs. Mods
One of the best parts of Plater is the ability to add scripts and mods.
Scripts run code based on a specific trigger like a cast, aura, or NPC name. This allows you to apply special styling to your nameplates based on conditions. For example, you could create a script to change the color of nameplates if they were missing your DoTs or other debuffs.
Mods, on the other hand, are more generic and apply to all nameplates. They don't rely on triggers. So anything you change through a mod will change all your plates, not just specific units or casts.
Using scripts and mods is a little tricky at first and hard to describe in a written guide. If you want to see how to use some built-in scripts, check out the YouTube video I posted above.
Import more scripts and mods
There are hundreds of additional scripts and mods that you can import in Plater. These can be found by going to wago.io and clicking on Plater Nameplates on the left side. From there, select "Plater Mods" or "Plater Scripts."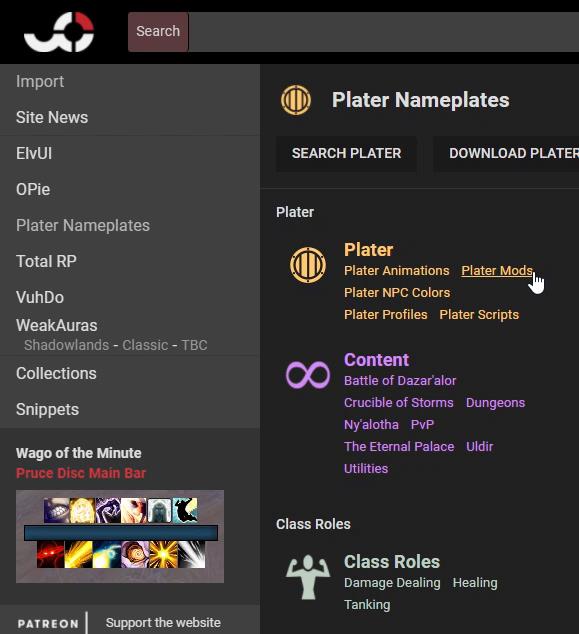 Once you find the one you want, click on it and select "Copy Plater Import String." Now go back to the scripting or modding tab and click the little document with a down arrow icon. Finally, paste the import string and press okay.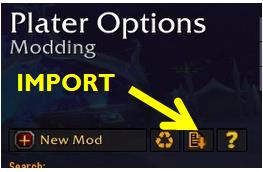 Importing profiles
In addition to importing scripts and mods, you can also import a complete profile of settings into Plater. From the same plater home screen on Wago, click on "Plater Profiles."
Then find a profile you want to import and copy the import string. Navigate back to the plater options, click on the "Profiles" tab, and then "Import Profile." Give it a new name and press okay.
If you are planning on using Plater in M+, you should definitely check out the article I wrote that compares 5 popular Plater profiles.
Final Thoughts
Plater is a massive addon. With more than 500 options to change, it is impossible to completely cover each in a single guide. I figured I would share some of the settings I like to change and hope they help you out.
Thanks for reading!