A quick introduction on how to set up and use the Dominos action bar addon in WoW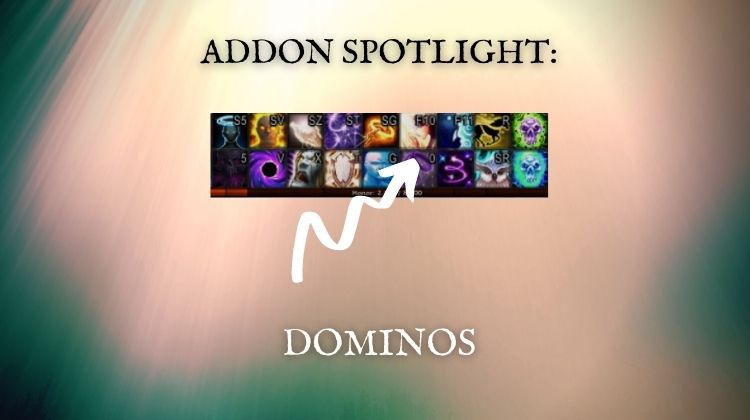 World of Warcraft's default user interface often leaves much to be desired. This is particularly true for the action bars at the bottom of the screen, which cannot be moved or resized. Luckily, there are addons like Dominos that allow you to do that and so much more!
In this guide, I'll walk you through the major features of Dominos so you can replace those pesky default bars. I also made a short video version of this guide to watch if you are more of a visual person.
Alright, let's jump in!
What is Dominos?
If you aren't familiar with Dominos, it is an action/spell bar replacement addon for World of Warcraft. It allows you to change the appearance and location of the bars that hold your spells. You can also use it to customize other pieces of your UI like the experience bar, bag bar, and menu.
It will also work in both versions of the game — retail and classic.
How to use Dominos
To start using Dominos, you will need to install it first. You can do this manually by downloading it from CurseForge or through an addon manager like WowUp. If you need a more detailed guide on how to install addons, check out my article here.
Configuration Mode
After installing Dominos, you can start by left-clicking the minimap icon (with the little picture of a Domino). This will activate configuration mode, turn your bars blue, and add gridlines to help you center things. You can turn the gridlines off by checking the "Show Grid" box in the popup if you don't want them.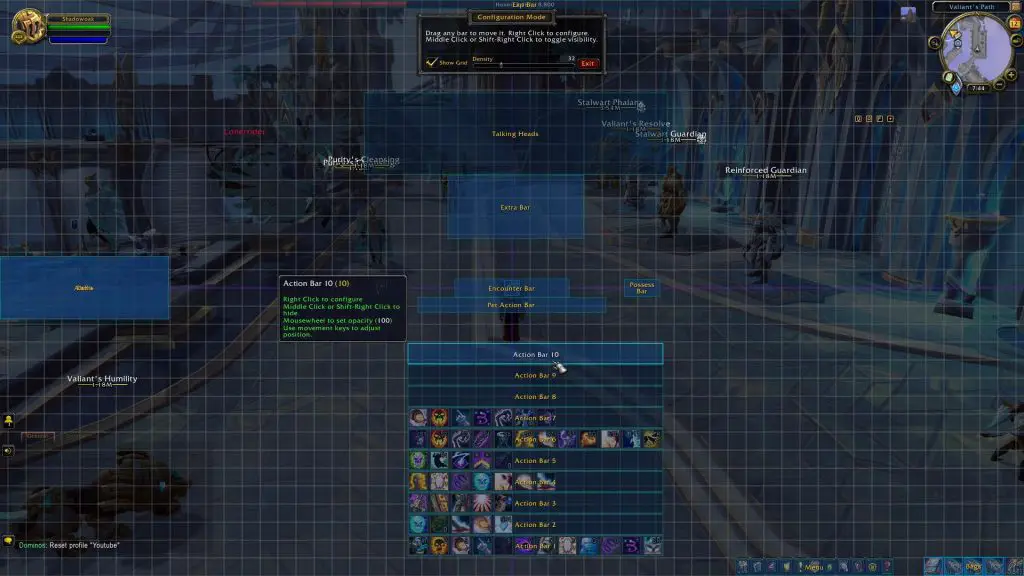 While you are in configuration mode, you can move any glowing blue boxes around by holding left-click and dragging. When you have a lot of bars stacked on top of each other (like in the screenshot above), Dominos will cluster them together so you can move the whole block. To move one at a time, you'll want to start moving at the bottom of the cluster first.
You can also use keyboard shortcuts to easily hide bars. All you need to do is hover over the bar you want to hide and shift right-click or press your mouse scroll wheel.
If you hover over a bar and scroll the wheel, it will change the bar's transparency. Moving the mouse wheel down will make it more transparent, and a scroll up makes it more solid.
Now you know how to move, hide, and change the transparency for your bars. To customize your bars further, you will need to dive into the bar options window. You can open up the options for any bar by hovering over it and right-clicking.
Individual Bar Options
After you right-click on a bar (in configuration mode), a small window with several sliders will pop up nearby. Depending on the bar, you will also have various menu tabs down the left side. All of your bars — including menu and bag bars — will have layout, fading, and advanced options.
Let's look at what each of these does.
Layout
The layout menu allows you to change the size (scale), padding/spacing, and bar orientation. Changing the size slider on an action bar will change the number of icons you can put into that bar. The columns slider will, unsurprisingly enough, change the number of columns.
If you leave the columns at 12, the bar will be horizontal:
A column setting of  1 will make the bar vertical:
The spacing slider will control the amount of room between spells on that bar. In contrast, the padding slider adjusts the amount of space around the outside of the spells. Here is a screenshot that shows identical action bars with different padding settings.

The scale slider will adjust the overall size of your bars.
The frame strata and frame level options allow you to change which bars are in front or behind other ones. I haven't really needed to change anything with either of those settings, but it is good to know they are there if you need them.
And that is all there is to the layout settings, so let's move on to the paging options…
Paging
You can also do some really cool things with the Dominos paging options. After right-clicking on a bar, select the paging option from the left.
The first thing you will see is a group of class-specific dropdowns. If you select the paging options as a druid, you should see all of your forms and the bars used for each. You can update it easily by choosing a different bar from the list. 
If you scroll down a little, you'll see a section for key-based modifiers, which is where things get interesting. Effectively, you can tell Dominos which bars you want to switch to when you hold down a key.
For example, if you have some spells keybound that require you to push the ALT key first, you could put them all on their own bar and then set the paging option modifier for ALT. Now, the bar wouldn't show up until you begin holding down the ALT key!
You can also use the paging options to change the spells shown based on your target. At the bottom of the paging, options is a section for "targeting" that has settings for help, harm, and no target. Help lets you choose what will be shown if the target is friendly, harm is displayed if you target an enemy, and no target is pretty straightforward.
All you need to do now is select what bar should show in each case. This saves a lot of time because this functionality usually requires you to write a macro for each spell that you want it to apply to.
Fading
Now that you have your bars in position and paging options set up let's look at the fading tab. As the name implies, the fading options control how the bars fade in and out.
More specifically, you can control the fade that happens when you hover over a bar. By default, your bars will not fade when you hover over them. If you want to set a bar to be somewhat transparent until you hover over it, you just need to adjust the "Faded Opacity" under the "Fade Out" heading like this:
Advanced
The last set of options you can change for each bar are those found under the advanced tab. When you open these settings, you'll see several boxes which allow you to flip the direction of your buttons, enable click-through, and control whether the bar will be shown in pet battles.
You will also see a box for something called "Show States." This is where things get really cool because you can put macro conditionals into that box to control when the bars are shown. These macro conditions are keywords surrounded by square brackets.
WoWWiki has a complete list of these keywords that you can look at here.
To give you an idea of how this works, let's set up a bar to only show when you have a target or are in combat. The WoWWiki article says that you can check to see if you have a target with the keyword "[exists]." Furthermore, we can see if we are currently in combat with "[combat]."
Now all you need to do is drop those brackets and words into the show states box. This will cause that bar to be hidden when you are out of combat and don't have a target. Talk about a clean UI!
Keybinding & Masque
Before we wrap up this addon spotlight, it would be good to show you how to set up new keybinds in Dominos. Fortunately, this is pretty straightforward.
All you need to do is right-click on the minimap icon and then click on the button that says "Bind Keys…." From there, you can hover over an icon and press ESC to clear existing bindings, and then press the bind you want to assign to it.
There are a handful of other options in this window that allow you to change the overall look of your action bars. I usually stick with the defaults and then download the Masque addon to apply different styling to my bars. 
If you aren't familiar with Masque, it is an addon that applies different skins and styles to many different parts of your UI. It works for action bar addons like Dominos but will also carry over to other ones like WeakAuras.
Masque is also really easy to use. All you need to do is install it and then type /msq in your chat and change the style settings in the dropdown. Easy!
Final Thoughts
Dominos is an excellent addon for customizing your action bars in World of Warcraft. Other addons do similar things like Bartender and ElvUI, but Dominos is the most lightweight and has the best features. If you want to see a comparison of the features and speed of each action bar addon, definitely check out my Best Action Bar in World of Warcraft article next!
Thanks for reading!