A quick introduction on how to set up and use the DPS rotation addon Conflict Rotation Optimizer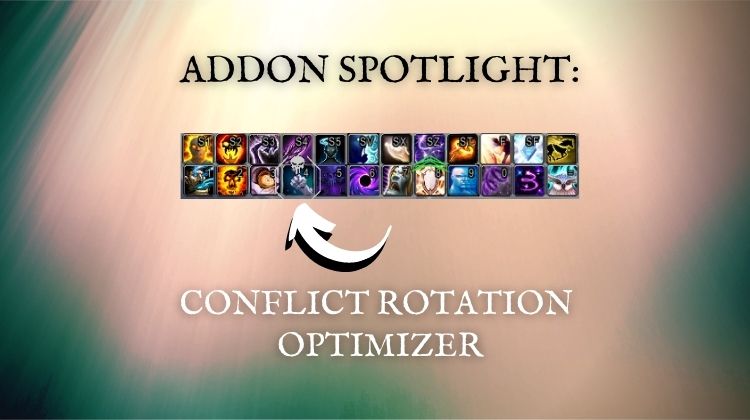 Welcome to the fifth addon spotlight in my series on WoW rotation helper addons! So far, we have taken a look at Hekili, MaxDps, Ovale, and HeroRotation. In this part, I want to take a look at the newest kid on the block — an addon called Conflict Rotation Optimizer (ConRo).
Once you are done reading about ConRo, you should check out my article where I tested 5 rotation addons to see if how much they increase DPS.
Okay, enough shameless plugging, let's take a look at how ConRo works…
How does the Conflict Rotation Optimizer addon work?
Like other rotation helpers, ConRo works by suggesting what abilities you should use to increase your DPS. These recommendations are shown in an icon near your character and as an overlay of your action bar.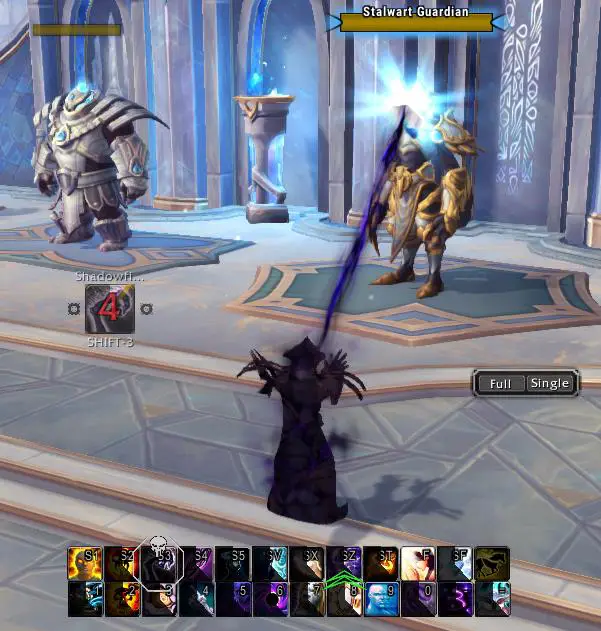 By now, you may be wondering how ConRo knows what spells to recommend.
Like other rotation addons, the recommended spells come from an ideal rotation generated by computer simulations. These simulations are pretty good but do have a few limitations. While they do give a good idea of cast order, they don't consider boss mechanics and other environmental factors. That doesn't mean simulations aren't helpful; it is just something to be aware of as you use the addon in different situations.
Now that you have a little taste of what ConRo is all about let's talk about installing and using it.
How to install Conflict Rotation Optimizer
You can install ConRo either manually or through an addon manager. When you install it, you will also need to download the ConRo addon for your class. For example, if I played Demon Hunter, I would download the main addon and ConRo Demon Hunter.
Without the class module, the addon will not work, and you will get an error that says: "could not find class module ConRo Demon Hunter, reason: MISSING." If that happens, make sure you have the class addon installed and enabled.
If you need more help installing these or other addons, check out my walkthrough on How to Install WoW Addons in 2021.
How to use the Conflict Rotation Optimizer addon
Once you have installed the addon, it is time to take it for a test run. To start out, simply boot up or reload your game and make sure the addon is enabled.
You should notice an icon next to your character along with a skull and border on your action bars. On each side of the icon will also be small empty circles. These circles will pop up with icons of their own if you can interrupt or purge spells. If the icon and skull do not appear, make sure you installed the proper class module.

In addition to the spell recommendations, you should also see a toggle with two options.
The left toggle button can switch between "Burst" and "Full." If you are in "Burst" mode, the addon will not tell you when to use your cooldowns. The idea is to allow you to choose the best time to use them yourself based on the boss fight or situation. When the toggle is set to "Full," the addon will incorporate your cooldowns into the suggested rotation.
The right toggle allows you to switch between "Single" and "AoE." In other words, it lets you choose whether you want it to make suggestions for one target or a group of enemies.
If you want, you can also make a macro to toggle these off and on. If you hover over the buttons, the addon will show you the slash command required to toggle between different modes. Hence, if you don't like how the toggles look, you could make a macro and then hide them (which we will talk about more in the section on customizing).
You can also watch the YouTube video I made which will show you how to setup the addon and macros in under 6 minutes.
Now that you know how the suggestions and toggles work, you are ready to pound your keyboard and increase that DPS.
Customizing Conflict Rotation Optimizer
Let's talk for a moment about some of the customization options available in ConRo. These can be accessed from the Interface button in your game menu. Or you can get to it with the /conro slash command.
Within the options, there are 4 different things you can customize and tune to your liking. The first one is a tab for your class settings. This allows you to turn recommendations off and on for different specs on your class. If you were playing a class with a healer spec and didn't want to see the DPS suggestions, you can turn it off. The addon will suggest damaging ability use, even if you are in a healer or tank spec. Still, it will not give a healing rotation.
The second tab in the options menu includes setting for the action bar overlay. With these settings, you can choose what types of abilities you want ConRo to make recommendations for and their appearance.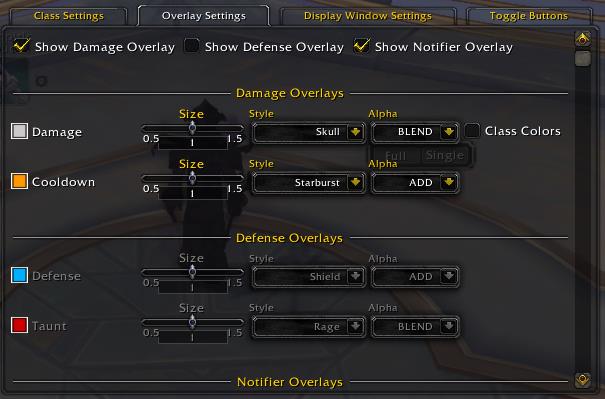 When it comes to abilities, ConRo groups them into 3 categories — damage, defense, and notifier. If you turn off the category, you will not see those recommendations on your action bar anymore. Here are the different spell types and the category they fit into if you are interested:
| Spell Type | Category |
| --- | --- |
| Damaging abilities | Damage |
| Cooldowns | Damage |
| Defensive spells | Defense |
| Taunts | Defense |
| Interrupts | Notifier |
| Purges | Notifier |
| Movement speed | Notifier |
| Raid buffs | Notifier |
The third tab allows you to change the settings for the icon (display window). You can change various things like the icon size, transparency, and whether the interrupt icon shows up.

The last settings you can change are for the toggle buttons. You can change the appearance of the button size, orientation or hide them altogether. As we talked about above, you can write a macro to use a keybind to toggle and then hide the buttons altogether.
Is Conflict Rotation Optimizer Good?
While rotation helpers have a love-hate relationship in the community, I think Conflict Rotation Optimizer is an excellent addition to the field. Overall, it has some good things going for it. I personally like the toggles and ability to use icons or action bar overlays. From the testing I did, I think it would help many players improve their DPS.
On the downside, it did feel less smooth than some other rotation addons I have tested. It felt like it was updating recommendations faster than I could get to them and has no way to adjust the refresh speed.
Final Thoughts and Important Links
With a spotlight completed for the most popular players in the rotation addon group, it is time for them to face off. I would recommend reading the article I mentioned at the beginning, where I tested 5 rotation addons to find the best one. I will also be releasing an accompanying YouTube video soon and a guide for ConRo. Make sure to subscribe to my new YouTube channel so you won't miss it!
Thanks for reading!
Authors: vae2009
Curseforge: https://www.curseforge.com/wow/addons/conflict-rotation-optimizer-conro
RELATED ARTICLES (ARCANEINTELLECT.COM)