A quick guide on how to use WoW-Pro Guides addon in WoW: Burning Crusade Classic and Shadowlands.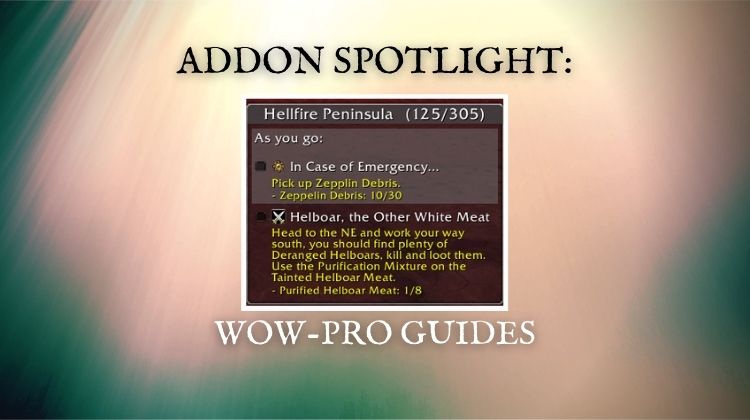 There are many in-game leveling guide addons in World of Warcraft. A few popular ones include Zygor, Dugi, and RestedXP. Unfortunately, all of these lock their guides behind subscriptions or one-time purchases. If you want to purchase these guides to support the authors, I understand that. However, if you are looking for a great free option, I recommend you check out WoW-Pro Guides.
The WoW-Pro Guides addon works in both Classic and retail. It also has many of the same features as the paid guides. In the rest of this guide, I will walk you through the setting up and using the addon so you can start leveling!
How does the WoW-Pro Guides addon work?
WoW-Pro Guides is a straightforward addon. It has several built-in guides that walk you through each step required to level through questing. The quests are grouped together and selected to speed up the leveling process.
By default, it shows these steps in a box on your UI. For example, in the screenshot below, you can see instructions for a TBC character I am leveling in Hellfire Peninsula.
The addon tells me that I should pick up zeppelin parts as I make my way to kill Helboars. It even provides a nifty arrow directing me to where I will find the boars. You can also see a nice little icon next to the window that can be clicked to use the quest item, so I don't have to rummage through my bags.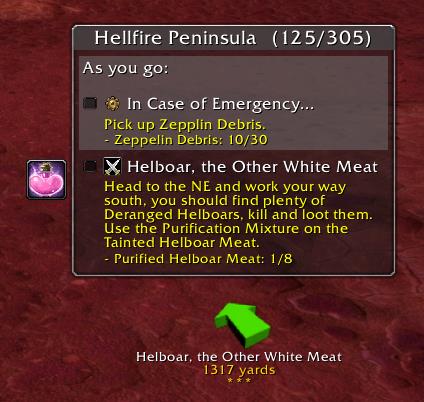 I usually level through without the guide and then use the addons for subsequent playthroughs to speed things up and allow for some chill leveling. So far, I have really enjoyed using WoW-Pro and feel like it has done an excellent job of walking me through questing in an efficient and clear way.
I will show you how to get started and use all the features in WoW-Pro, but first, let's talk about how to install it.
How to install WoW-Pro Guides
You can install WoW-Pro Guides by downloading it manually from CurseForge, or you can use an addon manager. I personally prefer to use an addon manager because it makes installing and updating addons much easier. If you use a manager to install it, make sure you include the hyphen in WoW-Pro when you search.
I would also suggest that you also download the TomTom addon as well. This is a great addon that provides map coordinates and the arrow in the screenshot above. According to the CurseForge page for WoW-Pro, you should also be able to use Carbonite, but I wasn't able to test it out.
If you haven't installed addons before, you can check out my guide that walks you through a few ways to download addons.
How to use the WoW-Pro Guides addon
When you first boot up your game after installing WoW-Pro Guides, you will probably see a box saying no guide is loaded.
To load a guide, you need to right-click on the top of the box (where it says "No Guide Loaded"). This will produce a dropdown menu with several options.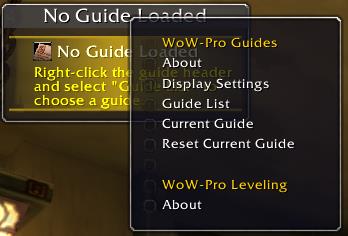 Clicking on the "Guide List" option will open another window that will let you select the zone you would like to level in. This list is also helpful because it colors the guides based on your character level.
Zones that are well below your level appear in blue. The ones near your level are in green or yellow. And zone well above your current level are shown in red.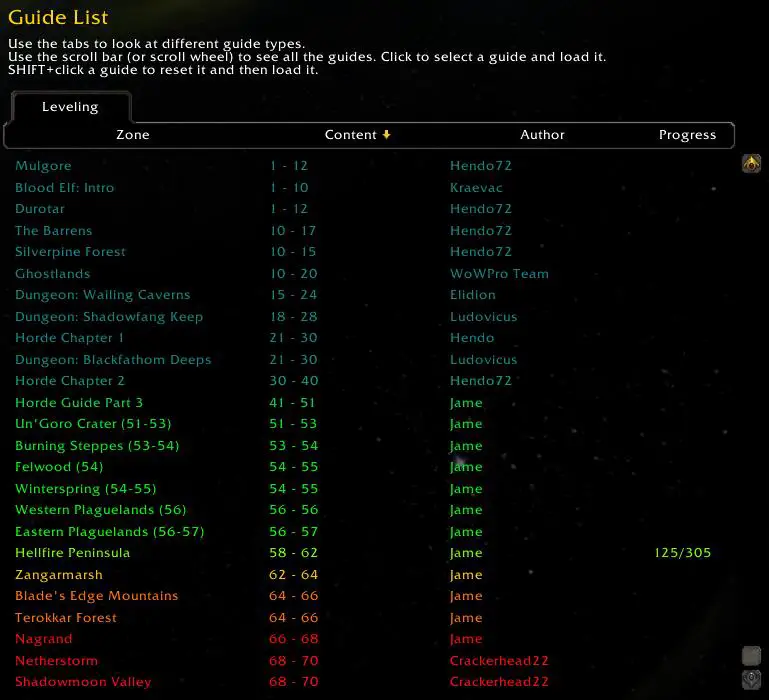 Once you find the one you want to use, you just need to click on it, and it will be loaded. The box on your screen will now show one or two quests that you should do next.
You should also see an arrow pointing to your next objective if you downloaded TomTom.
As an important note, the arrow will guide you to the general location of the quest. For objectives like killing X mobs or collecting X items, you will have to explore around that area.
For help with finding individual mobs and collectible items, I would recommend that you also install the Questie addon.  Questie is a great addon that shows you the spawn location of mobs and other items on your map (world and mini).
If you want to see every step in your guide, you can right-click on the header again and select "Current Guide." This will open a window that you can scroll through and mark steps.
Automation and Difficulty Adjustments
Another great thing about WoW-Pro is the ability to customize many of its settings. In addition to the standard appearance changes, WoW-Pro has a few useful things you can adjust.
If you select "About" from the header dropdown, it will take you to some general settings. From here, you can enable automation features like auto accepting/turn-in of quests.
You can also use the "Global Rank" or "Toon Rank" sliders to adjust the quests' difficulty included in the suggestions. If you turn the rank down, you will get easier quests and avoid those which may be challenging to solo, particularly for under-geared characters.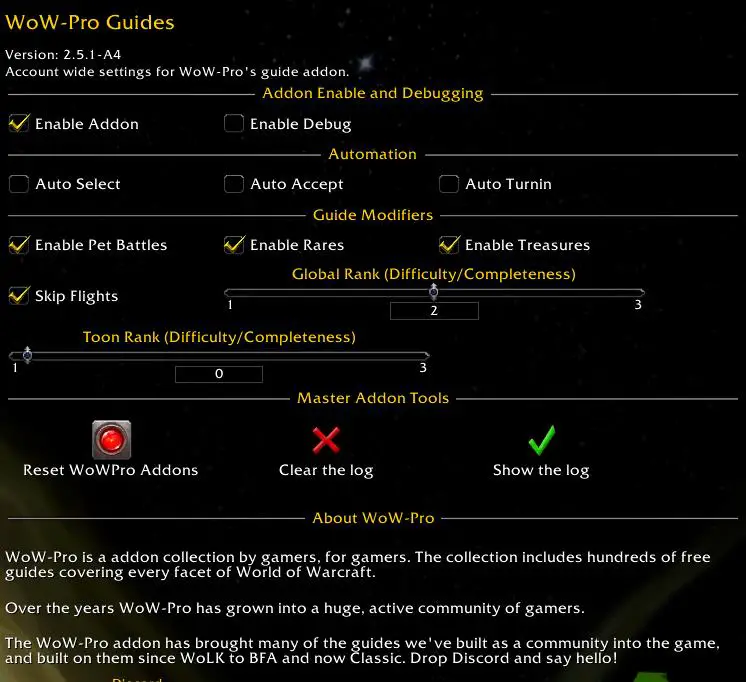 Other WoW-Pro Features
As an important side note, downloading WoW-Pro through CurseForge or a manager will give you access to the leveling guides I talked about in this article. If you want even more features, you can download the addon from the developer's Discord and receive additional guides.
If you download the Burning Crusade Classic addon from the WoW-Pro Discord, you will also get a daily quest guide. For retail players, you will also get guides for professions, achievements, dailies, and world events!
Final Thoughts and Important Links
There are several paid options for in-game WoW leveling guides on the internet. I am not a big fan of paid/premium addon options, so I started looking for similar addons I could use on my alts. If you are looking for an excellent alternative to Zygor, Dugi, or RestedXp, you should definitely check out WoW-Pro Guides (with TomTom).
If you are more of a visual person, you can check out my YouTube video for WoW-Pro Guides here:
Thanks for reading!