A quick guide on how to set up and use the Threat Plates nameplate addon in WoW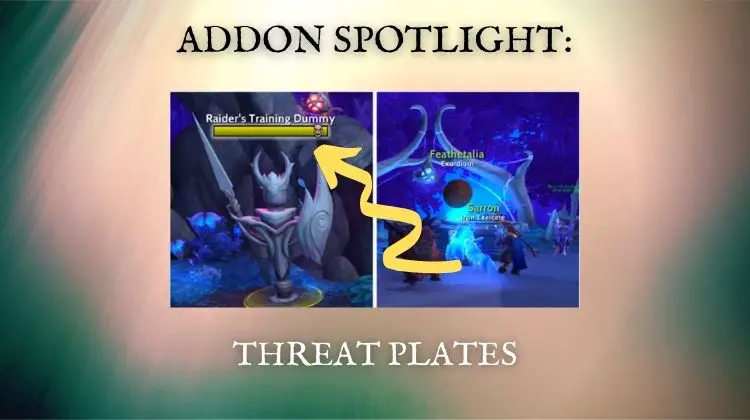 The default World of Warcraft nameplates leave a lot to be desired. In addition to lacking necessary information, the default plates offer few customization options. This is where nameplate addons like Threat Plates come in. In this guide, I will walk you through the features of Threat Plates and help you get it set up.
What does Threat Plates do?
Threat Plates is an addon that replaces the default nameplates with more customizable ones. They also add a lot of additional information like percent health remaining and the amount of threat you have to your plates.
It allows you to customize your nameplates to appear as healthbars or headlines. As the name suggests, healthbars show an HP bar over the players or NPCs. In contrast, headline view will only show the name of the player or NPC.
Here is an example of a healthbar on a training dummy and headlines on friendly players.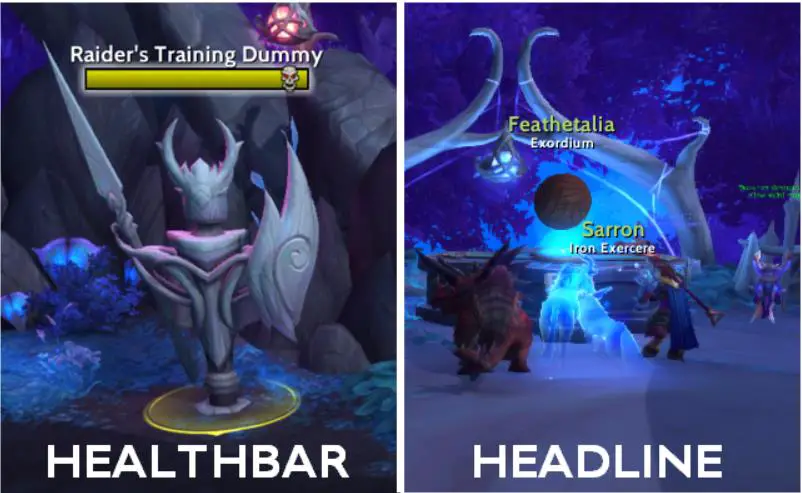 You can use Threat Plates to customize every aspect of your nameplates. With a few easy-to-use settings, you can change colors, fonts, sizes, and so much more.
I will go over these settings, but first, let's take a quick look at installing Threat Plates.
How to install Threat Plates
You can install Threat Plates manually or through an addon manager like WowUp. With an addon manager, you can simply search for "Threat Plates" and then click install. The authors of the addon are listed as Suicidal_Katt and Backupiseasy.
If you need a more detailed guide on how to install addons, check out my article here.
How to use Threat Plates
After installing Threat Plates, you should be able to open your game and benefit from the features immediately. I think that the default settings alone are a significant improvement over the default Blizzard nameplates.
However, if you are looking to get the most out of Threat Plates, you may want to customize it a bit.
Customizing Threat Plates
You can get started on changing your Threat Plates options by entering /tptp into your chat box. Alternatively, you can press the escape key, click on Interface and go to the addons tab.
Either approach will open a new window with 7 tabs across the top.

In the following few sections, I want to give you a quick idea of what you can do with each tab. After that, I will dive into some of my customization recommendations.
Let's start off by taking a look at the general tab.
1. General
The general tab in the Threat Plates settings contains everything you need to set up your nameplates' color, size, and appearance. Without going into every option and slider available, here is a general overview of what you can change with the general settings.
Visibility – Choose which units should have nameplates
Automation – Set the addon up to turn nameplates on only in combat
Healthbar View – Change the size, texture, and colors of healthbars
Headline View – Select which units should display headlines
Castbar – Customize size, location, and color of cast bars
Colors – Set colors for classes, markers, and hostile/neutral mobs
Transparency – Set rules for when nameplates appear faded
Scale – Change the size of nameplates based on situation, target, and unit
Names – Control font, size, and color of names shown above nameplates
Status Test – Set font, size, and color of player or NPC status (i.e., guild, NPC titles, etc.)
Level Text – Customize the text that shows player or NPC level on the nameplate
Rares & Elites – Change style and appearance of rare and elite markers on nameplates
Skull Icon – Controls for skull icon which indicates that enemy is boss level
Target Markers – Settings for target marker display (skull, square, etc.…).
Blizzard Settings – Controls to make nameplates stack and clamp to the screen
2. Threat System
Threat Plates lives up to its name and gives you a lot of control over the way threat is shown on your nameplates. By default, the addon shows you how much threat you have and includes animations on your nameplates for mobs with medium and high threat.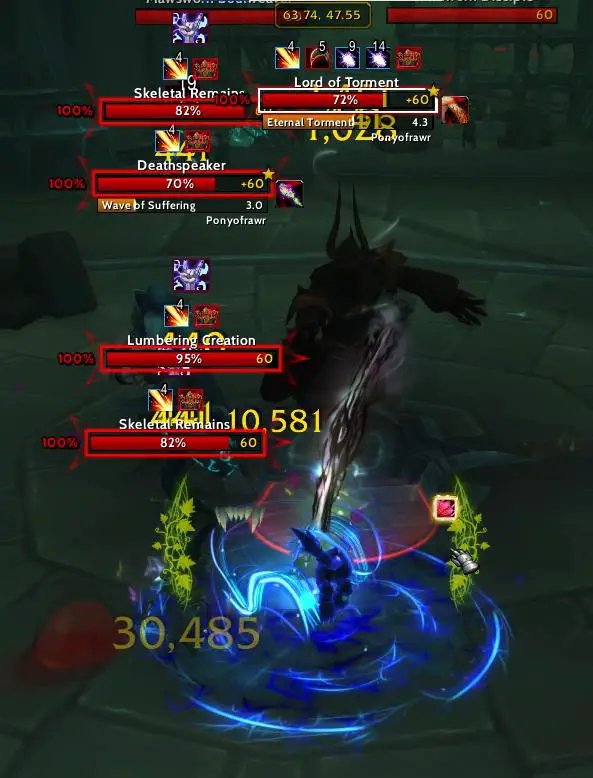 If you don't know what threat is, it is the amount of aggression (or "aggro") directed at you by an enemy. The higher your threat, the more likely an enemy is to attack you. For tanks, you want your threat to always be higher than the rest of your group, so they don't get attacked.
The threat system is a way to measure this on your nameplates.
With the threat system options, you can enable/disable threat indicators, choose what units are included, and change the appearance of plates based on the threat level.
More specifically, you can change the following options:
General Settings – Choose what units are included
Scale – Make plates larger or smaller based on level of threat
Transparency – Change transparency based on level of threat
Textures – Choose the animation to show on nameplates
Coloring – Customize the colors used for the threat indicators
Percentage – Select the font, size, and location of the threat percent
Roles – Set DPS/Healing or Tank role for your specs
3. Widgets
The widget options allow you to customize the extra bells and whistles shown on your nameplates. General settings take care of the basic appearance of your plates. Widgets include things like combo points or quest indicators on enemies.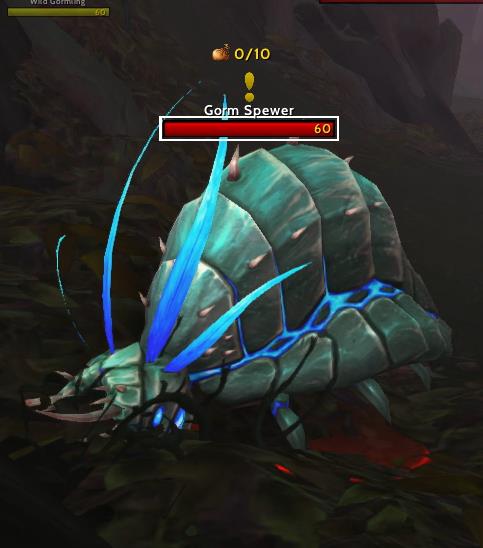 Here are the options you can find under widgets:
Arena – Add indicators like arena number to nameplates
Auras – Buffs and debuffs shown above plates
Boss Mods – Shows DBM or Big Wigs aura information on nameplates
Class icon – Add/remove class icon on player nameplates
Combo Points – Customize appearance, color, and size of combo points (or things like DK runes)
Experience – Bar on the nameplate of followers (like Draenor bodyguards, Nazjatar allies)
Focus Highlight – Adds an arrow or other indicator to your focus' nameplate
Healer Tracker – Shows what players are healers in the nameplate
Resource – Shows resources like mana below healthbar
Social – Color and style nameplates for people on your friend list or in your guild
Stealth – Indicator of NPC ability to see through stealth on your nameplate
Target Highlight – Change the outline and color of your target's nameplate
Quest – Show quest NPC indicators on nameplates
4. Totems
The fourth settings tab is for shaman totems. I won't list out each option here, but these settings essentially allow you to color and style each totem individually.
You can even disable nameplates for specific totems. This would be helpful if you are doing PvP and want to hide minor totems and make important totems pop.
5. Custom Nameplates
The next set of options is one of my favorite — custom nameplates. With these options, you can set up special appearances for nameplates based on the name of an enemy, the buff (aura) they have, or the spell they are casting.
To give you an idea of how powerful this tool is, I am currently using it to create custom nameplates for casts that need interrupted in mythic plus. For example, here is a custom nameplate for the Drust Harvester in Mists of Tirna Scithe.
By default, his health bar is the typical enemy red color. However, when he starts to cast Harvest Essence, the color changes to blue, and the cast bar glows around the edges to let me know I need to interrupt.
Setting these up is pretty easy but is easier to explain in a video. If you want to set these up, check out my YouTube video and feel free to use the video chapters to navigate to the custom nameplates portion of the video.
I will also put a link to my Threat Plates profile in the YouTube description.
6. About
The second to last tab gives you information about the addon developers and contact information to reach out with a question about the addon.
7. Profiles
Like many other addons, Threat Plates allows you to create profiles and share them across characters or with other users. This tab is where you set that all up.
Recommended Customizations
With a good understanding of what options are available in Threat Plates, let's look at some must-have changes you should make.
Stacking Nameplates (General ->  Blizzard Settings)
This is a big one. Before you make any other changes, I would make sure that you have your nameplates set to "Stacking" and not to "Overlapping." You can check this in the Threat Plates options (/tptp) under General -> Blizzard Settings.
If you leave it overlapping, it will be difficult to see enemies' health bars when fighting a large pack. Stacking will fix that by making sure the nameplates for each mob is visible.
Occluded Unit Transparency (General ->  Transparency)
By default, Threat Plates will show nameplates for any enemy within the max distance range (41 yds in TBC and 60 yds in retail). This means that enemies on the other side of walls or outside your line of sight will have nameplates on your screen.
This creates a mess and can create problems with knowing exactly which mobs you are in combat with.
You can navigate to the general tab and transparency options and enable transparency for occluded units to fix this. At 100% transparency, the nameplates will disappear when enemies are behind walls. I recommend using a value of about 85 – 90 because it lets you see that an enemy is near but doesn't overwhelm your UI with full-blown nameplates.

Larger Target Scale (General ->  Scale)
This one may be more of a personal preference, but maybe it will help you as well. You can use the scale options to make your target's plate larger than surrounding nameplates.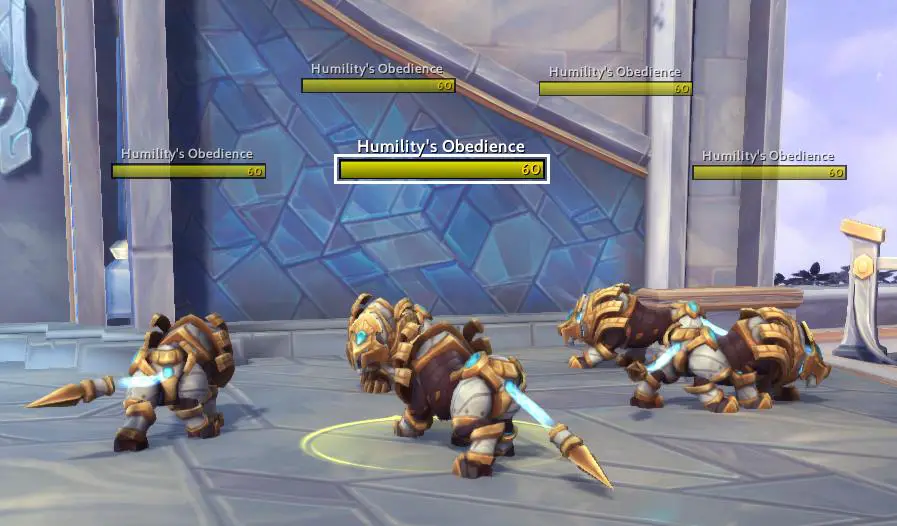 To enable it, go to the scale settings under the general tab. From there, check the word "Target" under the "Target-Based Scale" section. I have found that the default 30% looks pretty good.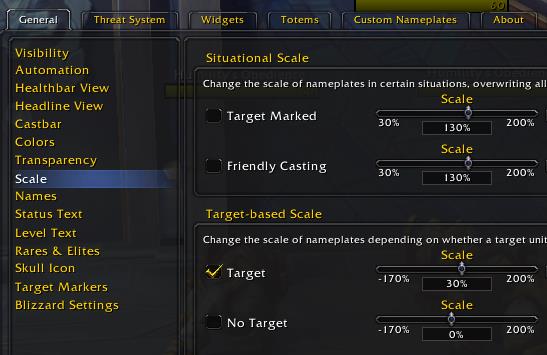 Change Target Color (Widgets ->  Target Highlight)
If you want to make your target pop even more, I recommend setting a custom color for your target. You can find this option under the widgets tab and target highlight options. It is at the very bottom, where it says nameplate color.
To set it up, select the color you want from the wheel and check "Healthbar."
Here is an example with a custom orange color:
As a bonus tip, you can also change the texture around your target in the same options. Instead of a thick white line around the health bar, you can add a nice glow or some arrows until you get it looking the way you want.
Disabling the Threat System (Threat System)
For many specs and roles, the threat system information on the nameplates is overkill. If you are a healer or DPS, you may want to consider turning the Threat System off by going to the Threat System tab and checking the "Enable Threat System" box.
If you are playing Burning Crusade Classic, you may still want these on as a DPS or healer, but I have found it to be visual clutter in retail WoW
Enable Combo Points or other Class Resources (Widgets -> Combo Points)
If you are playing a class with combo points, runes, or any non-mana type resource, you should enable it on your nameplates. This can be done by going to the Threat Plates options, widgets tab, and then combo points menu.
After checking the box for "Show in Healthbar View," your combo points will show on the nameplate while you are in combat.
Headlines for Friendly Players (General -> Visibility/Headline View)
The last customization I like to make to Threat Plates is enabling headlines for friendly players. This requires 2 quick steps:
Go to the visibility menu under the general tab and check "Show all Nameplates" and "Show Friendly Nameplates" if they aren't already checked. Make sure "Players" is checked and "NPC" is not checked under the "Show Friendly Units" section.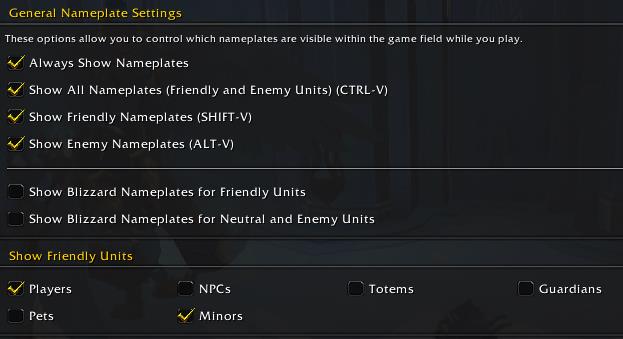 Go to the headline view menu under the general tab. Check the box for "Players" under friendly units.

You should now see some nifty-looking names above friendly players while out in the open world. Unfortunately, this setting won't work in PvP or instances due to player abuse in the past. At least it looks pretty cool while out adventuring.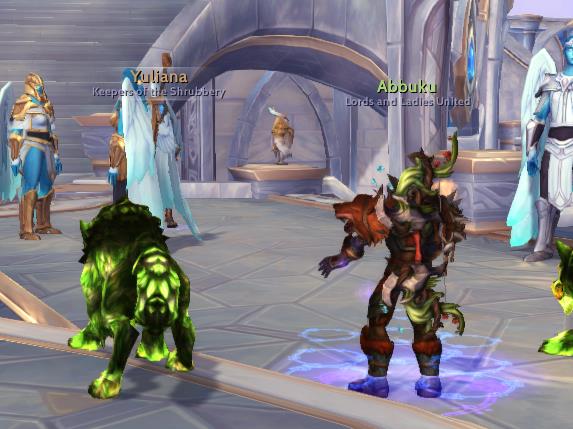 Final Thoughts and Important Links
Threat Plates is an addon that offers a great replacement for the default WoW nameplates. It has a fantastic amount of customization options that give you tons of control over your nameplates. Threat Plates is just one of several of these types of addons but is also one of my favorite.
If you want to learn more, check out my article comparing every major nameplate addon to find the best one.
Owner: Suicidal_Katt
Author:  Backupiseasy
Translator: sugymaylis
Curseforge: Link