A quick guide to Minimap Button Bag, an addon that cleans up the icons around the edge of your minimap.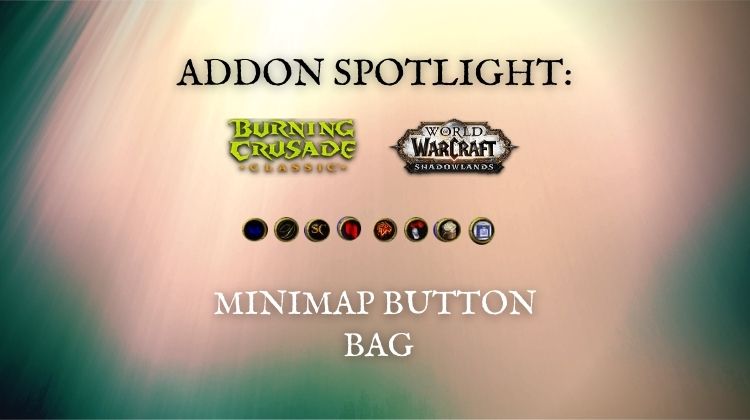 If you are an addon junkie like me, your minimap is cluttered by icons. You have so many addons that you can't see whether you have mail or find your calendar. Fortunately, we can take a "hair of the dog" approach and install another addon to fix it. While several addons help organize icons, the one I use is Minimap Button Bag (MBB).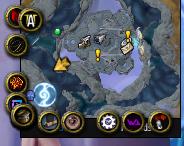 This is an excellent addon because it is easy-to-use and works in both Shadowlands and Burning Crusade Classic!
Okay, let's get to cleaning up those pesky icons with Minimap Button Bag.
You can also watch my 55-second video on using MBB if you want a quick overview of how the addon works:
How does the Minimap Button Bag addon work?
Minimap Button Bag takes all your addon icons and consolidates them into a single circle. You can then click on the icon to expand it and see all your addon icons.
By default, the icons will pop out to the left of the MBB icon. If you want to customize the addon, there are options that allow you to change that direction and the number of rows. I will show you how to change those settings in the customization section below.
Here is an example of what the default behavior of the addon looks like.

How to install Minimap Button Bag
You can install MBB by downloading it from CurseForge and placing it in your addons folder. However, if you are using enough addons that you need MBB, I recommend installing it with an addon manager instead.
Addon managers allow you to install and update addons with a single click. In contrast, manual installation requires you to download a folder, unzip it, and move it every time you update.
If you need help setting up an addon manager, I covered the steps in my guide to installing WoW addons.
How to use the Minimap Button Bag addon
There isn't much to know when it comes to using Minimap Button Bag. Once you install and enable it, you will notice that it will collect your icons into one neat icon.
If you left-click on the MBB icon, it will expand out horizontally to show your icons. You can also hold left-click and drag to move the MBB icon around like any other icon.
If you want to get fancy, you can undock the MBB or any other icon by holding Ctrl and then right-click on an icon. You can then move it to anywhere you like!
Customizing Minimap Button Bag
You can also customize some of the behavior of MBB by right-clicking on the minimap icon. This will open an options window that lets you adjust the collapse timeout, expansion direction, buttons per line, and an alternative expand direction.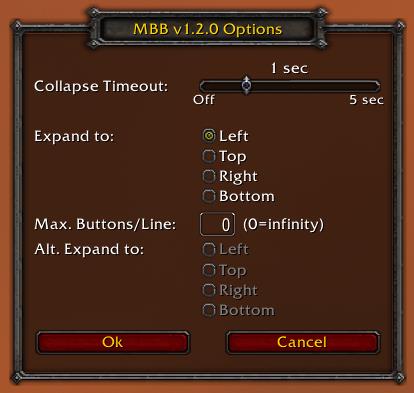 The collapse timeout is the length of time that the bag stays open after left-clicking. By default, this is set at 1 second, which is pretty low. You can either slide this option all the way to the left to force the bag to stay open after clicking or slide to the right to increase the timeout length.
Expand to controls the direction that the icons appear from when clicking. You will want to leave this set to the left most of the time; however, you may want to change it if you undock and move the icon location.
The third option, max buttons/line, enables you to put in a number to limit how many icons show up on a row. Any icons over that number will appear in another row in the direction of the alt. expand to option.
As an example, in the following screenshot, I have 7 addon icons. If I set the max buttons/line equal to 2 MBB will form 4 rows. Changing the alt. expand to option will adjust the pop-out direction of the buttons.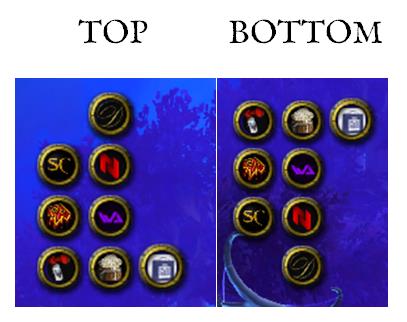 Slash Commands
In addition to the options menu, there are a few slash commands available for Minimap Button Bag. These are useful if you need to reset the addon to its original position or settings.
Here are the 3 main slash commands you can use:
| Command | Description |
| --- | --- |
| /mmbb buttons | Lists all icons included in the bag |
| /mmbb reset position | Resets the position of the MBB icon |
| /mmbb reset all | Resets all settings for the addon |
Final Thoughts and Important Links
Many addons install icons around the edge of your minimap. Thanks to addons like Minimap Button Bag, you can take that clutter and organize it into one neat icon. If you are trying to maintain a clean UI, I would highly recommend trying out MBB.
Author(s): VallanTV, Forge_User_75527174, karlsnyder
Website: https://www.curseforge.com/wow/addons/mbb
Thanks for reading!