A quick introduction on how to set up and use the KuiNameplates addon in World of Warcraft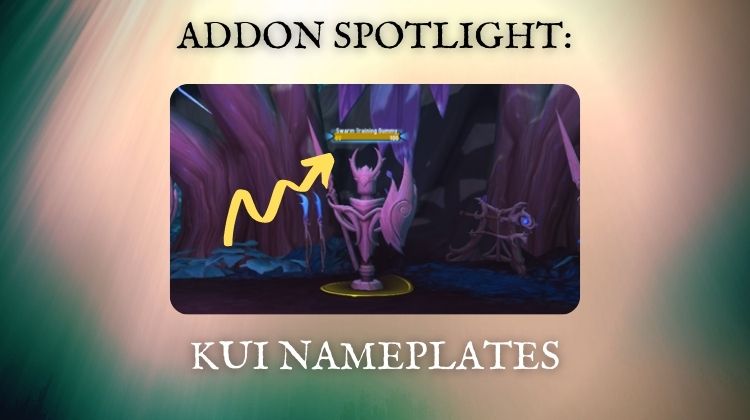 One of my favorite addons in my UI is KuiNameplates. This easy-to-use addon gives more control over your nameplates. It adds nice features like exclamation icons by quest mobs. This guide will show you what Kui can do and walk you through some recommended settings.
My plan is to go over basic settings to change in Kui. If you want to dive deeper into all the settings, check out the YouTube video I made.
What does KuiNameplates do?
KuiNameplates replaces the default nameplates with ones that give you more customizations and look much better than the default plates. Some of its best features include:
Custom sizes, fonts, and colors
Showing HP % on nameplates
Exclamation marks next to quest mobs
Nameplate styling with glows and target arrows
Unique plate coloring for tanks
Class resources (combo points, shards, runes, etc.…) on plates
Additional "plugin" addons that add even more features!

I'll show you how to enable these different features in detail, but first, let's talk about how to install the Kui.
How to install KuiNameplates
You can install KuiNameplates by placing the CurseForge download folder into your addon folder (located in the same drive as your game). You can use an addon manager like WowUp. With an addon manager, you can simply search for "KuiNameplates" and then click install.
If you need a more detailed guide on how to install addons, check out my article here.
How to use KuiNameplates
If you aren't too picky about the style of your nameplates, you can install KuiNameplates and benefit immediately. Many of its best features are enabled by default and significantly improve the default Blizzard plates.
Here is what the default nameplates look like without any changes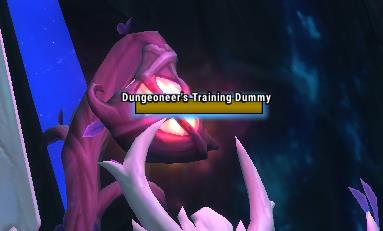 While this is nice and clean, it lacks some information and style that I prefer on my nameplates. Let's take a look at some customization you should make.
Recommended Customizations
You will need to open the Kui settings to get started with making customizations. You can do this by typing /knp or /kuinameplates in chat. This will open a window with several sub-menus on the left side, including:
General
Fade rules
Health bars
Cast bars
Text
Name-only
Frame sizes
Auras
Threat
Class Power
Boss Mods
CVars
As I mentioned above, I'm not going to dive into many details on these menus (you can watch the YouTube video for that). Instead, we are going to go through the customizations quickly so you can get started with Kui.
Plate Settings (Interface -> Game -> Names)
The first settings you need to change are actually in the default Blizzard menus. To do this, press ESC and then click on Interface. Next, go to the Game tab and then select the Names menu on the left.  
If you are using the default settings, there are several things you will want to change here. You can see the settings in the screenshot below, but here is a list of the changes I make if you can't see the image:
Disable "Personal Resource Display" to remove the health bar under your character
Change "Nameplate Motion Type" to "Stacking Nameplates"
Change "NPC Names" to "Hostile, Quest, and Interactive NPCs"
Check "Always Show Nameplates"
Turn "Minions" on under "Enemy Units"
Check the "Friendly Players" box in the second column (both should be checked)
These are the settings I like the most but feel free to play around with them to get them to your liking. Honestly, the most important option to change here is the Nameplate Motion Type. Using Stacking Nameplates makes a huge difference when you are fighting multiple enemies.
Add Target Arrows (General ->  Target arrows)
Okay, time for the Kui-specific settings. You can get back to the settings by typing the /knp again or by navigating there with the "AddOns" tab at the top of the window you were just in. Now, go to the General sub-menu and enable the Target Arrows box.
I like to turn this setting on because it makes it easier to pick my target out of a group when things get hectic.
Bar Texture & Animation (Health bars -> Bar Texture/Animation)
The next change I make is to select a new texture and animation for my health bars from the dropdowns on the health bars menu. I personally like the "OmniCD Flat" texture with a "Smooth Animation."
Change Target Color (KuiNameplates Target Helper Plugin)
For this change, you will need to download another addon called KuiNameplates Target Helper. This plugin for Kui gives you the ability to set the color for your target and custom colors for mobs by name.
Once installed, you can access its menu under the AddOns tab, where we found the basic Kui settings. I will typically enable the target color and set it to an orangey color (but feel free to do whatever you would like). I also like to hit the "+ Dungeon Targets" button in the top right to apply custom coloring to dangerous mobs in Shadowlands dungeons.
Change Target Size (Frame Sizes -> Target Size Width/Height Sliders)
I also like to change the size of the target frame. You can do this easily by going to the "Frame sizes" menu and moving the width and height sliders to the right of the "Target size" checkbox. I typically set these to around 150 and 22, respectively.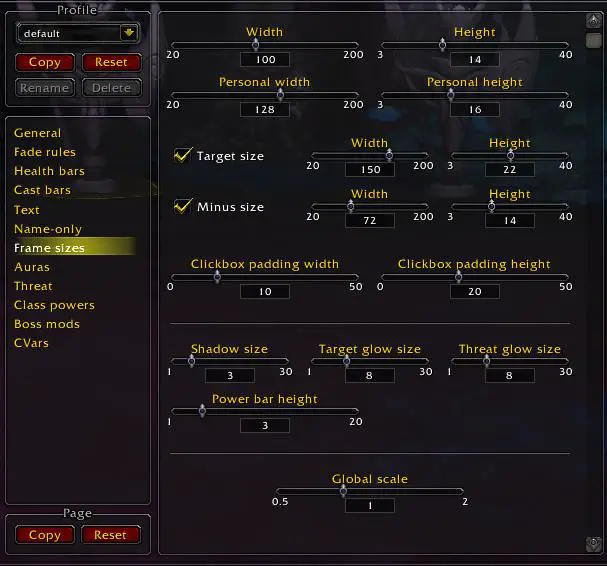 Increase debuff size (Auras -> Icon Size)
Now that I have increased the size of my target plates, my debuffs look a little small. To fix this, I will go to the Auras menu and turn the "Icon size (normal)" to 30 and "Icon size (purge)" to 38.
If you are following along, here is what I have so far…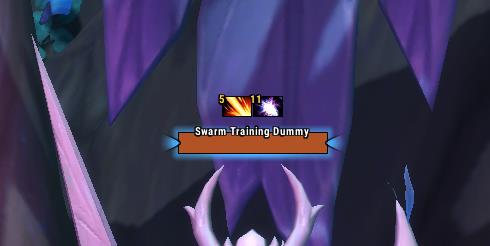 Add Health text (Text -> "Show health text")
This is a must-have customization. I am still amazed that the default Blizzard bars don't provide health information on nameplates. It is so helpful, particularly in PvE, where bosses have phases based on health percent.
Turning them on in KuiNameplates is easy. Simply go to the Text sub-menu and check the "Show health text" box. By default, the health information will only show for damaged enemies. You can change that by selecting a different option under the "Max. health hostile" if you want.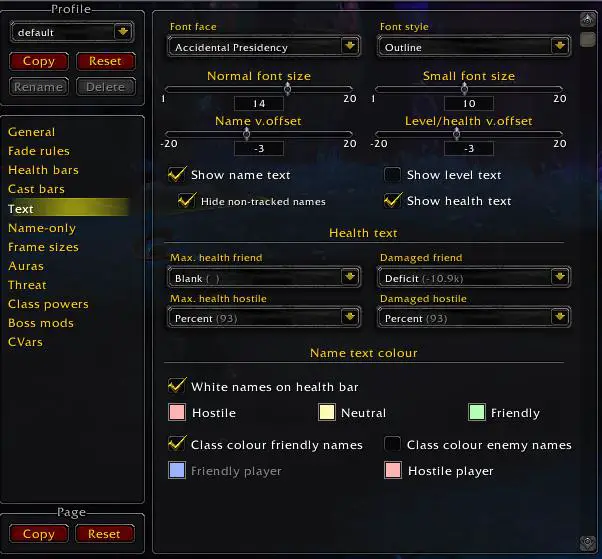 Enable guild names on friendly plates (Name-only -> Show player guilds)
This easy change will add the guild name below the class-colored player name for allies. To set this, go to the name-only menu and check the "Show player guilds" box. Easy change and it looks pretty cool as well.
Line-of-site Transparency (CVars -> Line-of-site Alpha)
The last change I make is to apply a fade to nameplates that are out of my LOS. The full bright nameplate will show up even if an enemy is behind a wall if you don't do this. This can quickly clutter your screen and make it hard to tell when certain enemies you are fighting.
Setting this is easy. Click on the CVars menu and then check the "Allow Kui Nameplates to modify CVars" box. Next, set the line-of-site alpha slider to around 0.2 (or whatever looks good to you).
Final Thoughts and Important Links
KuiNameplates is an excellent addon for replacing and customizing the Blizzard nameplates. While there are other nameplate addon options, Kui is one of my favorite because it works well out of the box and isn't as intimidating as addons like Plater.
KuiNameplates is also super lightweight. In an analysis I did comparing every major nameplate addon, I found that Kui consistently used the least amount of memory and processing power. This means that your game will run smoother, and you will get better frame rates while playing!
Owner: Kesavaa
Curseforge: Link