A quick guide to using the Attune addon for tracking dungeon & raid attunements in WoW Burning Crusade Classic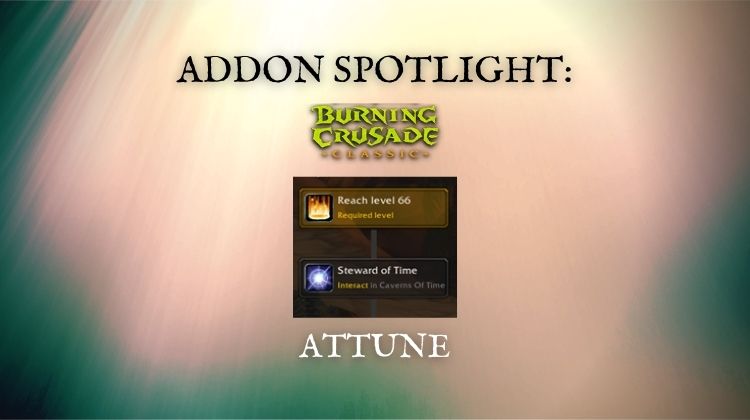 Attunements are a major part of the World of Warcraft: Burning Crusade experience. From dungeons to raids, much of the instanced PvE content requires a lengthy attunement process. Fortunately, there are tools to help! In this guide, I want to highlight Attune, an excellent addon that enables you to track guild and personal attunement progress.
What is Attunement?
If you are new to WoW Classic or the Burning Crusade, you may be wondering what attunement is. In short, attunement is a series of quests and objectives you need to complete to enter a dungeon or raid. If you want to raid, you need to be attuned. These quests can range from minor tasks to obtaining dropped items from other instances.
In TBC, these attunement questlines can become overwhelming if you don't have a good way to track them.
This is where Attune comes in.
How does the Attune addon work?
Attune keeps track of your character's progress in completing the requirements to enter each one of the many BC dungeons and raids.
It does this by providing an easy-to-digest tree that shows the steps required to complete attunement. You can also hover over the steps to get more information about the quest or requirements.
For example, one of the first attunements players will work on in Burning Crusade is for the Black Morass dungeon. To begin this process, you need to hit level 66 and then travel to the Caverns of Time. You then speak to the Steward of Time to accept a quest called To The Master's Lair. If I hover over the tooltip for that quest, I see that it is a solo quest that requires me to speak to another NPC.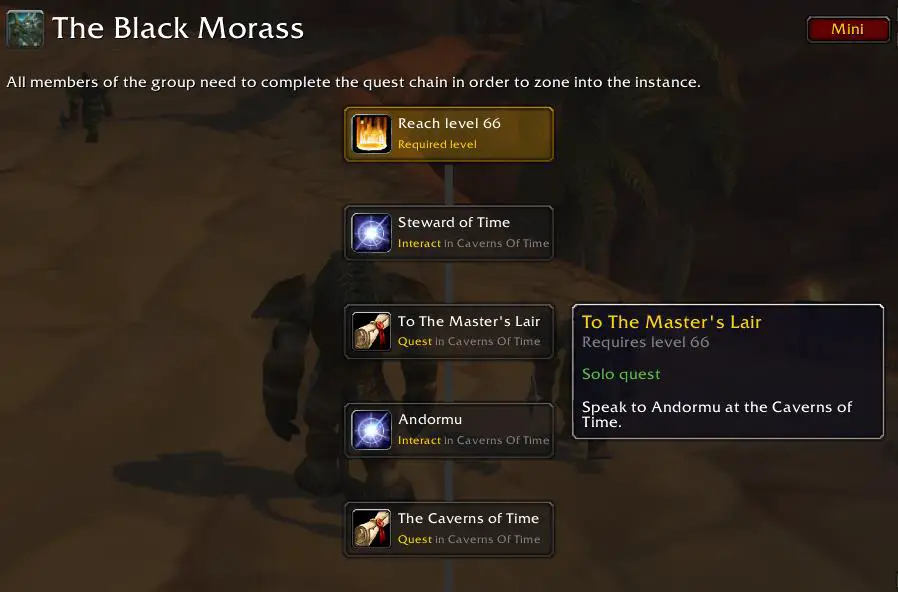 In this case, speaking to another NPC is pretty straightforward. If the objective was more difficult, you would see that a party was required and maybe even get a set of coordinates to set a waypoint.
In addition to personal attunement tracking, you can also use Attune to survey your guild and track their progress as well. This is a vital tool for guild and raid leaders to help members complete tasks so they don't show up on raid night, unable to get into the raid.
After sending out a survey to a raid or guild group, Attune will provide a neat table showing group member progress for each attunement. For this to work, the group members must also have the addon installed as well. To give you an idea of what this looks like, the addon authors posted a screenshot to CurseForge for their guild Divine Heresy.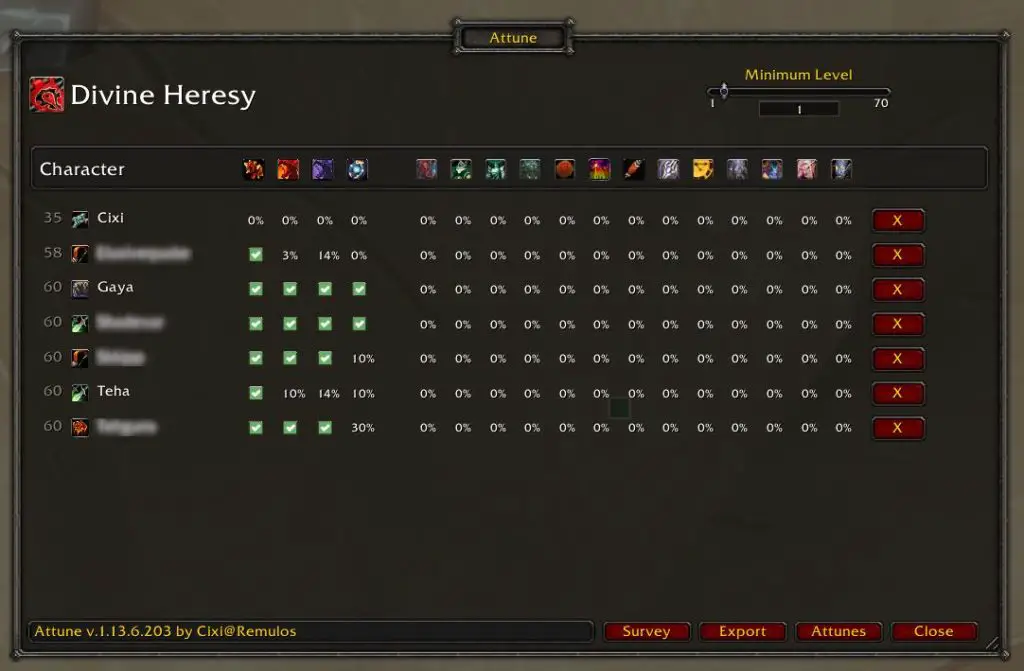 Now that you have a little taste for what Attune is capable of, let's look at how you can use it.
How to install Attune
You can install Attune by downloading it from CurseForge and manually placing it in your BC Classic addon folder. However, I would recommend installing it using an addon manager like Overwolf, WowUp, or Singularity.
If you aren't sure how to use addon managers, I wrote a guide on installing WoW addons that walks you through it.
How to use the Attune addon
Personal Attunements
Using Attune is straightforward. You can type /attune into your chatbox or left-click on the minimap icon for the addon to access your attunement tree.
You can then navigate through all possible Attunements using the menu on the left.
Once the trees open, you can scroll through it and hover over any steps you want to get more information. If the step appears in a red box, it is an indication that it is linked to another attunement.
For example, the attunement for Karazhan shown above has a red box for Shadow Labyrinth. This means that you will also need to complete that process to continue in the Karazhan series. In this case, you need to actually obtain 3 keys and attunements to become Kara attuned.
Suppose you want to compare your attunement progress to other players. In that case, you can click on 'Export' at the bottom of the window and select 'My Data.' This will provide you with a text string to upload to warcraftratings.com after you have created an account.
Attunement Surveys and Raid Planner
If you want to see how progress is going in your party, raid, or guild, you can click on the 'Survey' button. This will give you the option of which group you want to send the survey out to. From there, you can click on 'Results' to see where each member is in the process. 
You can also see where each of your characters is in the process if you are trying to complete attunement on alts.
From the 'Results' tab, you can also access the 'Raid Planner' tool (or with /attune raid). This allows you to create and store raid teams ahead of raid night. You can see which role each player falls into and whether they are attuned to that raid or not.
Once you have filled your raid spots, you can invite the group with one click.
For this feature to be helpful, each raider will need to have Attune installed and set up their role profile.
To set up raid profiles, you can follow these steps:
Open the Attune addon with /attune
Click on 'Results'
Select 'Show Profiles'
Set your Status and Role  
Here is an example of the profiles window for my druid:

Once your raid team has installed the addon and set up their roles, you can access the Raid Planner and get ready to crush some bosses.
Attune addon options
If you want to customize Attune's primary options, you can access its setting by right-clicking on the minimap icon. From there, you can set it up to run automatic surveys, send chat messages when you complete attunements, and several other adjustments.
Final Thoughts and Important Links
Overall, Attune is a fantastic addon and welcome addition to the game. I recall spending hours as a teenager reading online guides and talking to friends about what I needed to do to become attuned. In comparison, Attune offers a simplified way of looking at those requirements that makes me excited to begin the process when the Dark Portal opens!
If you want to learn more about Attune, you can check read more on their CurseForge page or by joining their Discord:
Author: CixiDelmont
CurseForge:  https://www.curseforge.com/wow/addons/attune
Attune Discord: https://discord.gg/MpfDeBZ