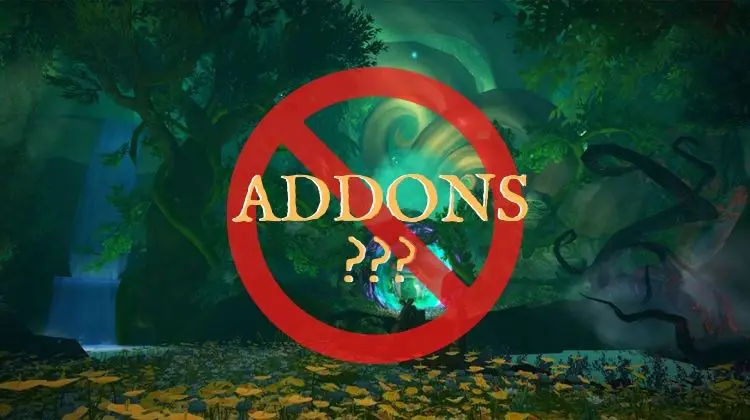 Well-designed addons can significantly improve your experience and skill in World of Warcraft. Some addons give you vital information while others improve the look and feel of your user interface. In some cases, the addons give you advantages and you wonder if it is cheating. Are addons allowed? The short answer is…
Yes, generally, addons and mods are allowed in WoW. You will not get banned for using addons stored in the Interface -> Addons folder. The only "mods" which are not allowed are those which play your character for you (bots) or those which try to change underlying game data.
For those of you interested in the long answer, let's take a look at some of the things Blizzard has said about addons and answer a few other questions you might have.
Blizzard encourages the development and use of addons in WoW
If you are worried about using addons, you can rest easy knowing that Blizzard wants players to make and use addons. This is why there is a folder specifically for addons in the game files on your computer. It is also why there is an "Addons" button on the menu when you press `ESC` on your keyboard. If you are interested in learning more about how addons work, I explained it in my article Are WoW Addons Safe?
It is important to note that while Blizzard has provided the tools for addons development, they do not directly support or develop addons themselves. Additionally, if you use an addon to violate the Terms of Service, Blizzard can still take action against your account. Here is one of the few examples of an official Blizzard account talking about addons I could find:
So, if addons are only "generally allowed," does that mean there are some which are not allowed?
Addons and mods which are not allowed
While Blizzard encourages addon development, there are some third-party programs or mods which are not allowed and can get you banned. These programs generally operate outside the designated addons folder and are designed to give a player an unfair advantage.
Blizzard does not allow cheating in any way. According to the Anti-Cheating Agreement posted by Blizzard, there are 3 red flags for mods. These include a mod which:
Enables or facilitates cheating of any type, including botting and/or changing or facilitating gameplay;
Allows users to modify or 'hack' a Blizzard game's user interface, environment, and/or experience in any way not expressly allowed by Blizzard in the EULA;
Intercepts, mines, or otherwise collects information from or through Blizzard games.
The second bullet point may leave you wondering if user interface addons like ElvUI are allowed.
Yes, they are.
When Blizzard talks about altering the "user interface" or "environment" they are referring to mods that do things like change character models and textures in-game. If you are just moving your bars, map, and other things around on the screen you are okay.
How do I get addons which are allowed?
As discussed, some addons violate the terms laid out by Blizzard. However, these black-listed addons rarely (if ever) make it into established addon repositories like CurseForge. So, if you are worried about using permissible addons, I would recommend using a manager like WowUp.io to install and update your addons. WowUp is a great open-source manager and is extremely easy to use.

Can I get banned for using addons?
As mentioned above, you will not get banned for using an addon that does not violate the Terms of Service. Stay away from addons that spam other users, allow you to communicate with the opposite faction, change underlying gameplay, and botting programs.
Final Thoughts
While Blizzard encourages the development and use of addons, they do not directly support them. The majority of addons do an amazing job of following the structure and processes outlined by Blizzard and are allowed. In a few rare cases, some addons violate Blizzard's Terms of Service. If you are looking to use addons, it is best to download them from a reputable website like CurseForge or an addon manager like WowUp.io.