Introducing my new scoring tool for reviewing, comparing and choosing the best WoW addons
There are thousands of addons on the CurseForge repository. In fact, there were 437 pages of addons with 20 per page — or 8,500+ mods when I checked today!   With that many addons, it is not surprising that the features of many of them overlap. This can make it feel overwhelming to pick out the "best" ones.  
To help, many content creators make guides and videos on the "best" WoW addons. While this content is great, I often wondered if the recommended addons were really the best or just what the player likes to use.  
This question is a part of what led me to create this site. I wanted to know what addons I should use and how to use them. I wanted to find the best addons.  In this article, I want to introduce you to a tool that I came up with to compare and review World of Warcraft addons to find the best ones. This is something I plan on using in articles on this site and in upcoming YouTube content.
Before we get to that, let's talk about what makes for a good addon.
What Makes for a Good Addon?
As I thought about ways to compare and review addons, I wanted to come up with a way to measure essential differences between them. I started thinking about what things make for a good addon.
The first one that jumped out at me was the features or benefits of using the addon. In other words, why would someone want to use the addon?
I then started thinking about other important factors like the frequency of update, ability to customize, ease of setup, and addon performance.
With all these factors bouncing around in my head, I decided it was time to come up with a cheesy acronym.
Without further ado, I introduce to you the Arcane Intellect's Addon FACTS Score!
This little acronym covers the critical things which make for a good addon, including:
Features
Author Support
Customization
Testing
Setup
As to the "score" part of the acronym, each category contributes 10 points to the overall total. Since there are 5 categories, a perfect score would be 50 out of 50 (50/50). By scoring addons this way, we can now compare similar WoW mods to select the "best" one.
Now, let's talk about each piece and what factors influence the number of points an addon receives.
Features
The features of an addon are the expected benefits you will gain by using it. It is the whole reason the addon exists in the first place.
Take an addon like Deadly Boss Mods (DBM) as an example. The features of DBM include visual and audio warnings for boss abilities, the creation of pull timers, and tools like HUD radars. All of these parts added together make for a feature-rich addon.
As I look at the features of an addon, here are a few questions that influence the score:   
Is the addon beneficial and helpful?
What functionality does the addon have?
Does the addon make gameplay better/easier?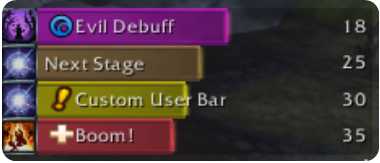 Author Support
The second important factor is author support. This measurement looks at whether the addon is updated frequently and if the developers are improving functionality.
Addons that see little maintenance often stop working. Even if the game decided to load the out-of-date mod, pieces of functionality are often broken.
Here are some crucial questions that drive the author support score:
Is the addon updated frequently?
Are developers sensitive to bugs?
Do developers seek feedback and attempt to add new features?
Customization
Except for a few addons, nearly every mod benefits by allowing players to customize its features. This could be as simple as changing the size or colors of displays or as complex as incorporating user-defined functions.
When it comes to customization, here are a few essential questions:
Are there good options for customizing the addon?
Is the options menu easy to navigate and understand?
Are possible customizations documented clearly?
Testing
In many ways, the fourth factor — testing — is just as important as the features. I just couldn't move it around because FTACS isn't as good of an acronym.
The testing factor is all about measuring if the addon has any negative impacts on gameplay.
Specifically, here are a few things I look at when testing an addon:
Does the addon feel good to use?
Are there any apparent bugs, issues?
Does the addon impact game performance/consume a lot of memory?
Setup
The last factor is addon setup.
In my mind, a good addon will be easy to set up and will document the setup process if it requires a little more work. If the setup process feels like you are thrown to the wolves and takes you hours to get going, there is probably room for improvement.
To determine the setup score, I like to think about a few things:
Is the addon easy to set up?
Does the addon require significant time to set up?
Are setup instructions clear?
Final Thoughts
There are so many addons you can install that it can become overwhelming to find the best ones. My goal with Arcane Intellect is to help you by creating addons guides, reviews, and comparisons.  Instead of just highlighting addons I use, I want to dive into the FACTS and help you find the mods that are the best for you. I have already created several guides in my Addon Spotlight series. If you haven't read those, you can check out the latest ones in the related articles list below.
Thank you for reading!