A quick guide to the Iron Docks dungeon from World of Warcraft: Warlords of Draenor
Shadowlands season 4 is here, meaning several old dungeons have entered the mythic+ keystone pool. Among these is the naval-themed Warlords of Draenor instance — Iron Docks. I remember running Iron Docks with guildies back in the day, so I'm excited to jump back in and push some keys. If you never did Iron Docks, or if it has been a while and you need a refresher, keep on reading, and I'll walk you through how to get there and some basic strategies to take down all the bosses.
Where is the Iron Docks dungeon Entrance?
The entrance for Iron Docks is located on Draenor in the northwestern corner of the Gorgrond zone. If you use TomTom or another coordinate addon, you can get to the entrance by setting a waypoint to 45.4, 13.5.
But how do you get to Gorgrond in the first place?
How to Get to Gorgrond in Shadowlands
There are several ways to get to Gorgrond from the Shadowlands. The best way to get there is to take the Gorgrond portal, which you can find near the Oribos flight master.
Another option is to use your garrison hearthstone if you have it. This will teleport you to Draenor and allow you to take a flight path to Gorgrond if you have one.
If you don't have a garrison hearthstone and don't want to use the portal (for whatever reason), you'll want to take the portal to Warspear, Ashran from the Stormwind, or Orgrimmar portal room. If you are playing Alliance, you'll find the portal at the top of the tower in the Mage Quarter of Stormwind. Horde players can find the portal in the lower portal room by taking the stairs in the hallway.
Once you arrive in Warspear, you can take the flight path to Gorgrond if you have it unlocked. Otherwise, just jump on your flying mount and cross the ocean directly to Gorgrond yourself. The fatigue bar may appear, but you can make it easily.
Iron Docks Bosses
There are a total of 4 bosses in the Iron Docks dungeon.
Fleshrender Nok'gar – Avoid burning arrows on the ground, don't hit the boss when surrounded by a red bubble (Reckless Provocation), and focus wolf down first.
Grimrail Enforcers – Focus down bosses in this order: Ahri'Ok > Neesa > Makogg and switch targets if a boss has a red bubble on them. Don't stand in explosions or ogre traps. Avoid Makogg's frontal slash when his sword glows and waves of flame.
Oshir – Kill beasts as the boss releases them from the cages and pump DPS on the boss when he casts Feeding Frenzy on one of your party members. Don't stand in front of the boss when he fixates on a party member.
Skulloc – Focus down adds (Koramar and Zoggosh). After the boss knocks you to the other end of the ship, make your way back using crates to hide from the cannon barrage. 
Iron Stars and Cannon Fire!
There are some unique mechanics outside of boss fights to be aware of in Iron Docks. The first is the iron star trash after the first boss.
These iron stars are large, spiked balls that you can interact with. Once you jump in one, you'll see an arrow aiming down the dock. The idea is to take out as many baddies as possible with one roll.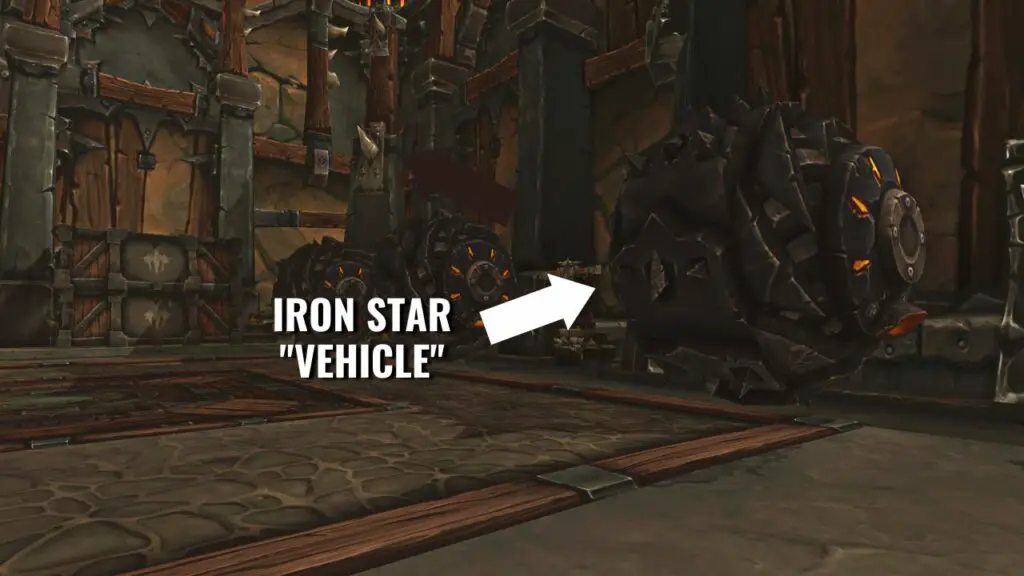 You only have 3 stars to use, so you want to be sure to clear as much of the trash as possible.
Shortly after defeating trash with the iron stars, you'll happen upon an area of the docks loaded with shipping containers. These containers are vital because you'll be bombarded with intermittent cannon fire from the ship in the port.
Make sure to keep a container between you and the water in the port when the cannons are going off, and you should be good.
Frequently Asked Questions (FAQs)
What expansion is Iron Docks from?
Iron Docks was released in the Warlords of Draenor expansion.
Can you solo Iron Docks?
Yes, both versions — heroic and mythic 0 — are soloable in Shadowlands. Iron Docks mythic+ keys scale with level are not soloable for many classes/players.