A quick guide to the Grimrail Depot dungeon from World of Warcraft: Warlords of Draenor
I played a lot of World of Warcraft during the Warlords of Draenor expansion. Despite being panned as one of the worst expansions in the game, I had an absolute blast raiding and running dungeons with my guild. One of my favorite dungeons from WoD remains Grimrail Depot — a dungeon on a moving train! This guide will give you a quick overview of how to get to the Grimrail Depot entrance, stop motion sickness problems, and tackle the bosses once inside.
How to get to Grimrail Depot
There are several ways to get to Grimrail Depot. The best way to get there is to use your garrison hearthstone if you have it. From there, you can take a flight path or your own flying mount to get to the dungeon.
You can find the entrance to Grimrail Depot in Gorgrond, Draenor, near the Blackrock Foundry (at coordinates 55.05, 31.32).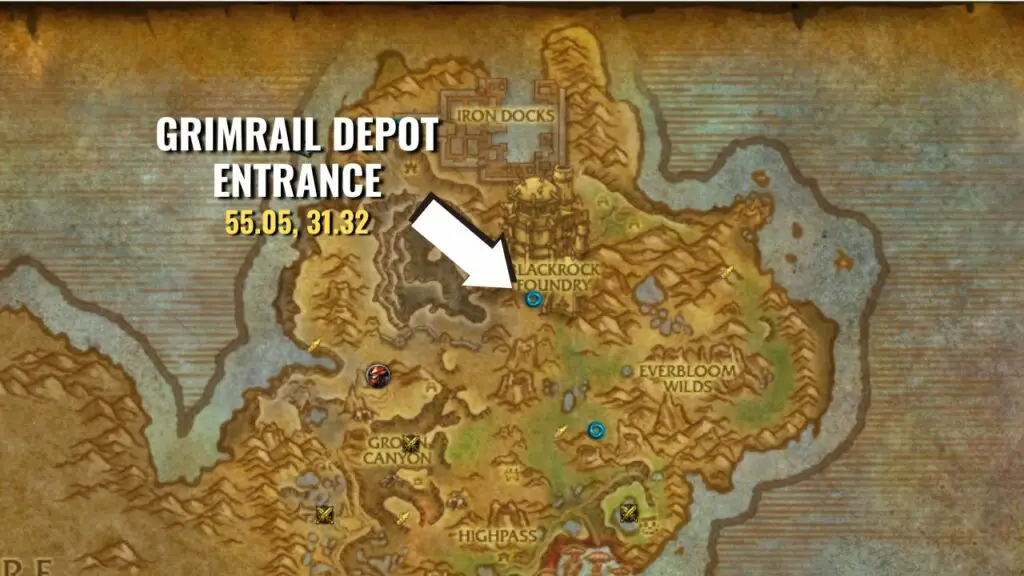 If you don't have a garrison hearthstone, you can get to Draenor by taking the portal to Warspear, Ashran from the Stormwind, or Orgrimmar portal room. Horde players will find the portal in the lower chamber, while the alliance portal is at the top of the tower in the Mage Quarter.
After arriving in Warspear, take a flight path to Gorgrond if possible. Otherwise, jump on your flying mount and cross the ocean directly to Gorgrond yourself.
Grimrail Depot Bosses
There are a total of 3 bosses in Grimrail Depot.
Rocketspark and Borka – Avoid standing near the tank to avoid Borka's frontal slam and stay out of red circles. The tank should aim Borka towards whatever box Railmaster is standing on when Borka uses Mad Dash (stay out of the way of dash).
Nitrogg Thundertower – Attack boss until he flees to the cannon. Defeat adds and use the Mortar Shells they drop on the cannon to get the boss out (use Shrapnel and Grenades on adds). Stay out of blue flames and nuke the boss. 
Skylord Torva – Don't stand in ground lightning or freezing traps. Move away from the group when targeted by a spear.
If you are looking for another good Warlords of Draenor dungeon to run, check out my Iron Docks dungeon guide.
Grimrail Depot Motion Sickness Elixir
One of the most unique things about Grimrail Depot is that a lot of the dungeon takes place on a moving train. While this is cool, everything around you moves, and some players have reported motion sickness.
If you get motion sick from games, there is an easy fix. After landing on the train, you will see an NPC named "Motion Sick Peon," who offers a free item called Motion Sick Peon's Magical Elixir. Consuming it will eliminate the moving background while you are on the train!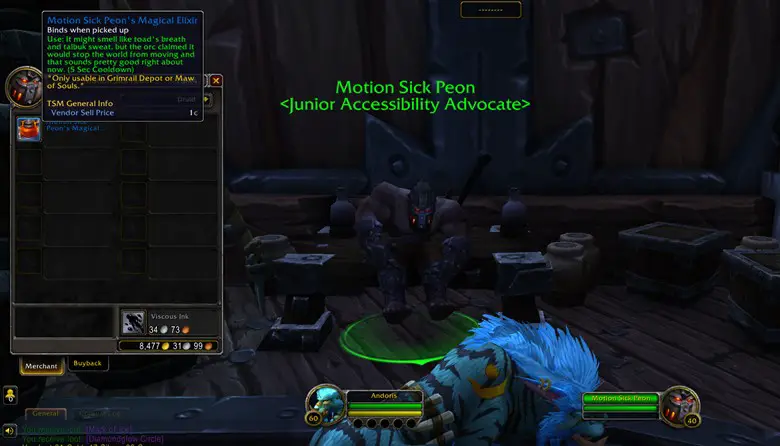 Frequently Asked Questions (FAQs)
How do I board the train?
After defeating the first boss, you'll want to go through the nearby doorway and work your way up a series of metal ramps. Once you arrive at the top, a cutscene should trigger where your character jumps onto the moving train.  
Can you solo Grimrail Depot?
Yes, both versions — heroic and mythic 0 — are soloable. Mythic+ keys scale with level are not soloable for many classes/players.