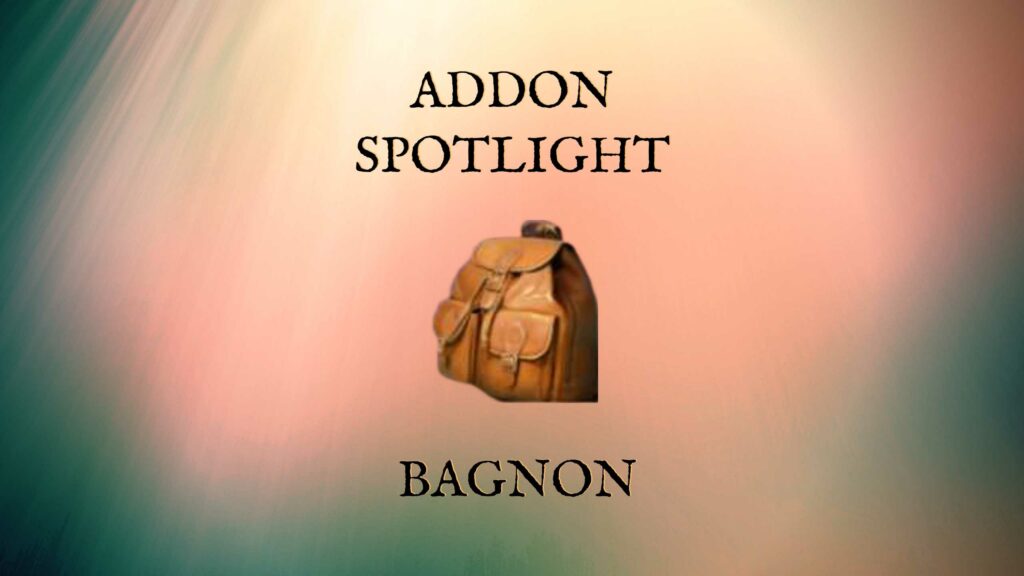 One of the most significant parts of your user interface is your bags. When it comes to your bags, you want something which looks nice and is easy to use. In this World of Warcraft addOn spotlight, we will look at Bagnon, an easy-to-use replacement for your bags.
Overview: What does Bagnon do?
Bagnon is a customizable bag replacement addOn. It combines all your bags into one large bag and makes it easy to search and find your items. It also has a cool feature that allows you to view the bags/items on your other characters without having to log in/out.
How do you install Bagnon?
Bagnon can be installed using an addOn manager like the Twitch/Overwolf app. You could use a client app like the one found on wowup.io for the same purpose. So far, wowup can only be downloaded for Windows, but a Mac version is in the works.
The other option is to install and maintain Bagnon manually. You can do so by placing it in the addOns folder after downloading it from a website like CurseForge or Wowinterface. If you need more help on installing addOns, check out our Beginners Guide to AddOns.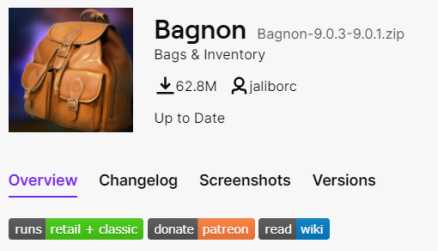 How do you use Bagnon?
Bagnon is extremely easy to use. After installing the addOn, you will notice that the appearance of your bags will be different. Instead of having a window for each bag, all your items will be rolled into one large window. This allows you to see all your items at once.
Additionally, Bagnon adds the ability to view the bags on your other characters without having to log in and out. You can also toggle bag slots, clean your bags, and search items in the Bagnon window. You can also hold left-click and drag the bag window to wherever you would like on your screen.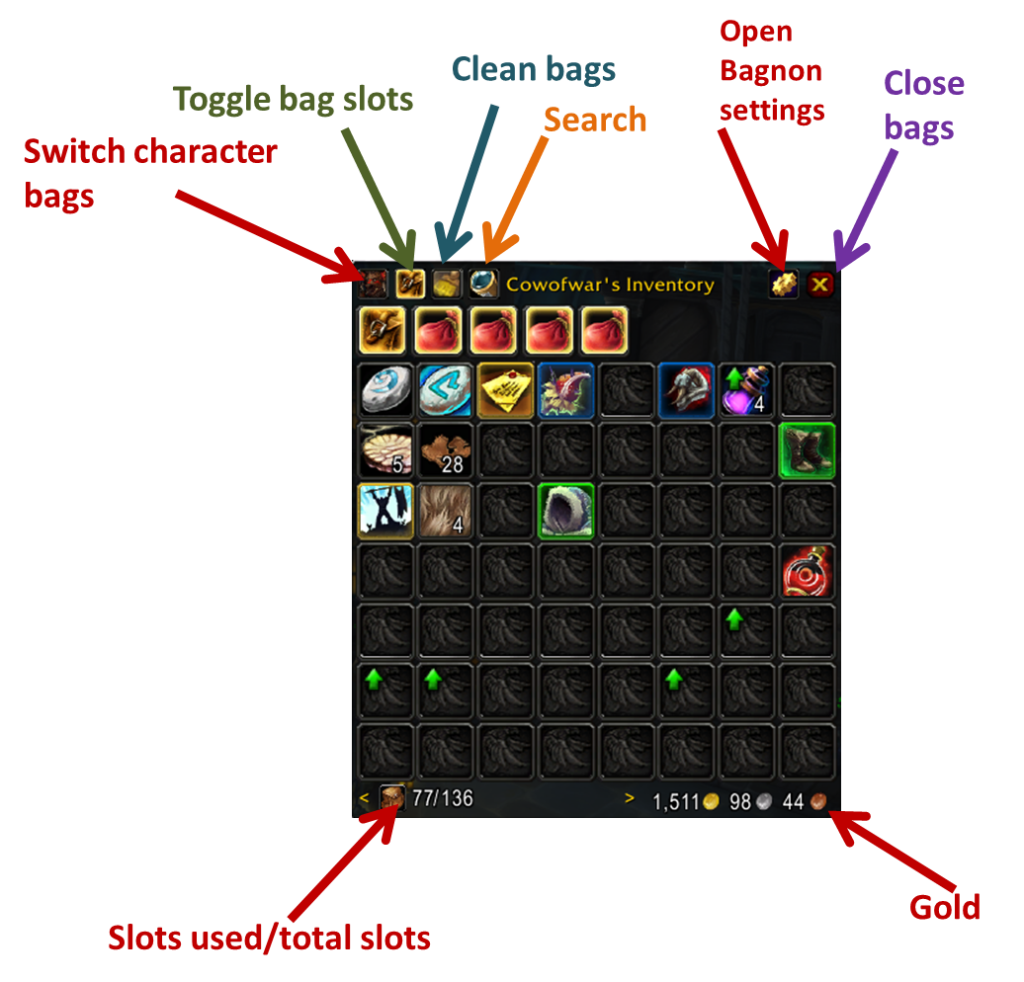 You can customize the appearance and behavior of the Bagnon window in the addOn settings. These can be accessed by clicking on the gold cogwheel in the bag window or through the quick menu (ESC) -> Interface -> AddOn.
There are 4 major settings windows available for customizing Bagnon: general options, automatic display, frame settings, and color settings. You can also view a list of the Patrons who are supporting the development of the addOn as well.
General Options
The general options allow you to lock your bag frames in place, add a count of how many of a particular item you have, and enable character specific settings. It is very easy to change any of these settings as they are all checkboxes.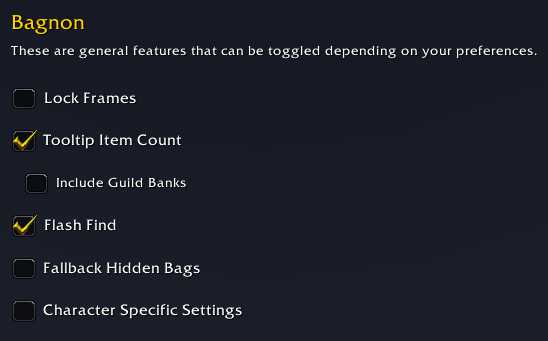 Automatic Display
The automatic display settings are pretty straightforward. They allow you to determine when your bags open or close automatically. To change these settings, simply check/uncheck options to create the setup that makes the most sense for you.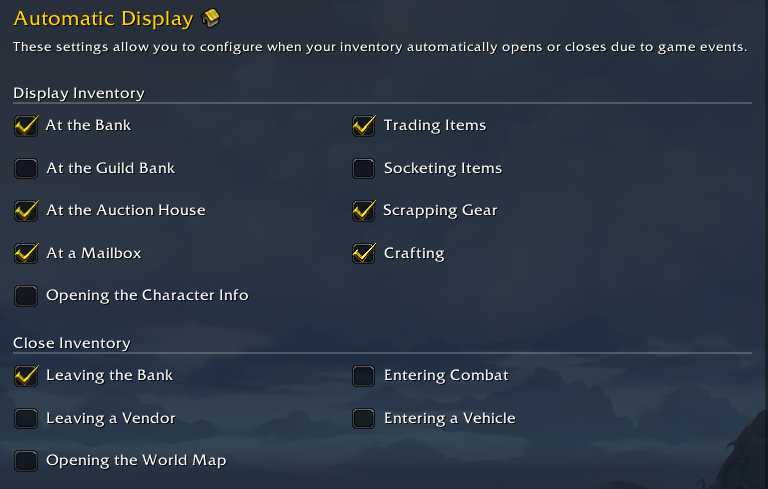 Frame Settings
Like many other addOns in World of Warcraft, Bagnon allows you to customize the appearance of your UI. You can use the frame settings window to determine the number of columns, size, spacing, and background color of your bags. Additionally, you can change the default sorting order of your items and toggle button shortcuts off or on. You can also customize your inventory, guild bank, personal bank, and void storage item frames separately.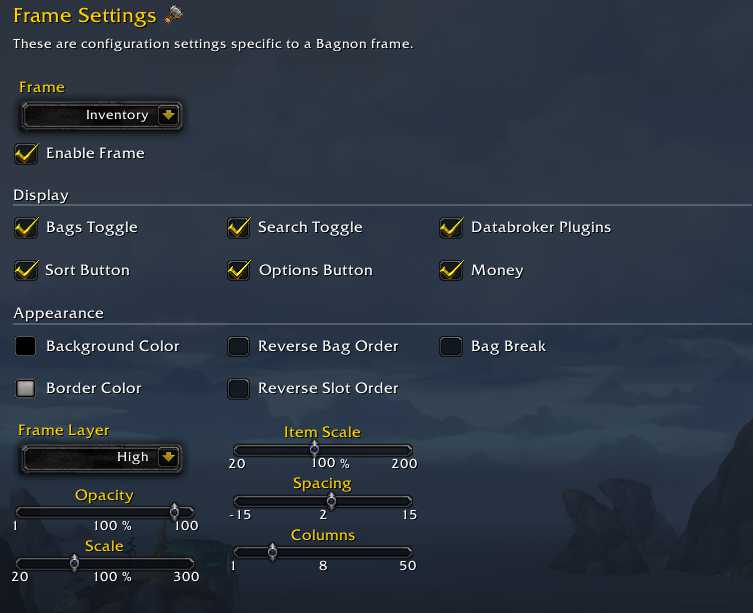 Color Settings
Color settings is the last option available for customizing Bagnon. In this window, you can set the colors which will be used for items in your bag. These colors will appear as a thin outline around each item and indicate the quality or use of the item. You can also customize behavior that makes new items glow in your bags and adjust the brightness of that glow.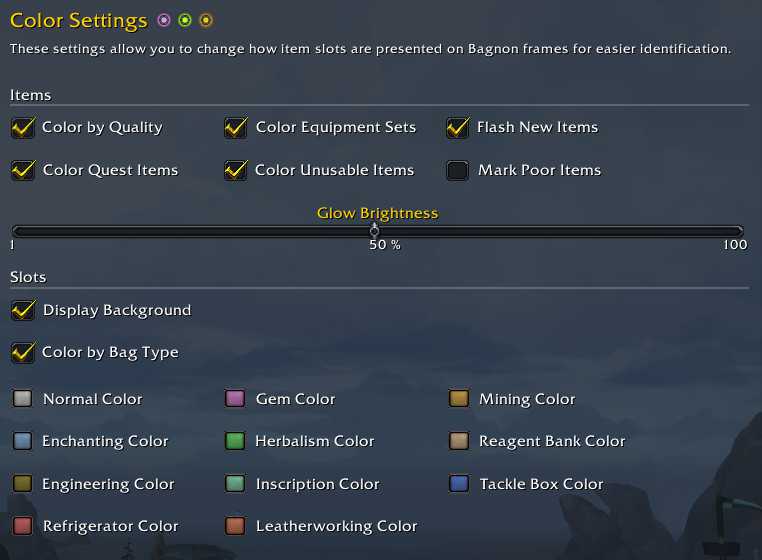 Final Thoughts and Important Links
Overall, Bagnon is a great addOn because it gives you a clean and functional replacement for your bags. There is a reason that it has been downloaded millions of times. If you are looking for a minimalist replacement for your bags, I would suggest you check out Bagnon. You can also check out some of the additional plugins produced by the community on the Github page listed below.
Authors: Joao Cardoso and Jason Greer
Website: https://www.curseforge.com/wow/addons/bagnon
Additional plugins for Bagnon: https://github.com/tullamods/Wildpants/wiki/Plugins
Thanks for reading!
Related Articles
How to Install WoW Addons in 2021
World of Warcraft (WoW) AddOns (for Beginners 2021)
World of Warcraft Shadowlands Addons – Adventures, Torghast, and More!