I began playing World of Warcraft shortly after its release in 2004 and have played every expansion off-and-on since. However, it took me several years before I began raiding even though I wanted to try it. To be honest, it took me so long because I was nervous and afraid!
And I was not alone.
In fact, I started a guild and was able to recruit hundreds of players who were as nervous as I was. The guild was pretty successful and was able to complete difficult raid content (including mythic boss kills) while maintaining a helpful and friendly environment. Additionally, I became much more confident in my ability to raid.
Years passed and mythic+ dungeons were introduced into WoW. Once again, my nerves returned and it took me a few seasons to work up my courage despite my interest. 
In this article, I hope to share some thoughts and tips that helped me go from being too nervous to try mythic+ to completion of 15+ and higher keys every week.
If you are not familiar with mythic+ mode, check out my Dungeons Guide. Also, if you are a healer or looking to start playing healer you can check out my guide 15 Best Tips for New Healers in Mythic Plus.
Alright, let's jump right in!
Figure out why you are nervous…
Before you can feel more confident with finding a group for mythic+ you need to figure out why you feel so nervous. Generally speaking, there are a few reasons I felt or saw cited as major things which keep people from trying mythic dungeons.
You don't know where to start or how to get a group
You don't know if your gear, DPS, healing is adequate
You don't know the dungeon layout/path
You don't understand the affixes
You don't understand/can't perform mob or boss mechanics
If we boil all these things down, they all come down to one major cause of fear or nerves: You are afraid that you will let other players down because you played poorly and may even be afraid that they will verbally abuse or kick you from the group.
Unfortunately, there is no guarantee that you will find supportive groups especially if you choose to use the premade group finder. However, by increasing your knowledge across the items listed above and finding a steady group to run with, you will gain more confidence in your ability to run mythic dungeons.
Sadly, there will always be those few players in the community who choose to be toxic but please don't let them ruin the game for you! Without further ado here are my 5 tips to overcome the major fears/barriers to trying mythic plus.
1. Learn how mythic+ works
When I first started mythic+, I wasn't sure how to get a group or how to begin the dungeon. I was afraid that I would join a group and not understand what I was supposed to be doing and would look like an idiot. Fortunately, the process of starting a mythic+ is fairly straightforward.
Get a group
To begin, you need to find a group.
In short, mythic+ (m+ for short) is a 5-man dungeon that requires a keystone to begin. Unlike heroic/normal dungeons, you cannot use the dungeon finder tool to join a group and will not be immediately teleported to the dungeon. Instead, you must find a pick-up group (PUG) through the premade group tool, join a guild group or make a group with friends. Once the group is formed, you can then all head to the entrance, although, 2 players typically head to the entrance and summon the other players using the meeting stone.
Use a keystone
After you have found a group and you are in the dungeon, it is time to place your keystone (or let another player place theirs).
You place your keys in the Font of Power pedestal that spawns near the entrance inside the dungeon. Once a key is activated, a brief loading screen will appear… followed by a glowing wall around your group. A 10-second countdown will then begin.
At the end of the countdown, a timer will pop-up below your minimap (by default) and will show how long to have to complete the dungeon. If you complete the dungeon in time, the key will be upgraded by 1, 2, or 3 levels.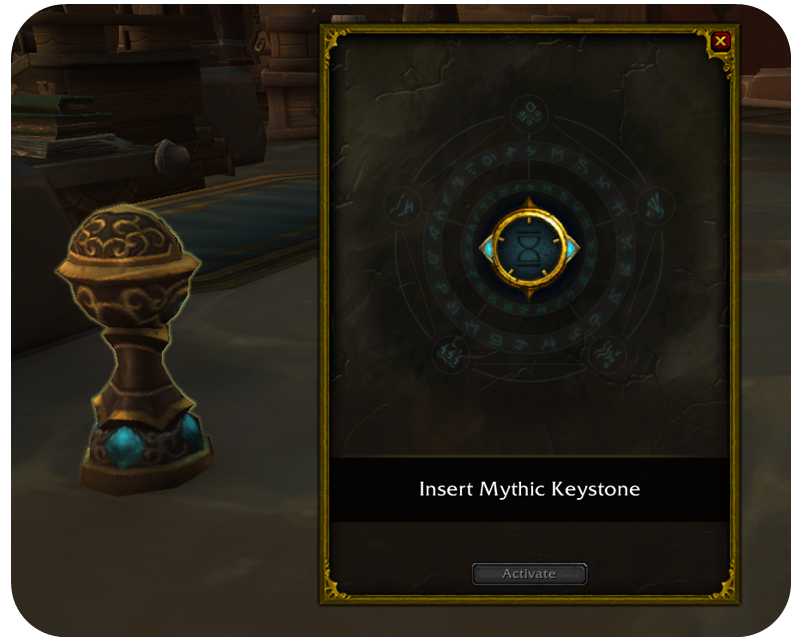 Failure to complete in time is commonly referred to as "depleting" a key because it will be downgraded by 1 level. If you deplete the key but still finish the dungeon, you will still get loot at the end and the key will be changed to a different dungeon (one level lower).
Keys are obtained by running a mythic dungeon without a key (commonly called a "mythic zero") or from a weekly chest. If you get your first key from a mythic 0 it will be for a +2 dungeon. If you get it from your weekly chest, it will be for a specific dungeon one level lower than the highest completed level the previous week. Say you complete a +7 this week… that means that you will be able to get a +6 key from your chest on the next reset day. You will also get a piece of gear where the item level depends on your highest completed dungeon in this chest each week.
As the level of the key gets, enemy damage and health increases and additional mechanics are added. These additional mechanics are called affixes. We will talk about them more in a moment.
Understand io score
In addition to becoming more difficult, higher-level keys also drop better gear and increase your "io score." This io score comes from a website/AddOn called Raider.io. Essentially, Raider.io gives you points for each m+ dungeon you complete. It will also add up the points across all dungeons and give you a total io score.
That io score is then used by many group leaders in the "Premade Group" tool to select players to invite. This practice has become fairly controversial and frustrating for many players. Since you start with an io score of 0, it can take some time to build score enough to consistently get group invites. Additionally, some group leaders are very particular about what classes/specializations they invite.
Due to io score and class exclusions, if you have the opportunity to play with friends or a guild that should be your first choice.  If you choose to progress using PUGs, it can be helpful to form the group yourself and use your own key for the dungeon.
2. Focus on mechanics… your gear is probably enough
One of the other things which stopped me from trying mythic+ was a fear that my gear/DPS/Healing was not good enough. While it is true that you need to be well optimized to complete higher-level keys, the beginning keystones are meant to ease you into the experience.
The truth is that lower keystone levels (below +10 especially) are more about executing the mechanics well than about reaching certain DPS thresholds. That doesn't mean that you shouldn't try to improve your DPS and healing, but your focus should be on performing the mechanics well.
If you aren't familiar with the concept of a rotation to improve your play, check out this Beginner's Guide to Rotations.
As an illustration of this, the table below shows keystone levels and the item level of the gear it rewards. While many groups in the group finder tool want you to have an item level above what the dungeon rewards, you can be successful if you execute the mechanics and understand your class even if you are 10 item levels or so below the reward.
I wouldn't take a fresh level 60 character into a level 10 keystone, but you shouldn't wait until you "overgear" the content to start.
| Keystone Level | Gear ilvl end of dungeon | Gear ilvl in Great Vault |
| --- | --- | --- |
| 2 | 187 | 200 |
| 3 | 190 | 203 |
| 4 | 194 | 207 |
| 5 | 194 | 210 |
| 6 | 197 | 210 |
| 7 | 200 | 213 |
| 8 | 200 | 216 |
| 9 | 200 | 216 |
| 10 | 203 | 220 |
| 11 | 203 | 220 |
| 12 | 207 | 223 |
| 13 | 207 | 223 |
| 14 | 207 | 226 |
| 15+ | 210 | 226 |
Completing a m+ run rewards gear at the end of the dungeon and in a weekly chest
3. Learn the dungeon layout and path
When you start running mythic+ dungeons, it can seem overwhelming to memorize the layout and path for each instance — even more so if you are a tank. To make things even more difficult, affixes often impact and change the path you take from week to week.
If you are worried about this, I would suggest two solutions: watch streamers/guides and download the MythicDungeon Tools (MDT) AddOn.
By watching streamers or other players, you have the opportunity to learn the routes without the pressure of the clock ticking away. Additionally, by watching some of the best players out there, you will learn other neat tricks which you can use in your own runs.
On top of watching streamers or guides, one of the best ways to learn dungeon routes is through the Mythic Dungeon Tools AddOn. In addition to showing the map of the dungeon with all the enemies, MDT allows you to create a route or import one from someone else. This means you could exchange routes with other players before starting the dungeon or you can go to Raider.io, find the current Weekly Route article and import one. The routes are posted by Dratnos who also posts other helpful mythic+ content on this YouTube channel.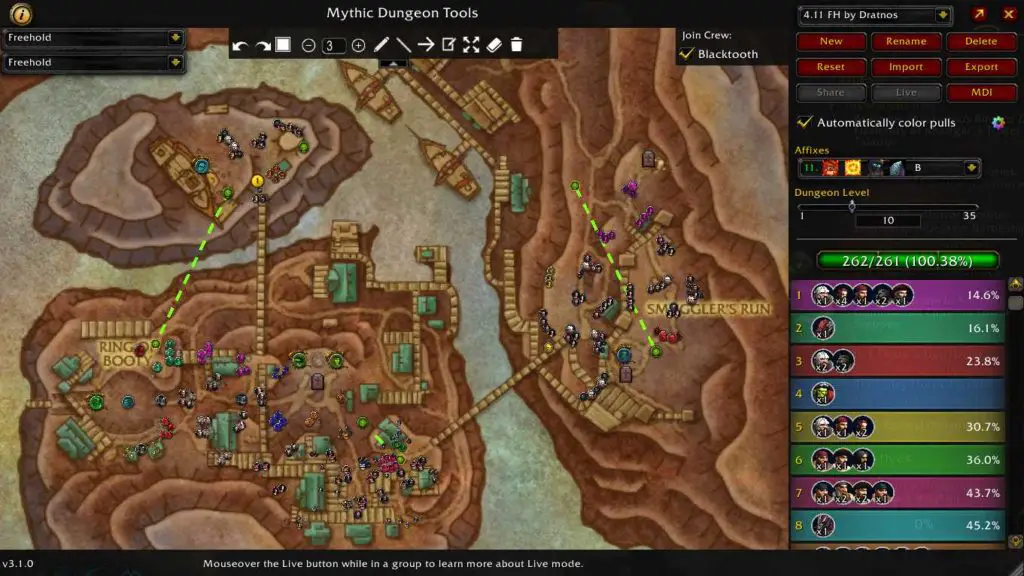 4. Don't fear the affix
Another thing that scared me about mythic+ was the idea of affixes. Affixes add extra mechanics to your mythic+ runs. The affixes are selected from a pool of potential mechanics and reset each week. The first affix is added at +2, the second at +4, third at +7, and last one at +10.
As a nervous or new player, it may be helpful to look up guides that explain what each affix does. This can be found easily on YouTube or through a search engine. When I began running m+ dungeons, I would look up the current combination of affixes and study each one ahead of time. Since they only change once a week, I had plenty of time to learn what they did and practice handling it.
After 4 or 5 weeks I had seen every possible affix and was much more comfortable with each one. Since affixes are only added at certain key level (as mentioned above), you can always run keys with one or two affixes applied until you become more comfortable.
5. You will mess up mechanics but guides and practice help
While messing up mechanics isn't great, lower level keys punish you far less for each mistake. This is both a good and a bad thing. It is good because it means that you can make more mistakes and still clear the dungeon. However, it can be bad because it can cause you to become complacent and mechanics which do a small chunk of damage to you in a low key will instantly kill you at a higher level.
The most important thing here is to figure out why you are messing up mechanics. Is there an ability which you do not understand? Are you positioning your character incorrectly? Do you get overwhelmed when a lot of mechanics hit at once?
If it is an issue of not understanding the mechanics, I would encourage you to check guides from YouTubers like FatBossTV or Hazelnuttygames.
If you get overwhelmed or just can't seem to avoid a certain mechanic, it is more likely an issue of needing to practice. You can do this by even running heroic or low mythic versions of the dungeon you are struggling with.
Even after learning the mechanics and practicing, you will still mess up occasionally. At that point, it can be helpful to acknowledge your mistake in chat with a simple "my bad" or "mb" and most players understand that it happens. If you find yourself saying this a lot, it may be time to circle back around to guides or heroic.
Final Thoughts
While trying a new game mode like mythic+ can be scary for a variety of reasons, it is important to remember that World of Warcraft is just a game. Even after doing your best, some players may be toxic but you should ignore them and keep pushing on if you enjoy the challenge. Once you get more comfortable with m+, stand up for the new players. Help them learn because at some point we all need that assistance.
Thanks for reading!
Related Articles