A guide for new and returning players looking to take down the Lich King!
In this guide, I want to walk you through how to get to Icecrown Citadel (also called ICC by many players). My main focus is on WotLK-era players, but I'll also throw in some tips for retail players. I'll dive into the details below, but here is a quick answer if you just need to jog your memory.
To get to Icecrown Citadel, you'll need to make your way to Northrend first. You can reach Northrend via boat/zeppelin, hearthstone, or mage portal. After arriving in Northrend, your best bet is to use a flying mount (requires level 77+ in WotLK Classic) to reach the citadel.      
Where is the Icecrown Citadel in WoW?
Icecrown Citadel (ICC) is located along the southern end of the Icecrown zone on Northrend. It is one of the few buildings that appears on the continent map due to its massive size and importance in lore.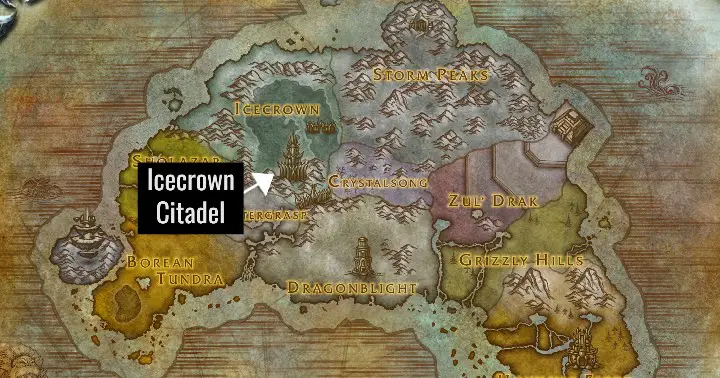 How to get to Icecrown Citadel in Wrath of the Lich King Classic
The hardest part of getting to ICC in Wrath is knowing how to get to Northrend. As I mentioned in the answer above, there are a few ways to travel to the shores of this icy continent. 
Either faction can also reach Northrend by using a mage portal, warlock summon, or hearthstone (if possible). Each faction also has its own travel options as well.
Alliance
For alliance players, you can travel to Northrend via boats found in the harbors of Stormwind or Menethil Harbor. The Stormwind boat will take you to Borean Tundra, while Menethil will take you to Howling Fjord. Taking the Stormwind boat will get you to ICC faster because the Tundra is closer to Icecrown. 
Horde
Horde players also have two options to get to Northrend. The first is a zeppelin from Undercity to Howling Fjord. The second is a zeppelin from Orgrimmar to Borean Tundra. Between these two, your best bet is to take the Orgrimmar zeppelin because you will land closer to the Icecrown zone.
Traveling to Icecrown Citadel
To get to Icecrown Citadel, you'll need to take a flight path or use your own flying mount. The flight paths are identical for Horde and Alliance, but some require completing quest lines. Unfortunately, the two unlocked paths, Argent Vanguard and Death's Rise, aren't close to the citadel, so this won't be your best option.
Your best bet is to reach level 77 (if you haven't yet) and buy cold weather flying for 1,000 gold. Icecrown is an unforgiving zone for foot-bound adventures, so having flying will go a long way. 
Once you have cold weather flying, all you need to do is set your hearthstone to Dalaran, and then you can fly west out of the city and arrive at ICC in about a minute.

How to get to ICC in Dragonflight
If you are playing the retail version of the game, there are a few portals you can use to make your life easier. Instead of taking a boat or zeppelin to Northrend, you can take the Dalaran, Crystalsong Forest teleport from the portal room in Orgrimmar or Stormwind. 
After arriving in Dalaran, fly west out of the city, and you should see ICC looming high overhead. Just be careful when passing near the Violet Citadel in Dalaran because it sometimes tends to dismount you in the air.
Where is the entrance to the Icecrown Citadel raid?
You can find the raid entrance for Icecrown Citadel up a long set of stairs on the north side of the tower near ground level. If you are using the TomTom addon, head to the Icecrown zone and then type /way 53.8, 87.1 in chat and press enter to create an arrow to guide you.
Dungeon Entrances: The Forge of Souls, Pit of Saron, and Halls of Reflection
In addition to housing the most popular raid in World of Warcraft, Icecrown Citadel is also home to three dungeons — Forge of Souls, Pit of Saron, and Halls of Reflection. The entrance to all these dungeons is in the Frozen Halls, a small corridor a couple of stories up on the citadel's side.
After entering The Frozen Halls and taking a short walk down a hallway, you'll come to a large room with the three dungeon entrances and the meeting stone for Icecrown Citadel. If you are standing in the hallway, Forge of Souls will be on your left, Pit of Saron on the right, and Halls of Reflection will be directly in front of you.