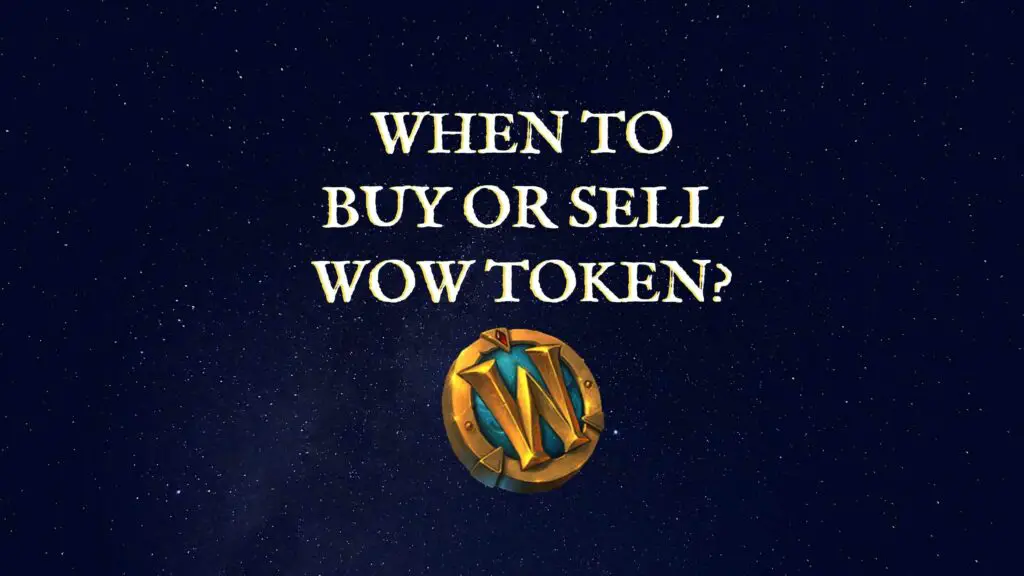 This week I purchased a WoW token to extend my game time. As I was doing so, I started thinking about the way that the price of the token changes throughout the day and week.
If you have ever bought a WoW token, you know that the price can change by thousands of gold in the course of a few hours. Prices can skyrocket even more if a major announcement like a new expansion is made.
For this article, I thought it would be interesting to look at some historical data for WoW token prices and see if we can find out when the best times to buy or sell a token are. Of course, if you are buying a token with in-game gold, you are going to want to pay the lowest price. Conversely, you will want to get the highest amount of in-game gold per unit of real money spent.
If you are not familiar with tokens, check out this feature overview video from Blizzard.
Historical Token Data
For this article, we are going to focus on one month of token data — October 2019 specifically. I chose October 2019 because it was fairly stable and occurred just before the announcement of Shadowlands.
By choosing a fairly stable month and one not swayed by an upcoming expansion, we can hopefully glean some insights into the best days and times to buy and sell tokens.
For this analysis, we are going to look at two data values in particular: in-game gold token price and gold per dollar. I would like to look at other regions, but for now, let's keep it simple and focus only on the United States servers.
If we look at the data for October, we see that token prices change significantly throughout the day. The graph below plots the average, low, and high gold price of a token for each day in the month.
I have included labels for average, low, and high gold prices for October 10th. As one of the largest swings of any day that month, the token price had a range of almost 14,000 gold! I don't know about you, but if I am going to buy a token with my gold, I wouldn't mind paying near the lower end of the range. Conversely, if I am going to spend $20 to get in-game gold I want to get that extra gold.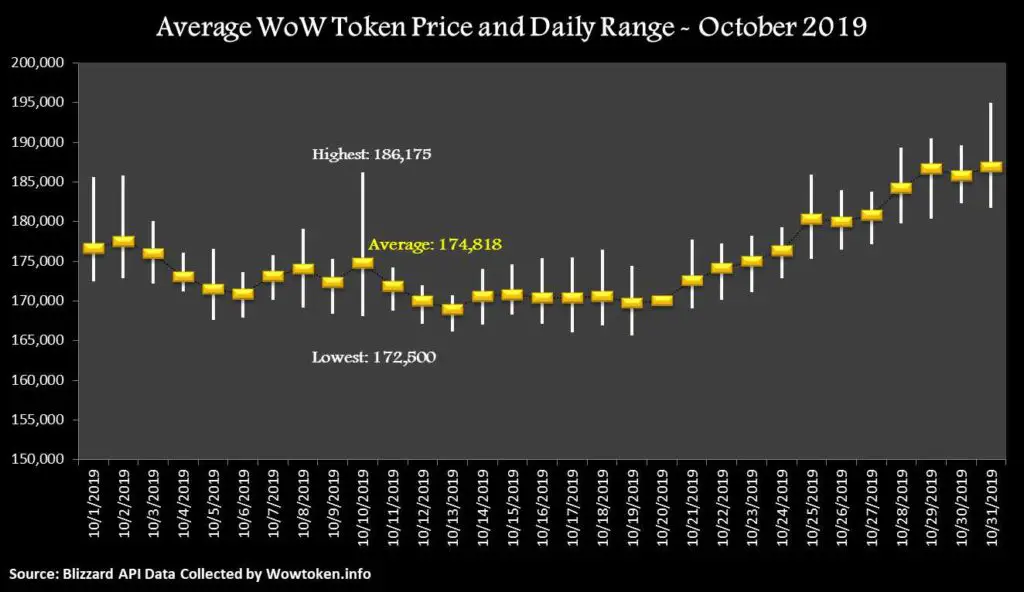 So, what time of the day is best to buy or sell WoW tokens?
Hourly breakdown of WoW Token price
Alright, let's look at the gold price and gold per dollar for each hour.  Times are reported in Eastern Standard Time U.S, so adjust accordingly.
In the image below, hours that had gold prices lower than the average gold price for the month are highlighted in green. Additionally, hours where the gold per dollar was better than average are also highlighted. The absolute best prices are bolded for emphasis.
The chart shows that buying a token with gold is usually best done in the evening when more people are playing. While we don't completely understand how Blizzard prices the tokens, we do know it is based on the principles of supply and demand. For a brief explaination of how supply and demand work, check out our article: Why do World of Warcraft (WoW) Token Prices Change? In the hours where more players are on, they are more likely to spend $20 to get some in-game gold. This increases the supply of tokens and lowers the price as a result.  
If you are looking at selling a token, the highest gold per dollar hours is typically in the middle of the day. This makes sense as the supply of tokens is lower because they were bought the night before or in the morning. Lower supply means higher prices (assuming the demand is the same).
While this is fascinating, it may be even more helpful to see what prices look like depending on the day of the week.
Day of the week breakdown of WoW Token price
When broken down by the day of the week we see a similar pattern. Busy weekends tend to lead to lower average token prices while gold per dollar spikes during the week.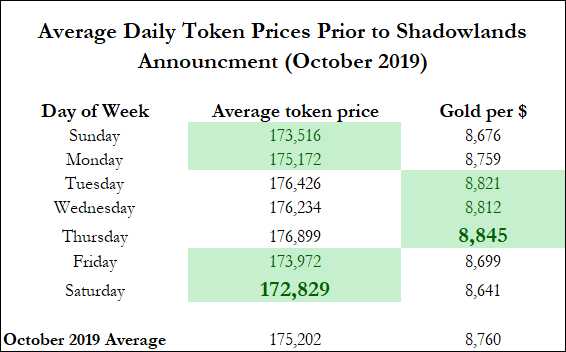 In October 2019, the lowest average token prices occurred on Saturday. Conversely, the highest gold per dollar day was Thursday.
Putting the two breakouts together, let's see how prices changed by hour on Thursdays and Saturdays.
Hourly price breakout for Saturday
If you are looking at buying a token with in-game gold, Saturday seems like your best bet. However, the price change can swing significantly even on a Saturday.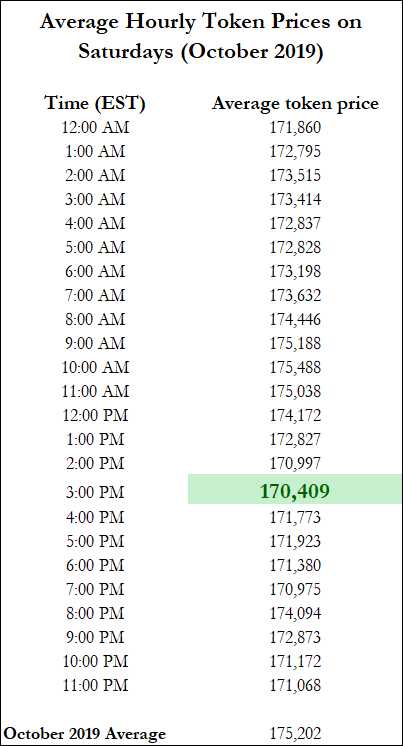 Wow, early afternoon prices — around 3:00 PM EST — were cheaper than early morning tokens by 5,000 gold! It really pays to buy your token with gold when servers are busy.
Hourly price breakout for Thursday
What about the best time to sell a token? As we saw above, the best day seems to be Thursday. This seems logical since Monday/Tuesday/Wednesday is usually busy with reset activities and raiding and weekends are busy in general.
If we break the gold per $ down by hour for Thursdays, we see that the highest return for your $20 spend generally occurred in the morning around 11:00 AM.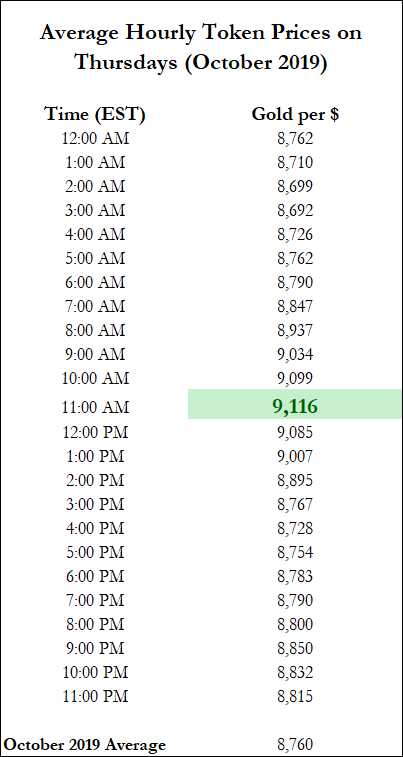 As the servers get busier in the evening, gold per dollar falls. In this case, the fall is not significant. However, if you spent your $20 on October 19th at during prime playing time, you would have only received about 8,200 gold per dollar — a difference of nearly 1k gold per dollar or 20k gold overall!
Takeaway
While it may seem simple, the ultimate takeaway from this analysis is this: the best time to buy a token with gold is when servers are busy — like on the weekend. The best time to sell a token is in the middle of the week when fewer players are on.
This aligns with what we understand about supply and demand and will be a pretty reliable rule of thumb in most cases. While expansion and other feature announcements can move a price significantly, this general takeaway should help you make an informed decision about when to buy and sell your tokens.
Thanks for reading!
Related Articles