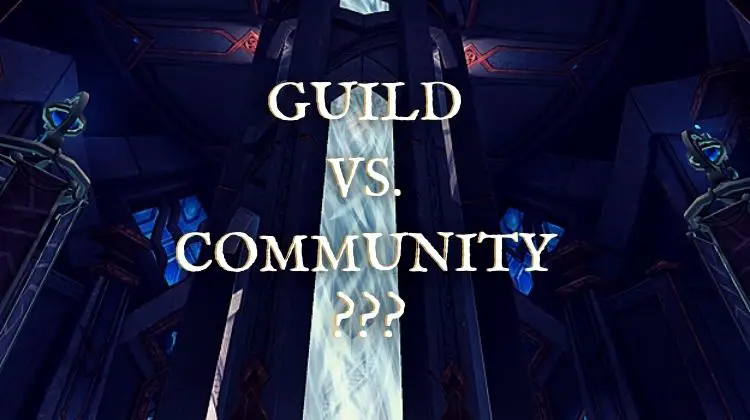 Communities were introduced World of Warcraft in 2018. Since then there have been several changes and some confusion on the purposes of a community vs guilds. Isn't a guild a community already? What is the difference between a guild and a community?
In this article, I want to take a look at both and the similarities and differences between them. Let's start by discussing a few ways that both are similar.
Similarities between a Guild and Community
Both are social groups
The most glaring similarity is the fact that guilds and communities are both meant to enrich social interactions in-game. While toxic or anti-social groups exist out there, I have been able to make many virtual friends in these groups.
Chat features
Since both are social groups, it is not surprising that both would have a chat feature. This includes a history of messages that were sent while you were offline. You can also access the chat feature for both groups by using the WoW Companion App on your phone to stay connected on the go.
Assigning ranks to members
Just like in guilds, members of a community can have assigned ranks. This will determine who can approve applications to the community and what leadership tools they will have access to.
Calendared events
Both guilds and communities can plan events on the in-game calendar. It is pretty easy to do as well, simply open the calendar by the minimap and right-click on the day you are looking to schedule the event. From there, you select whether it for a guild or community and enter your event details.
Posting recruitment info
If you are looking to join a community, you can do it in the same way you join a guild. Basically, you open up the Guild & Communities tab (keyboard shortcut 'J') and either click "Guild Finder" or "Find a Community." If you want to learn more about the Guild Finder tool or other resources for finding a guild check out my article on Finding a Guild in 2021.
If you click to search for a community, you will see recruitment information for groups looking for more players.
As a side note, you can also join a community with an invite code after clicking "Join or Create Community."
Faction Specific
Just like a guild, you must be a member of the same faction to join a community. This makes sense because it would be weird to try to run a mythic dungeon or raid with your community to find out you couldn't.
On a quick tangent, the faction-specific limit on a community applies to World of Warcraft communities. There is another type of community you can join called a Blizzard community. If you join a Blizzard community, you can be in the same group as members of the opposite faction and even with players in other Blizzard games.
That tangent aside, let's now look at the difference between a guild and a community…
Difference between a guild and community
Cross-server groups
The ability to join cross-server groups is one of the largest differences between guilds and communities. If you are looking to join a guild, it must be on the same server as your character. For communities, you can join any group of the same faction and look to recruit players.
This means you can use communities to form teams for PvP, dungeons, and normal or heroic raids. However, you cannot use a community to form mythic raids, since all players need to be on the same server. I mean, you could use a community for that purpose… but you would only be able to invite members of your server to the raid anyway. Better to join a guild!
Multiple groups
In addition to being cross-server, you can also join many different communities. This is different from guilds where you can only be in one at a time. Before you join a new guild, you have to leave your existing one. You can also be a member of a guild and several communities at the same time.
So, if you want to broaden your horizons, you can start applying to a variety of different communities and find one or more that fit with the way you want to play.
"Perks"
Another significant difference between guilds and communities is the "perks" available. If you are a member of a guild, you will likely have access to the following benefits:
Faster mount speed
Shorter hearthstone cooldown time
Remote access to a guild bank
More health and speed when resurrecting
Immediate delivery of mail between guild members
Weekly challenges for guild gold/repairs
Purchasable rewards.
In a community, you do not receive any of those perks… including a shared group bank. So, if these perks are important to you, make sure you find a guild in addition to your community.
The message of the day & member news
In a guild, you will receive a message of the day when you log in. You can also open your guild tab and see news that will show you major achievements and obtained gear by members of your guild. Neither of these features is present in communities.
Communities are not available in Classic WoW
The community feature was added in the Battle for Azeroth expansion. If you are interested, you can check out the community announcement/preview post from Blizzard. As such, communities are not available in Classic WoW.
Final Thoughts
While there are many similarities between guilds and communities, they are also significant differences. Guilds are intended to include players from the same server and offer some interesting perks. In contrast, communities offer fewer perks but remove the server boundary. This may make them more appealing to players on smaller servers who are interested in finding consistent groups to raid or do other content with. Fortunately, you can join a guild and multiple communities and find out which best matches your playstyle.